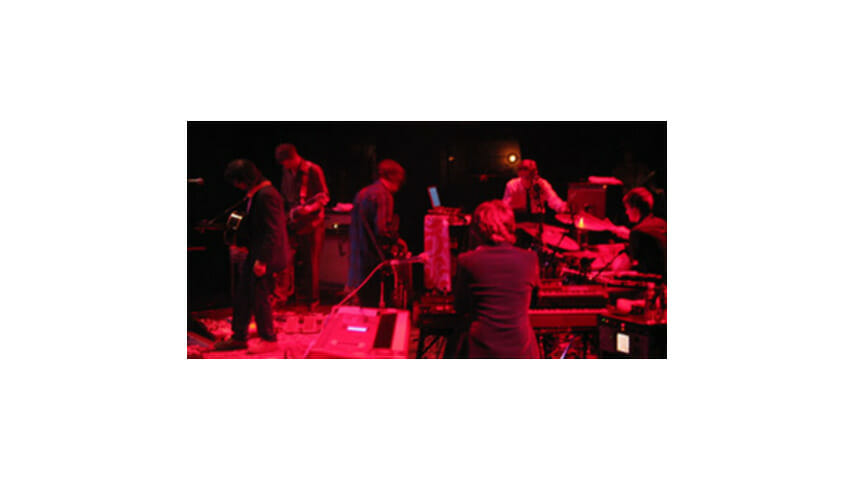 Scanning the trimmed crowd at tiny club Otto's in DeKalb, Ill., Jeff Tweedy spots his wife and solemnly tells the audience, "I'm not sure if I would be alive right now if it weren't for her." Blunt as these words are, they come at a time when native Chicago band Wilco's embattled frontman and principal songwriter is only days out of rehab.
Battling a serious painkiller addiction and the virtually paralyzing panic attacks that forced his band to postpone its world tour and set back the release date of its latest record A Ghost Is Born, Tweedy seems to be drawing energy from the crowd in a unique way tonight. When he moans the words, "music is my savior, I was maimed by rock 'n' roll" in the song "Sunken Treasure," it is with profound earnestness. Given the circumstances, Tweedy's unique gift for sincerity in this area really sets Wilco's shows apart. With the personal and artistic journey the band and Tweedy have recently emerged from, it's no small wonder that fans and critics alike have continued to recognize the band's work as both important and genuine.
In the wake of its cancelled tour dates, Wilco chose a seemingly random bar in a tiny college town in rural Illinois to launch its world tour (upon further inspection, the band's long-time sound man owns the bar). An hour drive from Chicago, the venue's size limited what would otherwise have been a much larger show. And the band instituted a strict ticket policy that restricted all but walk-up orders for tickets, effectively reducing the crowd to only the most devoted of fans.
In addition to the setting, the evening's set list offered plenty of surprises. Rather than rely heavily on its already large body of work, Wilco played seven new songs, the audience cheering and singing along. The band opened with A Ghost Is Born's raucous and revealing closer, "Late Greats," a song proclaiming, even in the case of the greatest bands and songs of all time, "You can't hear it on the radio." Then the band dipped into its catalog with a strong rendition of "I'm Always in Love" from 1999's Summerteeth.
Throughout the show, the musical transitions were impressive. Especially considering this is a band that's just brought three new musicians into the fold. Guitarist Nels Cline added emotion to the mournful chords of "Ashes of American Flags," prompting Tweedy to comment to the audience, "Don't worry, you'll all get more of Nels later… in this next song."
The trio of new musicians—including Mikael Jorgensen on keys and laptop, and Pat Sansone on keys, guitar and vocals—consistently contributed to the backdrop of noise and sound effects that has come to typify the Wilco sound. The rhythm section of Glenn Kotche and co-founding member John Stirratt, and the crunching guitar of Jeff Tweedy provided the foundation.
The band kept one foot planted in approachable song structure, while walking the line with more experimental pieces from its latest and Yankee Hotel Foxtrot. This ability to work within two artistic worlds is evidenced in Tweedy and Cline's blistering guitar solos on "At Least That's What You Said" and the gorgeous "I Am Trying to Break Your Heart," with its swelling wall of sound.
The clarity of Tweedy's offbeat poetry cut through, even in the midst of intricate songs like "Shot In The Arm," "Hell Is Chrome" and "Theologians." With everything from tiny, sad vignettes ("The ash tray says you were up all night / When you went to bed with your darkest mind") to the deceptively welcoming images of acceptance and the Devil in "Hell Is Chrome," Tweedy showed off his lyrical dexterity.
Wilco brought the show to a climax, encoring with the thought-provoking "Theologians," Tweedy singing the words of a song made all the more poignant by the difficult path he faces:

Theologians
They don't know nothing
About my soul
I'm an ocean
An abyss in motion
Slow motion
Inlitterati lumen fidei
God is with us everyday
That illiterate light
Is with us every night
Theologians
They thin my heart with little things
And my life with change
Oh in so many ways
I find more missing every day
Theologians
I'm going away
Where you will look for me
Where I'm going you cannot come
No one's ever gonna take my life from me
I lay it down
A ghost is born…
Click here to read assistant editor Steve LaBate's review of A Ghost Is Born.