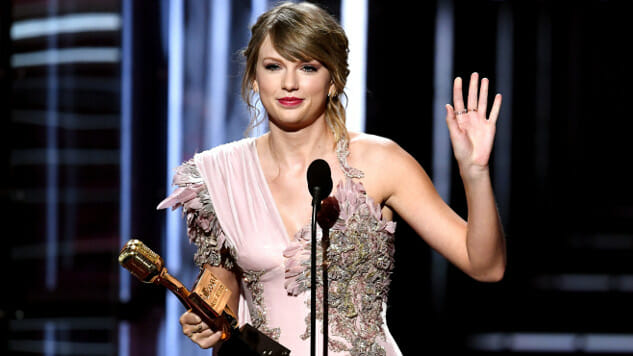 Taylor Swift made her first-ever political endorsements just yesterday, but it looks like her wade into electoral politics has already created waves.
"Vote.org saw [Tennessee] registrations spike specifically since Taylor's post," said Kamari Guthrie, director of communications for Vote.org—to which Swift linked in her Instagram post endorsing two Democratic candidates in the forthcoming Tennessee midterm elections—to BuzzFeed News.
"October 9th is the LAST DAY to register to vote in the state of TN. Go to vote.org and you can find all the info," Swift told her over 112 million followers on Instagram, in an unprecedented political statement from the pop megastar.
At least 2,144 of 5,183 registrations received by the organization in Tennessee this month so far have come in the 36-hour period since Swift's post, up from 2,811 in all of September and 951 in August.
Vote.org has also received an unprecedented new rush of voter registrations nationwide following Swift's move.
"We are up to 65,000 registrations in a single 24-hour period since T. Swift's post," said Guthrie. By comparison, 190,178 new voters were registered nationwide in all of September, while 56,669 were registered in August.
The site has also received 155,940 unique visitors in the past 24 hours, second only behind the 304,942 visitors it hit during National Voter Registration Day on Sept. 25.
Swift was thorough and deliberate with her first endorsements, never calling out any party by name, but her move has regardless caused a rift with President Trump, excited as ever by the mention of a fellow famous person.
Trump told reporters that he likes Swift's music "about 25 percent less" since hearing about her endorsements.
Swift endorsed former Tennessee governor Phil Bredesen in his efforts to turn a red Senate seat blue against Republican Rep. Marsha Blackburn, and also endorsed Democratic Rep. Jim Cooper for re-election.
Trump was quick to compliment Blackburn, saying that she "is doing a very good job in Tennessee," and also said "I'm sure Taylor Swift has nothing—or doesn't know anything about [Blackburn]."
Swift, however, pointed to specific points in Blackburn's voting record in Congress, such as her vote against equal pay for women and against "the Reauthorization of the Violence Against Women Act, which attempts to protect women from domestic violence, stalking and date rape."
With these arguably insignificant consequences for her career, it looks like Swift has already achieved a great deal of what she set out to do by speaking out.
Today is the last day to register in 15 states, but voters can still check deadlines for their state and also register to vote on Vote.org.