Jan 14, 2013 Daytrotter Studio Rock Island, IL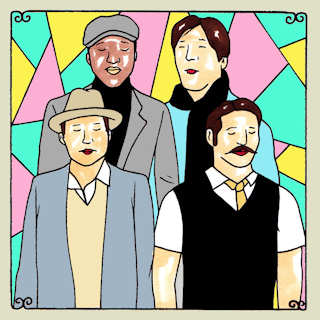 Welcome to Daytrotter
Blues Hand Me Down
Nancy Lee
Nobody Told Me
Pelvis Pusher
Sometimes, all you can do is throw the television set out the hotel window. Sometimes, it's doing something so irrational that will allow some of the pressure to be released and you can sit back and feel the muscles in your neck and shoulders deflate, become less tense, right before the police break down your door and you're thrown out of the hotel and into jail. It could just be that you need to forget all about needing to roust oneself out of bed the next morning before the sun's come up, to get to work on time, to deal with your coffee-breathed co-workers and managers. You could decide that instead of doing the sensible thing – which would be to wind down quickly after dinner and retire early to get a recommended daily dosage of sleep, all while dreading the coming day's itinerary – you could put on some sharp clothing, dab on some manly cologne and go out to the classiest establishment you can find downtown, preferably one with dancing and enchanting, available ladies who are trying to avoid their own thoughts and troubles just like you are. You could carelessly eat through the night, leaving yourself just enough time to change clothes and get to work. You might actually feel better after that, having successfully avoided yourself for nearly an entire night.
The music of Hollywood's Vintage Trouble makes you believe in the television throw off the balcony as a therapeutic exercise, not an unlawful and dangerous act. It makes you appreciate just how much you probably do need a break, or some kind of vacation to a place where no one could ever reach you. It makes you want to bend all the rules, to come onto all of the pretty girls. You feel like you can throw on the charm because what do you have to lose.
Caution's thrown to the wind when lead singer Ty Taylor starts belting and swiveling his hips. He moves and sings like a man who knows he's got the goods, or a combination of that man and one who just wants to burn a night down and sleep it off the next day. Taylor is electrifying as a front man, born to sing this kind of old soul R&B and blues. He digs into the woes that he has and rather than giving them over as lumps of coal, he presses them into an energetic context that still contains the truth matter of despair and frustration, but it hinges mostly on relief and getting out of those holes, even if just for one night only. He sings, "Nobody told me how heavy this life was gonna be," before going on to remind us that it doesn't stop there, that it keeps getting heavier and heavier every single day. You can either let it eat you alive, or you can stand up to it through a little temporary recklessness and joy-seeking.
W3 Total Cache is currently running in Pro version Development mode.