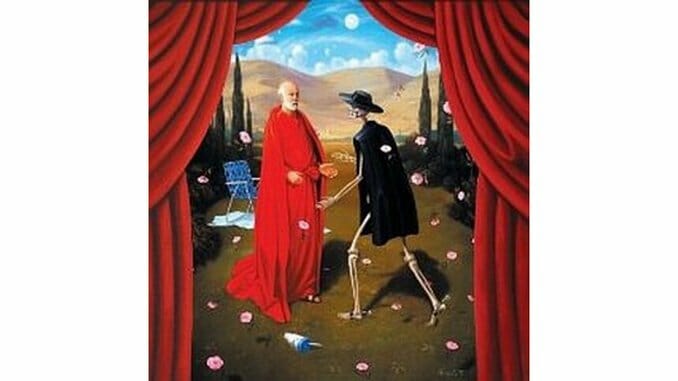 Southern Gothic mysteriousness meets psych-rock to splendid results
With his meandering intonation, lyrics and sense of meter, Vic Chesnutt is a singer-songwriter who is seemingly best served by a solo album
—or at least with a few supportive but firmly-in-the-background instrumental players. It's odd, then, that the best of his dozen solo albums is The Salesman and Bernadette, a collaborative project with Lambchop. A kindred wandering spirit, perhaps?
Dark Developments features an equally billed Elf Power, the Elephant Six psych-rock band that, like Chesnutt, has strong connections to Athens, Ga. In fact, the album was recorded there (in Chesnutt's attic studio) by Chesnutt and Elf bassist Derek Almstead. If it isn't Salesman's equal, both in musical power and song quality, it's still better suited to Chesnutt than some of his recent solo albums.
The band gives a rootsy, gently spacey and slightly eccentric lift to Chesnutt's songs, like a straightforward late-'60s folk group that's been turned on to electric rock and become both more playful and more soulful. The effect is vocal as much as it is instrumental, as in the echoed way they sing and chant on "We Are Mean." Meanwhile, the Elf crew gives angry bluesy muscle to "Little Fucker" and rollicking good-time humor to "Bilocating Dog."
Chesnutt's lyrics do meander, but it's because segments of his songs don't easily connect with one another. How, for instance, does a verse about "playing around with a pin-hole camera" relate to the preceding line, "the congressman is coming in a wagon?" It's all the more curious because the album's title relates to that disconcerting verse: "I paste my dark developments in an old ledger book…" But if you appreciate Chesnutt at all, chances are you like that his lyrics fit into his overall Southern Gothic mysteriousness—choked-backed singing, a melodic aura of remorse, weird thoughts and subject matter. For those who struggle with Chesnutt, Elf Power helps make his music more tunefully accessible.