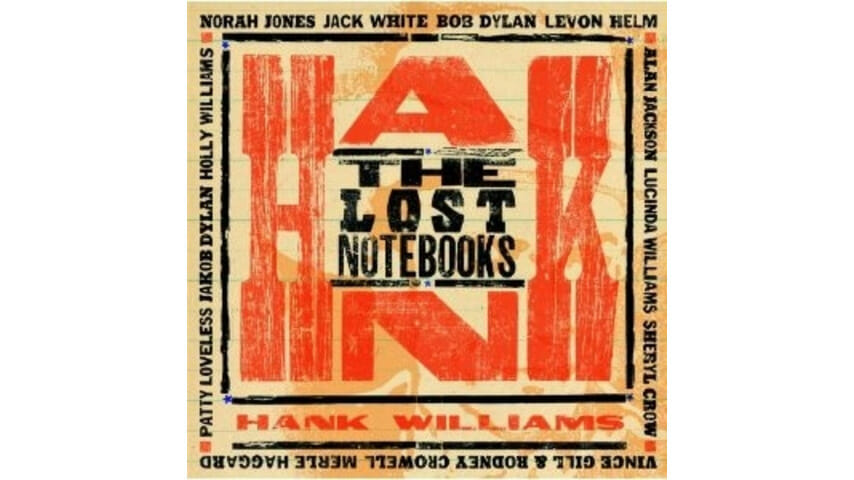 "The silence of a falling star
Lights up the purple sky
I wonder where you are tonight
I'm so lonesome I could cry."
We've all listened, played and maybe even sung those lines by Hank Williams so many times that they've worn out. It's a fate that hits a lot of great music. The Beatles, Rolling Stones, Led Zeppelin, Bob Marley, Jimi Hendrix. You own all of their albums and rock radio plays their music so often that it's over for you and it'd take years for you to hear any of this music with fresh ears again. And with artists like Hendrix and Marley who have been dead for decades, it's a sure thing that they won't be releasing any new music on this side of the mortal coil any time soon.
Hank Williams is like that. His songs have been such a deep integral part of roots, pop and country music for so long that it's often difficult to believe that they were the work of a single person who had a short career and died tragically at the age of 28 in 1952. Nearly 60 years later, his star has yet to diminish, but if you're like many Williams completists who own every single, album, radio show and anthology, the newly released Lost Notebooks of Hank Williams comes as nothing short of a revelation. There have been many excellent tribute albums of Williams' music—the Timeless collection that features many of the same artists as this one is a standout— released since the singer's death, but this one truly offers something different.
More than anything else it offers a fresh opportunity to listen to and appreciate what made Williams' music so unique in country music. Like Johnny Cash and Willie Nelson, Williams was one of the few country artists who found an appreciative audience in the larger musical community and The Lost Notebooks reminds us why this was so. He was the consummate artist and listening to his music one encounters a mind, soul and spirit like none other in the history of pop music. His economy, directness and the stripped down perfection of his lyrics and melodies have never been bested.
The Lost Notebooks of Hank Williams is the second CD released on Bob Dylan's Egyptian Records label and is structured very much like the Mermaid Avenue CDs released a decade or so ago by Billy Bragg and Wilco. Those CDs featured new music set to lyrics by Woody Guthrie. Bragg and the members of Wilco were given access to Guthrie's notebooks and free reign to choose which poems and lyrical fragments they'd like to set to music. For this set, the Hank Williams estate did a similar thing and approached Bob Dylan with notebooks full of Williams' unpublished lyrics, poems and song ideas that they hoped he would set to music. Dylan contacted like-minded friends, and the project evolved into a 13-artist, 12-song compilation that sympathetically evokes the spirit of Hank Williams and extends his legacy with these dynamic 'new' songs.
While there's nothing as defining or significant as 'Cold, cold, heart' or 'I'm so lonesome I could cry' in these new lyrics, without exception, they're all good, solid songs. More than anything else, many of these compositions read like early blueprints for more polished songs that Hank Williams released later. Each of them offers interesting insights into Williams' creative process and emerging lyrical and musical vocabulary.
The performances themselves are—for the most part—wonderful. Tribute albums, by their nature, can be a real mixed bag, full of hits and misses, but with this compilation the results are far better than one might have expected. There are several nods to mainstream country with spirited performances from Alan Jackson, Vince Gill, Rodney Crowell and Patty Loveless that demonstrate the enduring influence of Williams' music. Not surprisingly, of the country artists gathered for this project, Merle Haggard offers the most powerful performance with a chilling rendition of 'The Sermon On The Mount'—a song that showcases the dark and troubled take on Christianity often favored by Williams.
There are no huge departures or experimental reworkings of Hank Williams' musical style, and for the most part all of the artists pay respectful tribute to his music and sound like they had a lot of fun 'getting their Hank on.' Of the rock performances, Jack White's guitar driven 'You Know That I Know' is definitely the most fun track on the disc that perhaps best captures the wonky, heartbroken spirit of Williams' best songs. Bob Dylan sounds suitable ragged as he croaks out 'The Love That Faded' in his best million miles of bad road voice. Levon Helm offers more of the ramshackle music he's favored lately with a rollicking 'You'll Never Again Be Mine' that should set many a barn on fire. But, the biggest surprise on The Lost Notebooks has to be 'How Many Times Have You Broken My Heart?' sung by Norah Jones who quite simply gives her best performance in many years as she nails every ounce of emotion in the lyrics with the kind of voicing and harmonies that have been sorely lacking in her recent music. Though the lyrics cover subjective ground that may be overly familiar to Williams fans, Jones' interpretation is dead on and is—by itself—worth the price of the CD. Lucinda Williams turns in the only real dud of the set with 'I'm So Happy I found You' in which she relies too much on her own hurting drawn out phrasing to carry the melody and ends up delivering a song that does little more than wallow in maudlin clichés.
Still, that's a very small complaint in an otherwise fantastic tribute CD. If you're an old Hank Williams fan, The Lost Notebooks is more than enough reason to celebrate. If you're new to the music of country's greatest singer, this new collection is a wonderful place from which to begin to explore his music.