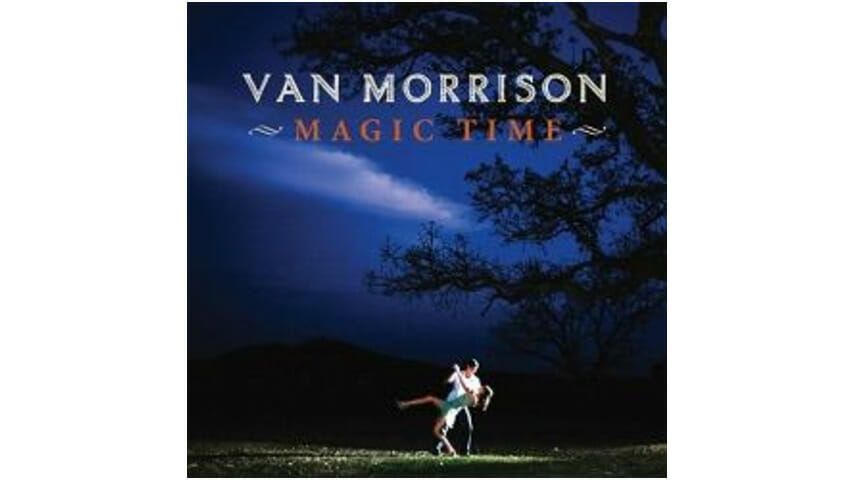 Joy in the Journey: Irish bluesman getting on in years, still enjoying the ride
You can call it nostalgia / I don't mind," Van Morrison sings on the bittersweet title track to his 38th solo album, the aptly titled Magic Time. As he approaches his 60th birthday (on Aug. 31) and the 40th anniversary of his ?rst hits with Belfast R&B band Them, the legendary singer/songwriter seems to be taking stock of his extensive catalog of sounds and styles: Magic Time presents Van the seeker, the jazzman, the lounge singer, the blues shouter, the Celtic dreamer, the ?ery malcontent. Bits of previous Morrison themes, lyrics and music ?oat through this collection of ten originals and a few well-trod jazz-lite chestnuts. It all adds up to Morrison's most accessible and expansive album in years. And that soulful, masterful voice is still as strong as the darkest Dublin stout.
Magic Time kicks off in a summery mood, with Morrison manning his original instrument—saxophone—to steer "Stranded," a waltz with relaxed vocals extolling the escapist comfort of "my own little island" away from "hustle, hustle time." "Celtic New Year" is another locale Morrison knows well—he's roamed the bucolic Irish countryside literally and ?guratively over the years. Whistle player Paddy Maloney of The Chieftains—the group with whom Morrison recorded the exquisite Irish Heartbeat in 1988—joins Morrison for the wistful ballad's grand ?nale.
The blues (as musical form and state of mind) has also been a constant since Morrison's ?rst recordings. His last album, 2003's What's Wrong With This Picture?, focused on Van's jazzy side and was nominated for a Grammy in the Best Contemporary Blues Album category. On Magic Time, he's limited himself to a few 12-bar blues numbers—with plenty of horns, Hammond organ and his own harmonica. "Keep Mediocrity at Bay" spells out the proli?c Morrison's dilemma as a musician of four decades' standing, while "Evening Train" rolls through familiar territory with saxophones and trumpet driving the song. He moves into lounge land on a trio of covers, the torchy "Lonely and Blue," Sinatra's "This Love of Mine," and "I'm Confessin'" (with Morrison adding bluster to a number Perry Como softly crooned).
Morrison's confessional ballads have become increasingly rare, but Magic Time has several: The moody "Just Like Greta" quotes the Swedish-born movie star's worn-out line, but Morrison's emphatic vocals sound like it's new to him. In the Latin-tinged "Gypsy in My Soul," he bemoans "Some kind of cruel fate / Keep me moving in this restless state." The lilting "The Lion This Time" ("He knows that he must stand alone / If need be have a heart of stone") is one of his loveliest efforts of late. The latter pair's sentiments and titles hearken back to "Gypsy" and "Listen to the Lion," both from 1972's St. Dominic's Preview. Morrison's penchant for religious musings and gospel music are here, too, in the Curtis May?eld-inspired "They Sold Me Out."
"Magic Time" continues Morrison's theme of taking the past to heart, but on the album-closing blues, "Carry On Regardless," he emphasizes the need to move forward: "Carry on forever / Carry on until you make it stick." And by the song's end, we can hear Morrison being transported by the music: he's yodeling like his early hero, hillbilly-bluesman Jimmie Rodgers, and he's chuckling merrily, telling his fellow musicians that it's "just too much fun." Thankfully, for Morrison, the joy still comes from the journey, and the Magic Time is the time when he's still striving, wandering and ?ghting off complacency. For a man on the verge of his 60s, that's magic indeed.