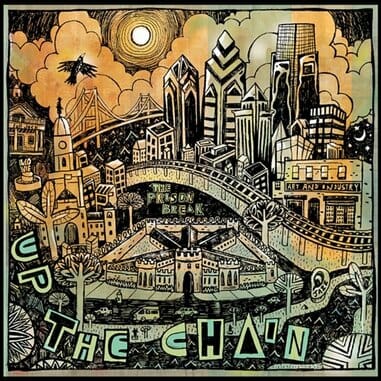 You'd expect that a band that dubs itself Up the Chain and then names its album The Prison Break might be in the business of singing songs best suited to a roadside chain gang, or better yet, putting a new spin on that Elvis classic "Jailhouse Rock." In fact, they aren't prone to either, but opt instead for an unassuming sound that emphasizes easygoing, uncomplicated melodies of a decidedly less than weighty posture. Originally a solo project for lead singer Reed Kendall, the band has now expanded into a trio with the addition of bassist Noah Skaroff and drummer Kirby Sybert, and it's those two additional players that give the band its gentle pluck and glide. It's a good move, one that ought to further affirm the populist appeal they've already gained through extensive roadwork both here in the States and abroad.
Indeed, it's that neighborly sound which is essential to the album's generally agreeable sound. "Crumblin the Stone," "No Waiting Lines" and "Game Kids" — the latter seemingly well suited as a potential theme song for today's current crop of gamers — forward that notion of an effortless approach, bearing a charm that's all but undeniable. It's not that they aren't adverse to some gravitas on occasion; the wistful "Windows Pt. 2" is particularly poignant, while the massed harmonies that elevate "Globe" and the album's soaring official finale, "On Your Side," add a somewhat sobering tone, albeit momentarily. And while the fuzzy electronics that mark opening track "Kelly Green" create a misleading initial impression, the offerings that follow find the threesome well grounded regardless. For the record, an untitled bonus track is also worth waiting for.
Notably, the best songs on the album — "The River James" and "Sidecar" — manage to blend both substance and serendipity, giving potential newcomers something that provides a firmer grasp, at least in terms of real resilience. Whether or not The Prison Break provides the band with their big break remains to be seen, but for the most part, it ought to supply some supple inducement regardless.