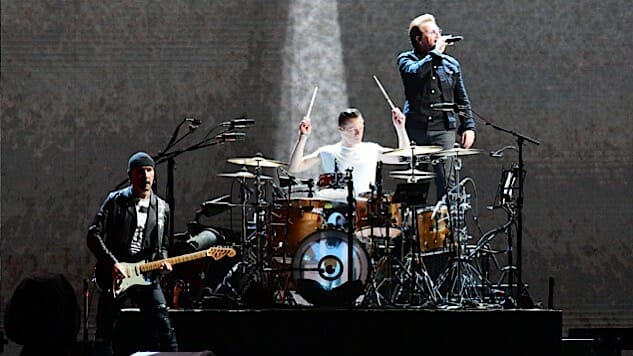 U2's tour to commemorate the 30th anniversary of The Joshua Tree made its way up north last night with a stop at the Rogers Centre in Toronto. To mark the occasion, Bono and the boys paid tribute to one of Canada's greatest music talents, the late Leonard Cohen, with a cover of Cohen's "Suzanne," mixing in elements of Cohen's "Hallelujah" and their own "Wide Awake."
Cohen was born in 1934 in the Montreal suburb of Westmount, Canada, and died in November 2016. "Suzanne" was his very first single, from his 1967 debut album, Songs of Leonard Cohen.
"Tonight we hold on to some things as we let go of some others I'm not so sure about letting go of," Bono told the crowd. "But I know tonight, I'm holding onto the music of Leonard Cohen. I've been thinking about him today. He's been on my mind. He's an addiction I'm not ready to give up."
Watch the performance below:
And while you're here, check out this Cohen performance of "Tower of Song" from 1988, an exclusive from the Paste Cloud.