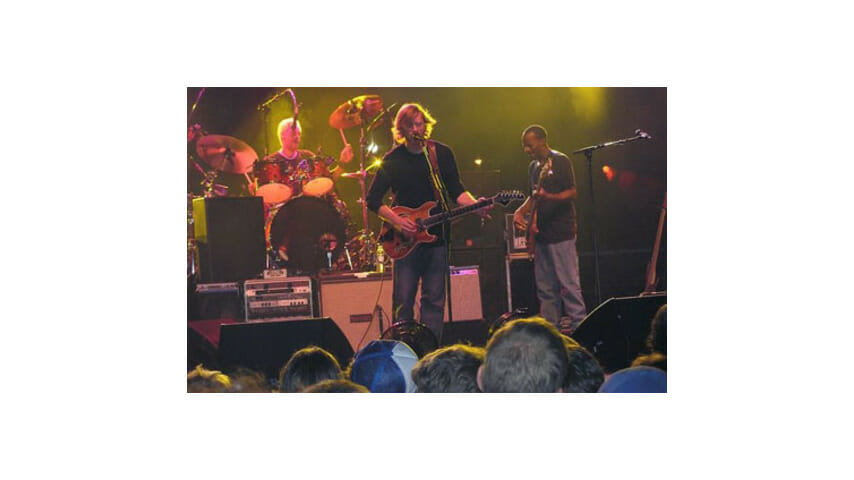 Before it empties into the Atlantic Ocean, the Delaware River runs the state line that divides Pennsylvania and New Jersey. George Washington once forded it on foot and the Ben Franklin Bridge now assists in getting people across by motor vehicle. Still, the river divides.
On the Pennsylvania side, Philadelphia's Festival Pier is a small riverfront venue, hidden in the shadows of this famous bridge. As the crowd shuffled in for a warm-up set by Medeski Martin & Wood, the mood was notably informal and relaxed. As was the band.
The trio's sets can be anything from haunted creep-outs to marathon trance parties. For this show, it chose to match the half-empty pier's vibe by running through material from various stages of its career without ever going too far off the deep end. The audience responded in kind by listening attentively. It was a casual summer night; outdoors with music and a skyline.
But all this changed when Trey Anastasio hit the stage. Anastasio has had a mysterious and highly uncharacteristic 12 months since playing his final show with Phish last August. Reportedly, he recorded, erased, and re-recorded his upcoming solo album several times, hired and fired members of his new band, 70 Volt Parade, and scrambled to throw this short jaunt together after plans to co-headline the inaugural "Zooma Tour" with Ben Harper collapsed. It's the first time in his 20-year career that he's taken any real, public missteps.
But the minute he went onstage, none of this was relevant. Opening confidently with a new song, "Shine," Anastasio established the ground rules early on—this was going to be a dance concert, a rock concert and, most of all, a feel-good concert. The type of show you come home from all sweaty, smiling and empty-headed—and it's not until you sit down at your desk the next morning to check your email that any of your cares come back to you.
The remainder of the first set ensured this vibe. A couple new songs ("Air Said to Me," "Invisible") fit right in with signature tunes from Anastasio's repertoire. Many of the standbys first debuted with his larger horn-driven band have made the transition to his new rock outfit. Anastasio once claimed that some of Phish's biggest numbers were originally written with horn charts in mind, but he had to rearrange them for a four-piece. Of course, it was often this confinement that made them so unique. The same principle applies here—many of the tunes that carried his big band now power the 70 Volt Parade with extra kick.
One tune that's gone through a considerable change is "Burlap Sack and Pumps." At the Philly show, it further settled into its new arrangement with the help of special guest John Medeski, who temporarily replaced keyboardist Ray Packowski to spar with Anastasio and explore the song's gritty new underbelly.
The second set opened with the bumpy funk of "Simple Twist Up Dave," shifted into slow, sexy funk for "Cayman Review," and then twisted the funk into some sort of trance-seduced monster for "Sand." This received the biggest crowd response of the night, perhaps because fans were delighted to hear something from the Phish catalog. In truth, "Sand" actually originated with Anastasio's 1999 power trio (which was, in many ways, the prototype for 70 Volt Parade). Either way, it raged. Tonight's only other Phish selection, "46 Days," has become a standard for this band; a vehicle for blues-rock exploration.
Unfortunately, none of the cover tunes Anastasio adopted this past spring made it into the show's setlist. These songs tended to be poignant ("In the Light"), therapeutic ("Sitting In Limbo"), and a blast to hear live ("Space Oddity"). However, brand new originals had the crowd moving as if they'd already heard the tunes a million times. It's a testament to Anastasio's recent songwriting that, upon first listen and in the distracting live setting, a song like "Wherever You Find It" is capable of making deep, personal connections; as it did tonight amidst a hushed audience. Gone are most of the mind-numbing, jaw-dropping, head-snapping multi-headed jazz odysseys of yore, and in their place are straight up shots of rock 'n' roll. But I like it.
Just across the river, the outline of the much larger Tweeter Center served as a reminder of Phish's many sold-out nights there. I caught many of those shows and remember all too well that it wasn't unusual for people to make life-changing decisions during Phish concerts. They were illuminating events. Admittedly, that's less likely to happen at a 70 Volt Parade concert. Tonight didn't change anybody's life. But it did give a few thousand fans a reason to dance and feel free again. And, sometimes, that's more than enough.