Tinashe Finds Success on Her Own Terms on Songs For You
Now a self-released artist, the L.A.-based singer sounds liberated on her third album
Music
Reviews
Tinashe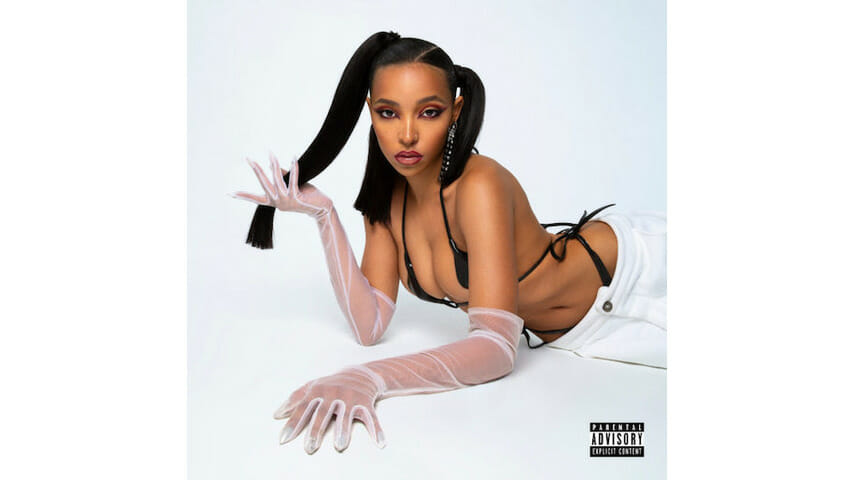 Before Tinashe signed to RCA on the strength of a couple hotly-tipped mixtapes—including a joint featuring the then-fledgling Travis Scott—she filmed a look inside her home studio. "I've come to realize that I'm not only more comfortable in my own environment, but some of the best sounding music I've created has come from this equipment," she explained in the video.
In retrospect, it feels like a major label cautionary tale: A young, wildly skilled musician who intimately knows the machinations of the industry (she spent the turn of the last decade in a girl group with Hayley Kiyoko, after all) about to re-enter the sticky firmament of suits, negotiations and concessions after years of homespun, un-mandated freedom.
The process for new album, Songs for You, perhaps felt closer to the Tinashe sharing her homespun R&B on YouTube than the one who spent years in gestation fighting for a heel turn into stardom. It's her third album and her first since leaving RCA—the label where she put out two albums—one excellent (Aquarius), the other, Joyride, merely good. Tinashe told Paper that after departing RCA, she made a home studio, invited some folks to record with her—G-Eazy, 6LACK and Ms. Banks among them—and altogether returned to the creature comforts of doing it her way. (A management deal with Roc Nation is a nice touch, too).
On Songs for You, Tinashe shows off how adept she is at flitting between genres, hopping on moody, woozy R&B, sun-dappled G-funk, '80s pop, acoustic devotionals, club-worthy drum 'n' bass and skittering trap, sometimes in the span of a single song without so much as straining her airy, but substantial soprano. There are a few songs left over from a scrapped album with RCA, but here, they feel part and parcel of the vision Tinashe has for herself—not as a trend-riding chameleon, but as an artist who omnivorously studies trends, big and small, and subsumes herself wholly into them, and them into her.
Tinashe sounds at home through all of it. Perhaps she's energized by the lack of an industry mandate to deliver a forced hit, as was the case with her altogether-good, but cluttered sophomore album Joyride, which suffered from a case of too many cooks. "Hopscotch," a G-funk track where she raps over herself so assuredly it sounds like—to borrow a Drake-ism—Nashe featuring Nashe, could slot nicely on Vince Staples' LA radio-inspired FM. But with the corny DJ cutting in and out of the mix, it feels less Power 106 and more Ryan Seacrest on KIIS-FM's morning show. "These hoes wanna be like me," she boasts, right before launching into layers of breathy falsetto, almost as if to flex on the Top 40 powers that be who shunned her after her first brushes with success.
If there's one silver lining to Tinashe's time in major-label purgatory, it's that her instincts as a pop star are pristine. She transforms "Story of Us," produced by "Sicko Mode"'s architect OZ, into a delicate, moony-eyed Quiet Storm number that, with a few tweaks, could very well be a Velvet Rope-era Janet Jackson cut. Meanwhile, "Life's Too Short" rides a spacious Kingdom beat into a cut that showcases Tinashe's propensity to shine on more outre productions—a reminder of why she drew comparisons to alt-R&B pantheons FKA twigs and Kelela early in her career.
She lets her increasingly refined higher register shine in more subdued cuts like "Know Better," a late-night disco jam that segues into a song for the after-party before stumbling home. "Now that you're gone, I got 20/20 vision," she sings in the first minutes, before asking "What's another break-up to a girl like me?"—lines that could very well double as a line of questioning to her major label woes.
The most stunning cut on Songs for You is "Save Room for Us," a crisp, white-shirt funk number in the key of "Passionfruit" or latter-day Daft Punk. It's Nashe in rare form, belting her way like a house diva through a four-to-the-floor cut aided by a big-tent EDM guy. But it feels natural, an unexpected pivot into pop-heavy funk that, frankly, feels like Tinashe stumbling into gold, guided only by her pop savvy.
Days after its release, "Save Room for Us" topped Apple's R&B charts, outselling Chris Brown's relentless Drake collab "No Guidance" and a new Summer Walker song (that somehow features Brown again). Certainly, one service's charts aren't an arbiter for success. But it's a small but crucial redemption arc for Tinashe—and a meaningful synecdoche for her career proper. Songs for You is a testament to her intentionally preserving her autonomy and talent, and finding success on her own accord.