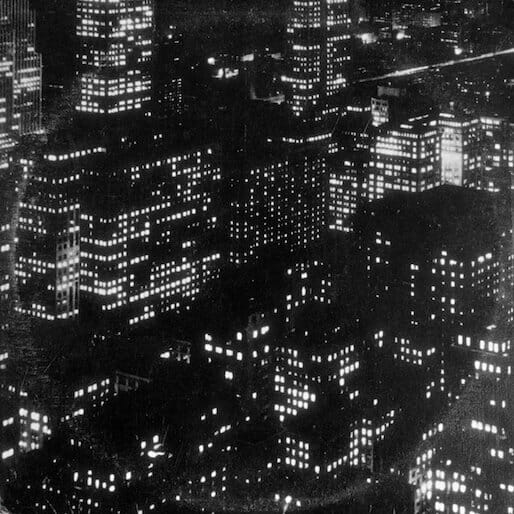 Life is strange right now. Donald Trump is president, David Bowie isn't alive and Timber Timbre released a synth album. Even in 2017, there are still some bands it's hard to picture ever using electronic instruments. Near the top of that list was this Canadian campfire quartet. At least until the release of this new album, Sincerely, Future Pollution. The unexpected happened: Timber Timbre packed up their tents and moved into the big city for their new record. And they've already made it feel like home.
Perhaps the reason the transition doesn't feel so jarring is the city they've moved to is still in the same uncanny valley as their old, windy campground. Even if the banjos and acoustic guitars have been replaced by '80s-inspired synths and guitars, the music still sounds like it's made by kindly ghouls. They've somehow kept the whole intact even after changing all the parts. It shouldn't be surprising a band this Lynchian could move out of their small-town, woodsy Twin Peaks to make their Mulholland Drive without missing a beat.
This shift is apparent right off the bat with "Velvet Gloves & Spit." Warm, washy synth pads offer admission into this new locale gently. Other than the switch-up in instrumentation, this still feels like pretty much any folky Timber Timbre song to come before it. They're the same drivers as always and it's not like there's any reason to distrust their sense of direction.
"Grifting" is the first major detour but it'd take a real folk purist to get out at this stop. This song came straight out of Bowie's Berlin period or Pink Floyd's trip to the dark side of the moon. It's only describable in ways no other Timber Timbre track before this record could be explained: funky, danceable, even dangerous. It's sung as breathy as it is rapid fire, the lyrics rolling off the tongue with a sense of total inevitability. The instrumental "Skin Tone" feels more like world-building than anything else. It isn't exactly a filler track but it's no single either. They're still playing around with this new landscape and it's a nice little pitstop.
"Moment" has the same yearning, late-night and urban quality as Orchestral Manoeuvres in the Dark's "Souvenir" or any of the songs on Roxy Music's Avalon. It's a perfect match-up of music and words to convey the innate beauties of heartache. "And what will I do, overdo and underdo?" is the sort of understated line that makes for most classic and profound breakup songs. The fact the "Born Under Punches"-esque freakout outro doesn't rob the earlier minutes of their somber beauty is testament to the success of this particular sonic experiment. For that matter, it's the main proof this new sound of theirs was not just a good move but a great one.