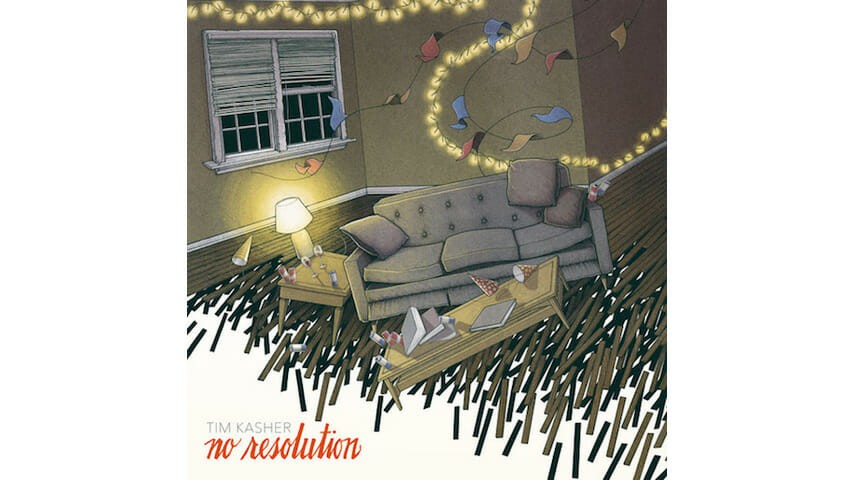 Tim Kasher's musical visions have always held a cinematic bent. His work over the past two decades has been typically marked by musical suites and cycles, oftentimes allowing the moan of a cello or oboe to take the place of a huffy lyrical missive. Rarer are the moments when he can pull his expansive scenes into focus without the swagger and rage of his usual full-time band Cursive, but Kasher's balanced, orchestral No Resolution is an exception to that rule. His third solo album is a subdued sonic adventure compared to some of his more frenzied output. However, the robust injection of piano, vibraphone, organ, trumpet, synths and various strings creates an immediately warm listening experience, as heard on the record's "Not Over You" instrumental bookends.
Portents of anxiety are delved into straight away on "Runts." Kasher sings, "I get so restless, I feel trapped inside my body/Won't someone reach out and rescue me?/I can settle down." This is followed by a gentle tirade of existential angst delivered in a vaguely chamber-pop-oriented package. Throughout No Resolution, Kasher focuses on the need to become immortal in even the most fleeting of ways, the central theme being allusions to procreating and settling down: "If I could only cut the cord/I wonder what my grandfather would think/50 years sweating for his family/he knew how to settle down."
The tempo remains in a lower gear until late in the album on the multi-instrumental opus "Messes." Kasher continues his lovelorn coos, singing, "Sometimes the world feels like a fist/I'm all choked up in its grip/if there's a reason we exist/surely I am blowing it." Lamenting the pressures of middle-adulthood, and the rigors of status in a society of late-blooming parents is a bit of a dizzying environment for a pop record. Luckily, Kasher's poetic insights and keen literary observations make his songwriting some of the most unique of his generation.
"Post Script" is the album's squirrelly standout, with Kasher's hushed vocal shadowing his pleas and unfolding into an explosive verse full of strings before a pre-chorus with a distorted bass breakdown. It's the most available evidence on the record that there's still fury within him, despite his ebbing into less corrosive soundscapes.
Kasher's invectives being centered around a reluctance to capitulate to societal norms is not new, but are for the first time more clearly stated on No Resolution. The downward spiral of connections lost and of the ever-evolving plight of modern relationships are cornerstones for his work, and although the ubiquity with which that sentiment has been rolled into Kasher's bio ever since Cursive's Domestica was released in 2000, it doesn't feel like dated territory here. It is instead a fitting chapter in Kasher's canon of crises.