Tim Heidecker Shares New Song "To The Men," with All Proceeds to Benefit Alabama's Yellowhammer Fund
Images via Juliana Giraffe, Orion Read
Music
News
Tim Heidecker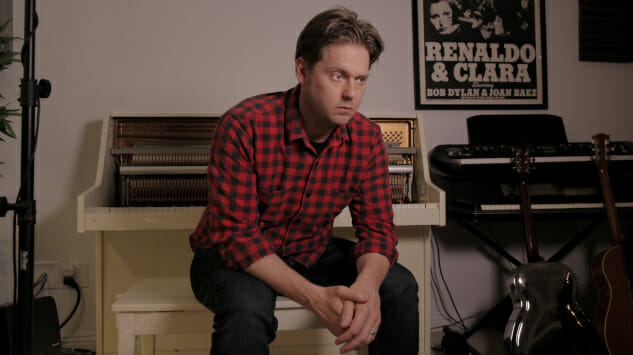 In light of the recent, vicious anti-choice laws set in place by Alabama and Georgia, among other states, comedian and musician Tim Heidecker has released a new song, "To The Men."
There are no jokes in this song, though. There shouldn't be any jokes in this song. "To The Men" tells the story of a young woman, living in an indiscriminate state that somehow feels entitled to control her body, as she comes to realize she is dealing with an unwanted pregnancy. From behind an acoustic guitar, Heidecker sings:
Told a friend who had been down that road
Told a friend she was late
And the friend said she had no choice
Have the baby or get out of the state
It's straightforward songwriting that effectively highlights the predicament countless women find themselves in when male lawmakers, like those pictured in the song's art, feel compelled to wrest control from women's bodies. Later, the song angrily addresses those male politicians:
I just have a simple question
To the men without flaws
Have you seen a young girl dying
Have you seen 'em bleed to death
Have you seen a young girl dying
Have you seen 'em take their final breath
All proceeds from the song directly benefit Alabama's Yellowhammer Fund, an organization that "provides funding for anyone seeking care at one of Alabama's three abortion clinics and will help with other barriers to access (travel, lodging, etc.) as well as able," per their website.
"To The Men" will not be on Heidecker's forthcoming album What The Brokenhearted Do, but all sales of that album will also go to charity.
You can donate to the Yellowhammer Fund here and find an excellent list of what you can do to help women in states with extreme abortion laws here.
Listen to "To The Men" below—you can download the track via Bandcamp with a donation of $1 or more—and confront the lawmakers behind the recent abortion bans through the official single art further down.
Hi. I have a new one about the new insane abortion laws. it's very sad. https://t.co/v5J8TCQu8t

— Tim Heidecker (@timheidecker) May 16, 2019