10 Great TikTok Bands I Discovered Through Endless Scrolling
Photo courtesy of The Sewing Club
Music
Lists
TikTok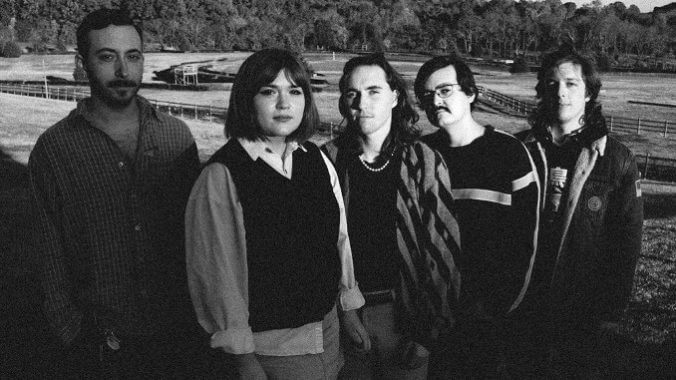 TikTok is a double-edged sword. The sharp and jagged side, which breeds individuals like Andrew Tate, and the smooth with victory side, which connects little-known artists to an appreciative audience. Some mediocre bands, or "industry plants," try to use TikTok to draw in revenue by capitalizing off of buzzwords and dead slang, making it harder to wade through the musical muck on the app. But you can still find plenty of precious needles in the haystack.
I hadn't heard of the following artists before they came across my "For You" page, and I found many of their other songs to be just as engaging and enjoyable. They create genuinely good songs, and they use the platform to build steady exposure instead of fleeting fame. Cheers to the never-ending search for all things good in the world of music.
Here, in the order I found them, are 10 artists making great music on TikTok.
1. The Sewing Club: @thesewingclubbandProbably my favorite band out of this whole list is the four-person group from Nashville, Tennessee—The Sewing Club. Truly by luck and algorithm, the band first came on my FYP with a video teasing a song they were working on called, "Cool Girl." The hook was so catchy, and I couldn't get it out of my head for days. The lead singer reminds me a lot of Soccer Mommy. As I was waiting literal months for that teased song to come out, I had to consume whatever else they had. I was pleasantly surprised to find "Trying," and kept the song on repeat for a couple of weeks. They're the perfect band to fulfill the little bit of angst left over from your late teens spilling into your early twenties.
Recommended listening: "Trying"
2. Searows: @searowsSearows embodies raw talent with a hauntingly beautiful voice and an entirely acoustic album, Guard Dog. They reside in a similar vein as Phoebe Bridgers and fellow TikTok musician Leith Ross—indie folk with smooth, rounded tones in their vocal layering. Searows' voice feels like a light hum in the bottom of your chest, echoing nostalgia and bittersweet ends. The lyrics include honest conversations, offering enlightenment and a space for memory.
Recommended listening: "Keep The Rain"
3. Ash Tuesday: @cowgirlb3b0pAshlynn, who goes by the name ash tuesday, is a hidden gem. She only has three official singles on Bandcamp and Spotify, but a lot of short tunes and raw songs are posted on her TikTok and SoundCloud pages, where she says "everything on here is unfinished." They're also incredibly endearing and beautiful. It feels like you're hearing live music in the comfort of your own home. Hearing someone's untouched voice and guitar strumming is refreshing. Her girlish tone, mixed with light vocal frying sets her apart from her acoustic singer/songwriter counterparts within the genre.
Recommended listening: "Calypso"
4. Worry Club: @worryclubThe Chicago-based duo consists of Chase Walsh, the musician and singer/songwriter, and Zack Zagula, the creative director. I first came across the name when Walsh's live performance of the song "Knocking on Wood," started populating my TikTok universe. He was completely shredding in the crowd and jumping back on stage playing the intoxicating breakdown of the single, which begins revving up around the 3:15 mark, as the tempo quickens and the tone of the guitar switches to a raunchy screech. The guitar solo ends the song on a note of frustration with wishful thinking. Worry Club's sound is a mix of bedroom pop, indie-rock, and a dash of teenage sleaze.
Recommended listening: "Knocking on Wood"
5. Estrada: @estradafooIf you're looking for a slow-core, shoegazy sound, Estrada is right for you. The music and vocals are mixed to essentially the same levels, letting the warm distorted tones do their magic. Estrada does an excellent job of honoring his shoe-gaze forebears by drenching the guitar in reverb. He finds the perfect balance between crisp and murky, modulated tones. Estrada gained his following on TikTok by him promoting his song "Public Secret" by describing it as people who both liked each other but didn't think they did at the same time, yet everyone around them knew. It was a short clip of the song's hook and everyone asked Estrada to do the public service, and hand the song over. He describes his sound as foogaze: foos who like shoegaze.
Recommended listening: "Public Secret"
6. Valley Palace: @valleypalaceNathan Taylor is a dream-pop artist from Fresno, Calif. He writes all of his songs in his room and plays drums, bass, guitar, keys, basically every instrument under the sun. The multi-talented artist first gained traction with his song "Friend," with over one million streams on Spotify. His sound emphasizes atmosphere and sonic textures to coincide with his pop melodies, interacting with sub-genres such as alternative indie and psychedelic rock. He's a charismatic musician who writes with honesty and sincerity. A lot of his promotional TikToks feature the artist either skating, playing in his garage, or dancing, incorporating clips from old TV shows or himself playing Super Smash Bros on an old box television. Taylor keeps the DIY dream alive and well.
Recommended listening: "Victory Lap"
7. Benches: @benchesSouthern California's Benches consists of Anson Kelley (vocals/guitar), Ethan Bowers (drums), Evan Ojeda (lead guitar), and Charlie Baird (bass.) The band has an obsession with bittersweetness—happiness and sadness blending together and wrapped up in a catchy indie-rock song. A lot of their music touch upon themes of naiveté and the ignorance of youth. The angst shines through their raunchy, noisy 2000s-era guitar tones, and they've shared the stage with acts such as Foster The People, Dave Keuning (The Killers), and Good Morning. "It Doesn't Have to Change" hints at sticking with a relationship for the sake of companionship, even though you realize that you might be the bad guy in that dynamic.
Recommended listening: "It Doesn't Have to Change"
8. Rachel Jenkins: @rachiichachiiAnother queen of the acoustic genre, Rachel Jenkins is the epitome of the "child coming from a religious household" to an "existentialist, generational-trauma breaker" pipeline. The singer/songwriter from Utah grew up in the Mormon church and decided to leave in recent years. She first posted "untitled," a song documenting finding identity and healing, to TikTok with her lyrics over a recording of herself playing the guitar. The song went viral and has over 2 million streams on Spotify. Jenkins has an incredibly bright sound, paired nicely with impressive guitar plucking and control when singing. Jenkins' music compels one to look inward—and maybe bawl their eyes out. Everyone needs a good cry nowadays.
Recommended listening: "I Don't Know"
9. Blvck Hippie: @blvckhippie901Blvck Hippie is a "sad boy" indie rock band" from Memphis, Tenn., who wants to show Black kids that they can be weird too. The current band members consist of Josh Shaw, Casey Rittinger and Tyrell Williams. Shaw was classically trained in piano and didn't pick up a guitar until his junior year of college. It wasn't until 2018 Shaw started making music under the name Blvck Hippie. The guitar riffs in a lot of the songs, especially from their 2021 album If You Feel Alone At Parties, call to mind math rock, Midwest emo, and The Strokes. Shaw's dark, brooding lyrics draw on themes of escapism, loneliness and grief to connect with audiences trying to find their place in the world. The group already has several killer indie-rock bangers.
Recommended listening: "Bunkbed"
10. Kevin Atwater: @kevinatwatermusicDelving back into the acoustic singer/songwriter genre, Kevin Atwater makes an appearance on this list with his relentless, vulnerable lyrics. A lot of his songs surround themes of identity, love, mental health and the broader human experience. Atwater first graced the TikTok scene with a song called "Dispose" back in January of 2022, but gained popularity after posting "Star Tripping," about a boy who thought Atwater was the reason he was going to hell. Atwater has quite an impressive vocal range, and primarily uses guitar strumming to accompany him on his heart-wrenching ballads. He's a raw talent whose passion oozes and bleeds into everything he creates.
Recommended listening: My Blood is Your Blood
Honorable mentions: @montellfish, @sarahkinsleyd, @leithross, @hemlockesprings, @elliotfullam, @quinne, and @delaneybailey. They've gained a lot of exposure over the last year or two but still deserve to be highlighted for the great work they've done.