Watch Thom Yorke's Stunning Rendition of "Daily Battles" on Colbert
Photo by Scott Kowalchyk/CBS
Music
News
Thom Yorke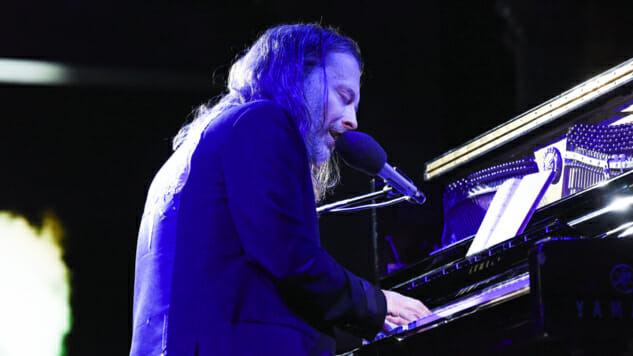 Edward Norton's recently released directorial effort Motherless Brooklyn, a standard-issue noir period drama in which Norton also stars, is a fine film, but perhaps its most outstanding element is "Daily Battles," the song Thom Yorke contributed to its soundtrack at Norton's behest. Yorke took the stage at New York City's Ed Sullivan Theater on Thursday night to perform "Daily Battles" on The Late Show.
Armed only with 88 keys and his singular voice, Yorke strips the already-subdued tune down even further, exposing its broken heart. It's easy to see why Norton says he cried when he first heard an early version of "Daily Battles." Who knows—we may very well hear Yorke perform this song again at the 92nd Academy Awards in February.
Yorke released his first solo album since 2014's Tomorrow's Modern Boxes, the acclaimed ANIMA, over the summer. Paste ranked the LP among June 2019's very best.
More recently, on Halloween, the Radiohead frontman debuted the hand-drawn video for ANIMA's "Last I Heard (…He Was Circling The Drain)." Yorke recently concluded the first leg of his tour with Nigel Godrich and Tarik Barri, aka Tomorrow's Modern Boxes—they'll pick back up in March 2020.
Watch Yorke's Late Show performance and revisit a 1995 Radiohead performance from the Paste archives below.