Listen to "Volk," the Latest Single from Thom Yorke's Suspiria Score
The track is Yorke's first entirely instrumental Suspiria single
Images via Greg Williams, XL Recordings
Music
News
Thom Yorke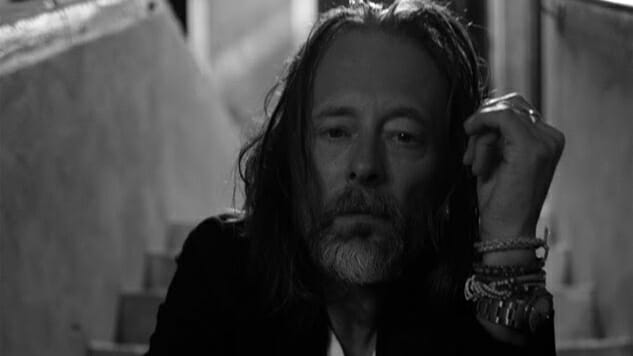 Thom Yorke has released "Volk," the third single from his forthcoming score to Luca Guadagnino's Suspiria remake. The score will be released Oct. 26 through XL Recordings. "Volk" follows previous singles "Suspirium" and "Has Ended," and is the first single thus far to be entirely instrumental.
While previous singles walked the common ground between Yorke's solo work and orchestral accompaniment, "Volk" is his first deep dive into true horror film scoring. The track is borne in on queasy synths, loping and circular in their simplicity, and Yorke slowly piles on the terror: dragging string parts, a creeping bass line, sharp mellotron stabs, a constant industrial hum. By the time Yorke's recognizable drum fills come crashing in, the song feels like it's in freefall, dropping further and further into a deep, dark pit.
It's easily the most unsettling track Yorke has released yet, a far cry from the frigid beauty of "Suspirium" or the cosmic wallowing of "Has Ended." It feels classic, like something John Carpenter would have hammered out back in the day. That's probably why it was used in the first Suspiria teaser trailer: Its metallic stings are the perfect accompaniment for the startling images of the trailer, things that you know are wrong, but you just can't trace how or why they are.
Listen to "Volk" below and check out a 1995 Radiohead performance from the Paste archives further down.