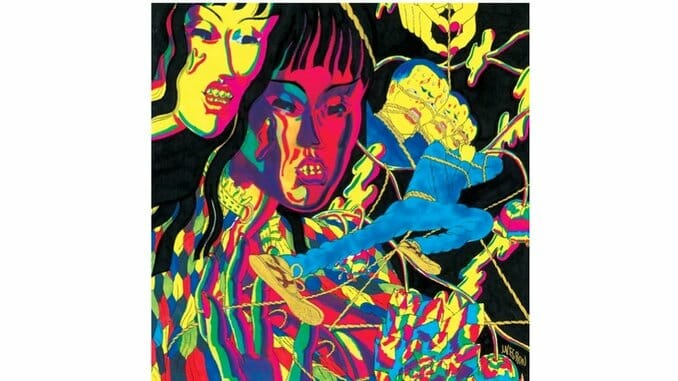 From the very first "Sweat Leaf"-channeling fuzz riff, there's no question what's being "dropped" on this latest dispatch from prolific San Francisco garage-psych veterans Thee Oh Sees. How many hits is anybody's guess, but I think "at least a 10-strip" is a safe place to start.
Lead track "Penetrating Eye" is the kind of stonerific sludge that pulses from the speakers the way blood pulses through the veins of some poor snakebit bastard with about a half an hour to live. But that's just one facet of this dark, multi-sided gem of modern psychedelia. There are smooth-gliding, krautrock-inflected lysergic biker anthems worthy of a well-cast, top-dollar Easy Rider remake; hypnotic, mind-of-winter meditations sandblasted with rattling tape loops, cacophonous guitar squall and chanting Leslie-swirled vocals; triumphant, horn-fortified curtsies to Her Satanic Majesty and Floyd's Atom Heart Mother; Hot Rats-erratic prog jams and high-octane mid-'60s acid-test garage blues—the ecstatic pentatonic, sprays of slightly dissonant bends and breakneck runs that begin as if the lead guitarist is clutching a firehose at full blast, and end as if someone just sledgehammered the valve off the hydrant.
Drop continues an impressive 10-year streak during which Thee Oh Sees—under various names and spellings—have put out at least one album every year. While there's nothing here as instantly infectious as "Toe Cutter-Thumb Buster" (the single from last year's Floating Coffin), Drop plays like some lost weekend at the Fillmore West circa 1966-71. It's sort of like a textbook if you want to learn how to make the kind of music Thee Oh Sees get off on most. They're professors, historians, torchbearers and revivalists—intrepid travelers on the cusp of sonic oblivion, boldly distilling (and updating) a genre that's as vibrant as ever, if a lot more niche.