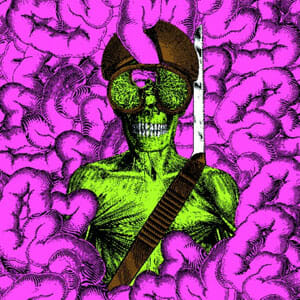 To call John Dwyer prolific is a bit like calling The Beatles "like the best band ever." It's been said before. But regardless of the statement's lack of originality, it isn't any less accurate or fitting. The mad scientist behind Thee Oh Sees has lead his merry band of weirdos through an exhaustive amount of releases in the last 15 or so years, with the last year being particularly fruitful.
Carrion Crawler/The Dream arrives just six months after the twisted garage treasure that is Castlemania, and is the band's third full-length on In The Red since 2010's Warm Slime. This type of mass output, which seems to be the M.O. among the San Francisco scene (see Ty Segall and The Fresh & Onlys) that Dwyer is pretty much the godfather of, was not invented by Thee Oh Sees. Like Guided By Voices and even Ryan Adams, they are just of the school of thought that a musician's job is to write, release and perform music. And if you are serious about it, this process shouldn't only take place every one to two years.
Does this mean you have to take some of the bad with the good? Of course. But with a band like Thee Oh Sees that's half the fun. Even their lesser moments are pretty damn interesting.
When Castlemania was released last May, Dwyer was already hinting at Carrion, referring to it as "maybe our best yet." While an unconventional PR move to use the release of your current album to tout your next one, he was likely so excited because Carrion just may be the band's finest effort to date.
Although it would break the needle on the bizarre meter for a more conventional band, Carrion Crawler/The Dream is a pretty straightforward release in the world of Thee Oh Sees. And that is meant to be positive statement. It seems the band found the ideal balance between the psychedelia of Warm Slime and the catchy garage of Castlemania. As they plow through some of the dirtiest riffs of recent memory, Dwyer—a vocal chameleon drenched in reverb—goes from high-pitched yelps to channeling Vincent Price to a Joey Ramone-esque faux Cockney accent, and more often than not it always hits home.
Purely speculating, I suspect that Dwyer and company named the album after two of its tracks because they just couldn't decide which one was more awesome. "Carrion Crawler" is a slow-building sneak-attack that brings a new element of darkness to the long-used "la, la, la," refrain, while "The Dream" is a ripper that is deadset on proving that rock 'n' roll can, and should, still be weird, dangerous and fun, which, in retrospect, has always seemed to be Thee Oh Sees' ultimate mission.
And if you weren't convinced before, this one should do the trick.