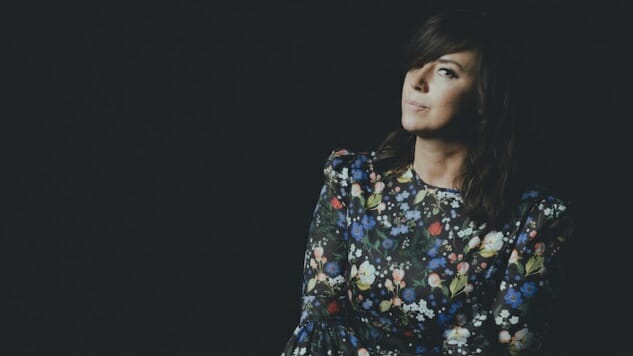 The second week of October brought us a lot of great music. Cat Power made a powerful statement on her 10th studio album, Phosphorescent made a raspy new record and we had lots of great new tracks from Deertick, Hookworms and more. We also had some stellar Paste Studio performances from art-rockers Tropical Fuck Storm and jazz pianist Christian Sands. Indulge in Paste's weekly music roundup, as curated by the Paste Music Staff.
BEST ALBUMS
Cat Power: Wanderer
Chan Marshall, who records under the alias Cat Power, boasts more musical prowess than many singer/songwriters would even know what to do with. In fact, after nine gleaming LPs, she almost stopped doing anything with it—she told The New York Times that after getting pregnant in 2014, she thought about abandoning her music career to move to Australia and change her name to Beth. Instead of fulfilling those outback fantasies, Marshall went back to work. The result is her 10th LP, Wanderer, a marvelously minimalist, generously arranged and smartly written glance into one woman's mind. Marshall allows Wanderer to be about lots of things at once: such life-altering instances as motherhood and death as well as plentifully covered topics like love and relationships. Cat Power has stumbled at times during her lengthy and storied career, but on Wanderer, she gracefully lands on all four feet. —Ellen Johnson
Phosphorescent: C'est La Vie
Since Muchacho, Matthew Houck fell in love, got married, moved from New York City to Nashville, became a father, nearly died in a bout with meningitis and built his own studio, by hand, from the ground up. That's a lot of major life events to pack into a half-decade, so it's no surprise that he sounds like a different man on his new album C'est La Vie. His fine-grit tenor is still perfectly raspy, and his songs still hang effortlessly near the border between barstool country and warm-glow pop, with Houck's experimental streak interloping into both territories. This is still Phosphorescent. It's just that the man behind the wheel is older and a little bit wiser these days. Houck sounds bemused but happy, like a man still learning to navigate and appreciate a whole new existence. No doubt, his beautiful and affecting music will grow with him—and help guide him. —Ben Salmon
BEST TRACKS
Mk.gee: "Come On (You Know That I'm a Fool)"
Mk.gee, the project of L.A.-based songwriter Michael Gordon, has shared new single "Come On (You Know That I'm a Fool)," which premiered at Paste this week. The track is the first single off Mk.gee's forthcoming EP Fool, which is being self-released on Nov. 16. The track is stuttering, sun-scorched dream-funk, a wavelength that Mk.gee has been comfortably operating on since his previous album, Pronounced McGee, which came out earlier this year. The track finds Mk.gee submerging his pure pop sensibilities under layers of watery production tricks. "I realized that the act of recording is not just simply trying to get the cleanest sounds," he says. "There is unlimited creativity and storytelling with the way things sound on a record, which really got me into production." —Justin Kamp
Deer Tick: "Hey! Yeah!"
Deer Tick have announced a companion follow-up to 2017's Deer Tick, Vol. 1 and Deer Tick, Vol. 2. It's called Mayonnaise, perhaps a nod to last year's condiment-inspired album art, and it's out Feb. 1, 2019, via Partisan Records. The 13-track compilation album will feature reworked versions of songs from Vol. 1 and Vol. 2, as well as covers and a few brand new tracks. In typical Deer Tick fashion, "Hey! Yeah!" involves worn and weathered Southern rock and gritty vocals. The easy-going, toe-tapping rock of "Hey! Yeah!" fits right in alongside the relaxed fingerpicking and folksy storytelling of "Doomed from the Start" and "Tiny Fortunes," from Vol. 1 and Vol. 2, respectively. "Hey! Yeah!" is tremendously fun, twangy rock 'n' roll, sure to please Deer Tick's devoted fans. —Ellen Johnson
Hookworms: "Ullswater (Luke Abbott Remix)"
English five-piece Hookworms have followed up this year's Microshift with a new remixes EP, Microshift Remixes EP, out on Nov. 23 via Domino Records. The four-track EP features remixes from Nik Colk Void of Factory Floor, Luke Abbott, Free Love (fka Happy Meals) and XAM (with Hookworms' own MB). The EP will be limited to 500 physical copies and they unveiled the first track from it this past week: "Ullswater (Luke Abbott Remix)." The new remix preserves the punchy, intricate electro-rock quality of the group's album while drawing it out for a more hypnotic, rhythmic drone. The vocals cut out about halfway through, but they keep up the intrigue with mind-numbing synths and pulsing percussion, opening the sonic palette much wider than you thought they would, especially with the outro's strange, waterfall-like percussive elements. —Lizzie Manno
BEST PERFORMANCES
Tropical Fuck Storm
Australian punk-blues and noise-rock band Tropical Fuck Storm popped by the Paste Studio to play songs from their debut album released this year, A Laughing Death in Meatspace. After touring with Band of Horses and King Gizzard and the Lizard Wizard, they released their debut album in May, full of dark, gristly art-punk. In this session, the band played three tracks: "You Let My Tyres Down," "Rubber Bullies" and "Lose the Baby.
Christian Sands
American jazz pianist Christian Sands came into the Paste Studio to perform songs from his latest album, Facing Dragons. Learning under the guidance of prominent jazz educator Dr. Billy Taylor, Sands has become a thrilling pianist and a passionate student of the classic jazz tradition. During the session, he played four songs: "Rebel Music," "Yesterday," "Reaching for the Sun" and "Background Music."
FEATURES
10 Memphis Bands You Need To Know in 2018

Why should Nashville steal all of Tennessee's musical thunder? Though the state's capital is country-music Mecca and home to Music Row, Memphis is just as worthy of the title "Music City." After all, Memphis claims Sun Studio, where everyone from Elvis Presley to Johnny Cash to B.B. King recorded hits, and Stax Records, the label behind legends like Otis Redding and Booker T. & the M.G.s and contemporaries like Melissa Etheridge and Nathaniel Rateliff & the Night Sweats. The blues were born in Memphis. Big Star was born in Memphis. Julien Baker was born in Memphis. Al Green, Bruno Mars and U2 have all recorded in Memphis. We rounded up 10 emerging bands and artists from the "Birthplace of Rock 'n' Roll" to prove Memphis has still got it. —Ellen Johnson
The Musical Tastes of 15 Modern Presidents

As we barrel towards this year's Election Day, we get yet another chance to see democracy in all its terrifying action. Whether we like it or not, we seldom define candidates by their political stances alone. Instead, we judge them by their haircuts, whether we could grab a beer with them and what their stances on emotionally polarizing issues are. In a perfect world, we'd vote based on careful research into the issues, but we're really trying to answer a simpler question: Are they like us? The following list examines the musical tastes of the last 15 modern presidents. Over the course of a century, each of these men has somehow contributed to the musical culture of the White House, but the real question is, which leader of the free world would you trust with the aux cord? Because the answer may have been your vote. —Katie Cameron
Running Playlist: 10 Great Albums to Run To

The music we sweat to matters. You can run to anything, but a particular caliber of tempo, beat and decibel serves a run well—the louder and faster, the better. Like hearing a great song in the car for the first time, listening to really good music on a run (or trot, or stroll, or whatever you do to get moving) can give it a new meaning, and induce big-time elation. The mingling of endorphins and sweat and the right tune passing through your earbuds is a euphoric combination. Usually clocking in between 30 minutes and an hour, albums make particularly great running material, allowing your jaunt a reasonable stopping point (unless you're a marathon runner, in which case we'll point you to something by Kamasi Washington). Next time you hit the trail or treadmill, consider giving one of these records a spin, even if your run is more of a walk. —Ellen Johnson
Austin City Limits Music Festival Day 3 Recap: Arctic Monkeys, Phoenix, Janelle Monae and More
Day three of Austin City Limits Music Festival was all about the youth with by far the most young people in attendance in comparison to the first two days, which both featured legacy acts as headliners. When Childish Gambino pulled out of his Sunday headline slot, the festival gave the opening to Travis Scott while also adding French rockers Phoenix to the Honda Stage to beef up the lineup. Arctic Monkeys headlined the Honda Stage and unsurprisingly they drew a crowd size comparable to that of Travis Scott. Sunday saw the most clouds of the festival (though that's a pretty low bar) and even a brief passing shower. I have to say I would've appreciated more clouds or a shower earlier on in the weekend, but I guess my sunburn will heal eventually. The first weekend of the festival featured an exceptionally solid lineup and a plethora of memorable performances. In fact, several of the best performances of ACL's first weekend came on Sunday. —Lizzie Manno