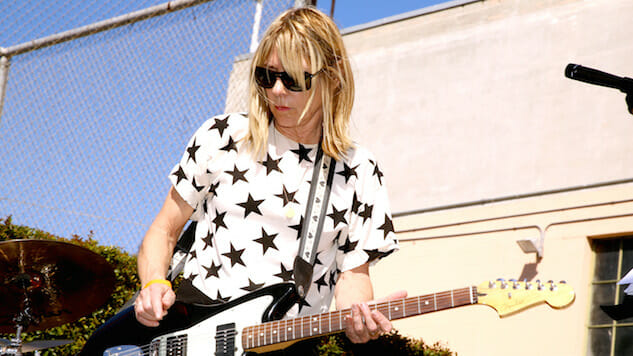 This week was one that Paste's music staff has been eyeing for, well, an entire decade. We finally unveiled our list of the 100 best albums of the 2010s, after dozens of our writers voted via spreadsheet and argued via long conversations. Though no list can accurately represent an entire decade of recorded music, it became a labor of love to share a selection of albums that still resonate with us (and hopefully, our readers too). While much of this week was consumed by music list mania, it's important to remember there are albums that could potentially change lives coming out every single Friday (not to mention songs coming out every day). Scroll down to enjoy all of this week's best new music offerings, and dive headfirst into our list of 100 best albums of the decade if you haven't already.
BEST ALBUMS
Kim Gordon: No Home Record
Kim Gordon doesn't put much stock in the superlatives that have piled up around her over the years: pioneer, visionary, icon, legend, beacon. "Being referred to as an 'icon,' blah blah blah," she said recently in the New York Times. "What does that even mean?" Fair enough, but you'd be forgiven for thinking she's earned it. As a visual artist, co-founder of Sonic Youth, fashion designer and occasional actor, Gordon has been a magnetic, and inscrutable, focal point of indie cool for nearly 40 years. In all that time, her musical pursuits have come in group projects: 15 studio albums with Sonic Youth, three each as part of Free Kitten and Body/Head and one with Glitterbust, along with various EPs and singles scattered among them. Now, at the age of 66, Gordon steps out with No Home Record, a ferocious solo debut. It's jagged, chaotic and mesmerizing in a way that pulls you inevitably into the thick of it, as if the songs were exerting their own inescapable gravity. Gordon tinkers throughout with rhythms, intoning short, incisive lyrical phrases over a hypnotic mechanical beat on "Cookie Butter," and letting the electro-clash drums on "Sketch Artist" drop out here and there for free-form interludes. Toward the end of No Home Record, she skips the beat altogether on "Earthquake," singing in dusky tones over drifting guitars, crescendos of cymbal wash and some crumbly electronic noise in the background. —Eric R. Danton
Big Thief: Two Hands'
Big Thief has amassed a large and devoted fanbase the old-fashioned way: by releasing four astonishingly good albums in just three-and-a-half years, by touring relentlessly and seemingly without rest, by Instagramming a lot of photos of themselves grinning and embracing each other in various bucolic settings. In 2019, much of Big Thief's ethos feels like a throwback to the LP era: the prolific output (think Creedence circa 1969-1970), the album-stream-as-vinyl-sides, the band's creative intimacy and affinity for recording live with minimal overdubs. Which is appropriate, since this band's razor-sharp songwriting has always felt somewhat adrift in time, belonging as much to the 1970s or early 2000s as it does to the present. Two Hands does not dramatically depart from the mesmerizing folk-rock fusion of U.F.O.F., but its best moments emphasize the band's gnarled electric energy, particularly on the career highlight "Not." When an artist releases two studio albums in one year, it's customary for critics to grumble about hubris, usually accompanied by the suggestion that the two separate releases should have been whittled down into one. Often—as with Justin Timberlake's The 20/20 Experience and its turgid sequel—this charge is accurate. With Big Thief, it won't be. Both records stand as outstanding and individual statements from a band operating at some rare creative peak. Both records deserve to exist, and we're fortunate that they do. —Zach Schonfeld
BEST TRACKS
FKA twigs: "home with you"
FKA twigs announced this week that her forthcoming record, MAGDALENE, has been pushed back slightly: It will arrive Nov. 8, rather than the initially promised Oct. 25. We'll have to wait a bit longer for the full experience, but thankfully she's tiding us over with "home with you," a third cut off the project that follows the raw "cellophane," and the Skrillex- and Jack Antonoff-produced "holy terrain," a collaboration with Future. "home with you," an alternately gauzy and chilling exploration of loneliness, takes us from the disorienting interior of a nightclub to a ride out on the town with eerily mannequin-like companions and into the woodlands, where FKA twigs saves a young girl from a well and reveals a third eye in place of her belly button. —Amanda Gersten
Caribou: "Home"
Dan Snaith released his first new music as Caribou since his sixth album Our Love, sharing "Home" this week along with his first shows since the days of his acclaimed 2014 LP. Here's hoping there's more where "Home" came from—a press release makes no mention of any more forthcoming Caribou music, but if there is, we'll all but certainly be hearing about it before the band's newly announced tour begins in the spring. —Scott Russell
Guerilla Toss: "Future Doesn't Know"
Guerilla Toss are a reminder that art-rock doesn't need to be pompous to push boundaries. The group's singles from their forthcoming EP, What Would The Odd Do?, show a danceable inventiveness that's as fun as it is pensive—even when confronting serious topics like addiction and recovery. Their latest track "Future Doesn't Know" is a pristine glimpse into existential thought that's propped up by its energetic instrumentation. It's also incredibly fun. —Hayden Goodridge
BEST PERFORMANCES
Luna was formed in 1992 by Dean Wareham after the breakup of slowcore and dream-pop cult act Galaxie 500. He was joined by Stanley Demeski of The Feelies and Justin Harwood of The Chills, who were later replaced by guitarist Sean Eden, drummer Lee Wall and bassist Britta Phillips. When the quartet came into our Atlanta studio, they performed Orbison's "California Blue," plus the title track of their 1994 album Bewitched and "Malibu Love Nest" from 2004's Rendezvous.
Shovels & Rope
Roots rock duo Shovels & Rope stopped by the Paste Studio in NYC to perform songs from their latest full length By Blood, out now via Dualtone Music. Per a press release, "By Blood features Shovels & Rope's vivid narratives based around hopeful yet flawed protagonists and their eventual shortcomings." The husband and wife pair consisting of Michael Trent and Cary Ann Hearst performed four tracks in this session: "I'm Comin' Out," "C'mon Utah!," "Mississippi Nuthin'" and "Hammer."
FEATURES
The 100 Best Albums of the 2010s
If it's not already obvious, we love to rank things. The best movies on Netflix, the best horror novels of all time, the best hazy IPAs. It's not because we believe we have the definitive opinion or we can accurately distill something like a decade of recorded music into a simple list, but because we love to share what we love, to celebrate great art. This is especially true with music, and even more so with music that has stuck with us over time. So I've been thinking about my Best Albums of the 2010s ballot pretty much since we published the Best Albums of the 2000s a decade ago. But what makes this list interesting, to me, is that my ballot is just one vote among many. This is a group effort involving all our music editors and writers, who've listened to an untold number of albums over the last 10 years. Dozens filled out ballots, and the votes were compiled with great care by Paste's Ellen Johnson and Lizzie Manno. Everyone is going to feel like some of their favorites were left off (even those of us who voted), but the point of a list like this—the only point, really—is to celebrate worthy albums and help our readers discover music they might have missed. So here is our take on the best albums of the decade, whether they sold millions of copies or just a few thousand. —Josh Jackson & Paste Staff
Here we are, in the twilight of the 2010s, waxing poetic on the decade's best albums while we simultaneously slurp up new ones. The release roll will start to slow in the coming months as the year wraps up, but as of now, there's still plenty of new music to drink in (even if, like me, all you really want to listen to is the new Angel Olsen album on repeat). There's a chill in the air, new albums in the queue and candy corn on the shelves. We are really living. Read on for all of today's (Oct. 11) new goods. —Ellen Johnson & Paste Staff
The Avett Brothers Break Down a Decade of Their Best Songs
The Avett Brothers are almost always on tour. The relentless travelers, currently a six-piece troupe, headline festivals and amphitheaters, as well as concert halls and theaters, all over the country. So when I call up Seth Avett this summer to talk about their new album, Closer Than Together (out now on Republic Records), I'm not surprised to find him far from the forests and dirt roads of his native North Carolina. He's in Arizona, where it "basically feels like the surface of the sun when you step outside," he says. 110 degrees. It's not anywhere near that warm here in Atlanta, but Seth, being the personable fellow he is, expresses understanding for those of us suffering the "extreme" Georgia temps. Indeed, the seemingly never-ending southern summers can feel unbearable, much like living in America in 2019. Gloom has permeated our national discourse for nearly three years now, and artists have responded in the best way they know how. The Avett Brothers, who have never really been politically forthright in their lyrics, released an album called True Sadness in 2016. This time around, they finally turn their attention from personal strife to political, while still maintaining the earnest storytelling abilities that made them famous. —Ellen Johnson
The Curmudgeon: Bob Dylan's Guitarists
John "J.J." Jackson absorbed many lessons while serving a stint in Bob Dylan's band from 1991 to 1997, but the most important was how to play electric guitar behind a singer who leans heavily on lyrics. He learned how to stay out of the way of the words while at the same time making his presence felt whenever there was an opening. This would seem like the most obvious thing in the world, but I'm forever astonished by all the guitarists who haven't grasped this basic concept. At concerts in any genre at any locale, I've encountered guitarists who play at the same aggressive volume from the start of the song to the finish, reducing the vocals to mere sounds without intelligible words. (See Hey, E Street Punk, I Can't Hear You.) This is annoying in any context but especially so when the bandleader is a singer/songwriter with a literary bent. You're attracted to those words when you hear the studio versions of the songs and you come to the concert looking forward to hearing that verbal imagery come alive, only to find the language has been bulldozed into a rubble of indecipherable syllables by a guitarist who's cranked up his amp to 11. Maybe he doesn't pay attention to the lyrics himself, so he assumes no one else is interested either; maybe he believes it's all about the buzz and throb of the music and the words are a disposable accessory. Maybe he's reinforced in that belief by that rowdy, inebriated segment of the audience that doesn't care about words either. But it's a real drag for those of us who do care. —Geoffrey Himes