The Week In Music: The Best Albums, Songs, Performances and More
A new country supergroup, Chance the Rapper's return, genius folk from Florist and more
Photo by Alysse Gafkjen
Music
Features
The Week in Music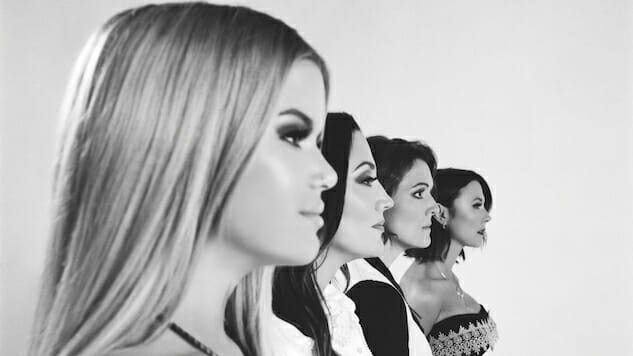 It's the last Friday in July, squad! This time next week we'll be in full-on August mode, anticipating summer's last hurrah and withering away in whatever heat-stricken city you call home. In the meantime, there's plenty of hot summer songs (a.k.a. Songs of the Summer) to soundtrack the final chapter of your hot girl summer, and this week added even more to the mix. We heard new singles from Loving and newly formed country supergroup The Highwomen, plus DIIV returned with a catchy new track. We can finally listen to Chance the Rapper's new album, which mysteriously didn't drop Thursday at midnight, but arrived this afternoon. But today also brings a haul of 10 other new albums to kick it to. Read on for all the music news, features, performances and more from this week.
BEST ALBUMS
Florist: Emily Alone
There is transformative power coursing through the 12 songs on Emily Alone, the new album from indie-folk project Florist. It's not loud or showy or self-serving or generous. It's just there, simple and plainspoken, waiting to be engaged and willing to move through anyone who needs it. Presumably, that's what happened to Emily Sprague, the Los Angeles-based singer-songwriter named in the album's title. Last winter, she wrote and recorded Emily Alone during a period of isolation and personal reflection spurred by the unexpected death of her mother and a move across the country, away from her collaborators in Florist (the band's home base is still listed as New York on their Bandcamp). On Emily Alone, Sprague strips down her songs to their barest elements, leaving only her voice, words and plucked acoustic guitar (plus an occasional exception) to carry the message. What's left is not just bedroom-recorded confessional music, but pure introspection, confusion, revelation and emotion rubbed raw and exposed to the world. These songs are not sad so much as they channel the ebbs and flows of life lived inside a human brain with startling accuracy. Perhaps you have to be in the right place—emotionally, spiritually, spatially or whatever—for Emily Alone to impact you fully. But if you're there, you'll feel it. And if you're not there, that's OK. When you're ready, Florist will be there waiting for you. —Ben Salmon
Dude York: Falling
With Falling, Dude York show that they are a prime example of a band owning their adolescent renaissance by channeling, rather than imitating, their music influences (some of which include The Cure, Black Sabbath, Blink-182 and Carly Rae Jepsen) and echoing the emotions of yesteryear. Listening to Dude York's latest power pop album, the Seattle band's fourth to date, sends teenage pangs through your heart that remind us how intense and overwhelming every crush or heartbreak used to be (or still is). They're the kind of band that The O.C.'s Seth Cohen would insist his friends see at the Bait Shop. Claire England (bass, vocals) opens up Falling with the sweet daydream that is "Longest Time," which swings like a pendulum between her earnest voice and electrifying guitar. She romanticizes the honeymoon period of relationships, singing, "This is the best part / When you believe I can do nothing wrong." "Box," the album highlight, takes a different approach in its post-punk revival sound, still managing to absolutely yank on your heartstrings. The first line more than tips its hat to the Killers' ever-beltable "Mr. Brightside," as Peter Richards (guitar, vocals) laments that "It started with a kiss / Who would have thought that it would end like this," bringing back middle school dance flashbacks of Brandon Flowers deciding "It was only a kiss." Life in 2019 can be so overwhelming that numbness seems like our only defense, but Dude York is ready to put you back in touch with your most visceral, excruciatingly intense emotions. Fair warning, though—if you put Falling on, you may be tempted to doodle your crush's name all over your binder. —Clare Martin
BEST TRACKS
DIIV: "Skin Game"
"Things have to get worse before they can get better" seems to be DIIV's M.O. for the band's forthcoming third album (and first since 2016's Is The Is Are), Deceiver. And prerelease track "Skin Game" is an excellent first taste before the album's Oct. 4 release via Captured Tracks, mixing weighty guitar riffs and a hook of slick vocals for a cathartic peek at personal pain. —Drew Novak
Loving: "Visions"
"Visions" sounds like the summer—misplaced from weird, sun-stained driving montages from '60s and '70s movies, the soundtrack to spending summer afternoons in the backseat of stuffy cars. A slurring electric guitar and warm keyboards gloop and swoon over flourishing acoustic strumming and gentle percussion as vocalist Jesse Henderson sings of the strangeness of being alone: "I've got a vision so clear in my head / It's a strange kind of prison / It is and it isn't." —Savannah Sicurella
The Highwomen: "Crowded Table"
The new (but long-teased) supergroup/collective/movement led by Brandi Carlile, Natalie Hemby, Maren Morris and Amanda Shires have shared the second single from their album, a harmonic ballad about family—or, at least, whoever it is you go home to—and inclusivity that will probably make you cry. "Crowded Table" was written by Hemby, Carlile and Lori McKenna, and if you're a fan of those three ladies and their respective brands of earnest lyricism, we're betting your heart is going to swell when you hear this tender tune. The four main Highwomen sing in unified, breathtaking harmony throughout. "I want a house with a crowded table," they croon, "and a place by the fire for everyone." And then they leave us with this loving reminder: "Everyone's a little broken, but everyone belongs." —Ellen Johnson
THE PASTE PODCAST
Paste Podcast #18: Kiefer Sutherland Talks Music and Plays Some Songs on The Paste Podcast
The star of 24 and Designated Survivor as well as the original bad-boy teen vampire in 1987's The Lost Boys is our guest on The Paste Podcast this week. Kiefer Sutherland dropped by our studio in Midtown Manhattan for a conversation and to play us a few songs.
"The stigma of an actor doing music is horrific," Sutherland protested when his producer Jude Cole was trying to convince him to record an album. "So I said no, and we laughed. And he was smart enough, took me to a bar, and four or five whiskeys in, it sounded like a better idea."
This may be his first full-length, but he's been involved in music since co-founding a record label with Cole back in the mid-2000s. Ironworks Records has released albums by artists like Rocco Deluca & the Burden, Ron Sexsmith and honeyhoney.
Listen below, or better yet, download on iTunes, Google Play, Stitcher, Spotify or the new app from our podcast partner Himalaya, and subscribe!
BEST PERFORMANCES
Lucky Chops
NYC-based funk group Lucky Chops brought the party (and a whole six players) to our studio late last week for a taste of their electric live show. A blazing horn section and a drum kit is all it takes. Watch their groovy, brassy and highly enjoyable instrumental arrangements below.
flor
Oregon-via-Los Angeles indie-rockers flor are releasing a new album, ley lines, in September, and they played two songs from it ("slow motion" and "dancing around") ahead of its release in the Paste studio. They also played one older tune, "back again," from their 2018 debut come out. you're hiding.
FEATURES
The Best Part of a Forgettable Big Little Lies Season Two Was the Music
Big Little Lies is the visual equivalent of a bar of dark chocolate: rich, sweet-tooth-inducing, cravings-curing fodder. And the music is the caramel filling, or maybe the sea salt crunch: flavor amplifiers. This season's performances by powerhouses Reese Witherspoon, Nicole Kidman, Meryl Streep and the whole lot are phenomenal, but faced with such a choppy and seemingly pointless plot, we really just tune in for this show's endless stream of sweet nothings: feisty meet-ups at coffee shops that could pass for fairy houses, Renata dishing it out on the daily to Gordon, kids being cute kids, disco costumes, long stares out big windows with even bigger glasses of red wine, toy trains, ice cream food fights (or lack thereof) and memes upon memes upon memes. And also music. In Season Two, we (sadly) have less moments with the precocious Chloe and her mature jukebox, but there's still enough great music to account for some of the season's best moments. —Ellen Johnson
The Curmudgeon: Strawberry Fields Forever
The new Danny Boyle movie, Yesterday, is a charming if lightweight picture. But before Richard Curtis's script devolves to an all-too-predictable rom-com finish, the film does raise an interesting question: If the Beatles' songs suddenly appeared without publicity, history or legend in today's very different musical climate, would the public still respond to them? Would listeners embrace the music even if it arrived in inferior versions from Jack Malik, a struggling singer-songwriter from the smallest coffeehouses in Suffolk? Yesterday offers a resounding yes to that question, and while I think the filmmakers overstate the case—after all, it took the Beatles several years of failed auditions before they gained any traction—the songs are still great in any context. Only three people in the world remember them at all, and Jack is one of them. To jar his memory, he decides to travel to Liverpool, the Beatles' hometown. That's a mind-tickling idea: that visiting the geography of where the songs were created might get us closer to the songs themselves. As it so happened, I saw the movie in the British town of Bath, and two days later I was in Liverpool on a pre-arranged trip. I decided to test the theory: Would visiting the places where John, Paul, George and Ringo grew up and first pursued music provide an insight into that music? —Geoffrey Himes
The (Unofficial) Songs of the Summer 2019
Are you having a hot girl summer yet? The pressure to soak up every beach jaunt, spiked seltzer and patio brunch is intense, but that's not the point of a hot girl summer. According to rapper Megan Thee Stallion, the brain behind summer 2019's unofficial slogan (and, maybe soon, the official owner of its copyright), a "hot girl summer" is just about "having a good ass time, hyping up your friends, doing you and not giving a damn what nobody got to say about it." Sounds easy enough. And the best ingredients for a good ass time? Summer bops. And we've got plenty of them. Every year the speculation as to which song will reign as the capital-S Song of the Summer begins somewhere around May. Usually a clear winner emerges before September, as was the case with most from the last decade, but sometimes it's more of a toss-up. This year, the inescapable "Old Town Road" remix, now tied with a fellow song of the summer, Luis Fonsi's and Justin's Bieber's 2017 hit "Despacito," and Mariah Carey's and Boyz II Men's "One Sweet Day" for the longest-running Billboard Hot 100 number one, seems to be on top. But that's not going to stop us from writing about all this year's candidates, as well as our own personal summer anthems. —Paste Staff

2019 Mercury Prize Nominations Announced: Predictions, Snubs and More
On Thursday morning, the shortlist of nominees was announced for the 2019 Mercury Prize, a prestigious award going to the best album by a British or Irish artist. But this is no Best Album at the Grammys—the Mercury Prize, complete with £25,000 in winnings, typically goes to one of the most critically-acclaimed records of the year, a release that truly pushes the envelope and redefines whatever genre it comes from. Past winners like Arctic Monkeys, the xx, Wolf Alice, Skepta, James Blake and more were all worthy of the honor, despite never having a chance alongside the Taylor Swifts and Bruno Mars-es of the world in stateside awards ceremonies. But the Mercury Prize has had its fair share of surprising, WTF moments as well. Radiohead has never taken home the prize despite being nominated five times, but Gomez, Speech Debelle, Ms. Dynamite, Talvin Singh, Roni Size & Reprazent and M People all have, beating out much more influential and lasting artists. That unpredictability is what makes the Mercury Prize such an intriguing award, one that typically gets its shortlist about right, but has the ability to become a chaotic mess on awards night. Here's a primer on each of this year's nominees (albums released between July 21, 2018 and July 19, 2019), in which we make our case for a few more albums that didn't make the cut and finally offer up our predictions on one of the most unpredictable awards around. —Steven Edelstone & Lizzie Manno