The Week In Music: The Best Albums, Songs, Performances and More
Featuring Tame Impala, TORRES, Charly Bliss and more
Photo by Neil Krug
Music
Features
The Week in Music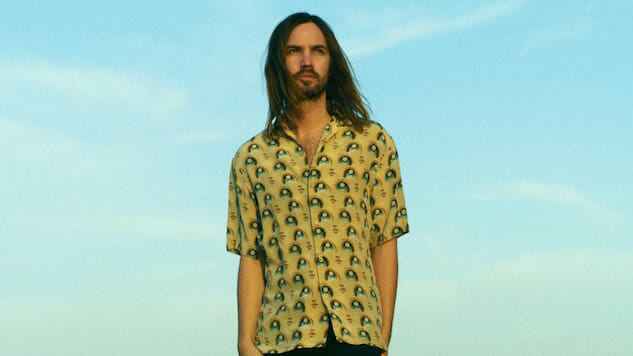 If you chucked your pumpkins in the dumpster and threw a wreath on your door before even ingesting your first cup of coffee this morning, we're not friends. Halloween is over, yes, but that doesn't mean it's officially the Christmas season. What about Thanksgiving? What about pie? I refuse to succumb to our society's premature holiday celebrations! If you're like me and you're saving the Christmas music for next month, join us in reviewing this fabulous week in music, which delivered a host of new songs, none of which contain jingle bells (anybody else still singing the new TORRES?). In other news, Tame Impala finally announced their new album, Post Animal shared a delightful new tune and we caught up on the month's album releases in an onslaught of reviews. And today, we're eating up a surprise new Earl Sweatshirt project, the fabulous new album from Miranda Lambert and more in our weekly list of new albums to stream. It's all here, so grab the leftover Halloween candy and read on.
BEST ALBUMS
Mikal Cronin: Seeker
Since 2011, Mikal Cronin has been pumping out perfectly good guitar-driven pop-rock music that crackles and soars, but sometimes feels like it comes up just short of his considerable potential as a songwriter. Even his very best work up to this point—the punchy 2013 sophomore effort MCII—was a collection of high peaks poking through a thin layer of hesitance that slightly softened its impact. It's a frustrating thing, especially given Cronin's ambitious musical spirit and his seemingly easy access to a deep well of killer hooks. Here, then, is good news: Cronin's new album Seeker—his fourth as a solo artist and third for Merge Records—sounds like a breakthrough unfolding before your very ears. It finds Cronin stretching himself as a songwriter, taking risks in the arrangements and writing the best, most personal lyrics of his career. Just as importantly, Seeker finds him embracing a sort of sonic abandon that was lacking in his earlier work. —Ben Salmon
Grace Potter: Daylight
Four years ago, Grace Potter held herself back. On a clever song called "Your Girl" on a searing album called Midnight, she fought desire with fire and stopped herself from going after the man she loved: He was in a relationship, and the other "girl" just didn't deserve that betrayal. "I wish I never met your girl," the chorus goes, "'cause I really like her, and I don't wanna hurt her." Fast-forward to 2019, and Potter's relationship status is much more stable. The 36-year-old rock singer has re-emerged after divorcing her Nocturnals bandmate Matt Burr, getting engaged to her producer Eric Valentine and having their son, Sagan, in early 2018. On "Love Is Love," the first and best single from Daylight, her comeback record (and Midnight's thematic sequel, in a way), Potter isn't holding herself back anymore. "I don't care, I want to call you," she sings. "I don't care, I've gone off the rails, I'm crazy falling for you." She continues: "I promised him I would never stray, but I'm thinking about you everyday," channelling Tapestry-era Carole King while she gushes about this risky new love. Now, Potter is putting herself first. Potter's roar makes every song worth listening to, even if each one more or less preaches the same point—something along the lines of "All you need is love." But there's an argument to be made for singing about love frankly. Potter is letting herself enjoy this new season of life while trying her best to let go of the past, and ultimately the joys of new love sound the loudest throughout Daylight. She sings, "Love is love, it takes a hold," and maybe that's all some of us need to hear. —Ellen Johnson
BEST TRACKS
Tame Impala: "It Might Be Time"
Tame Impala has finally announced a release date for their new album The Slow Rush—Feb. 14, 2020—and shared a new single, "It Might Be Time." The uneasy new track features abrupt transitions, shrill synths and pounding drums. "It Might Be Time" suggests Parker's thought about throwing in the towel since Currents. "All my friends are growing up, and moving on / I must be missing something," he muses, lamenting that he's "not as cool"—or as young, or as fun—"as [he] used to be." Thankfully for Tame Impala's many admirers, he's decided to "keep this dream alive for now."—Amanda Gersten
HAIM: "Now I'm In It"
HAIM most recently teased their new single on Twitter on Tuesday, Oct. 30 (aka "HAIMoween"), promising a "HAIMMMMMMMMbop" and posting a delightful mini-tribute to another beloved sibling pop act, Hanson. The Twitter tease was preceded by quite a few others: HAIM called their impending single "the most haim haimy haim song ever written" last Monday, revealing that they'd finished recording it on the following day. This Monday, they expanded on the inspiration behind "Now I'm in It" in an emotional series of tweets, with an unidentified Haim sister explaining that the song is "about going through it. a depression. not leaving the house type of shit." Rostam Batmanglij, Danielle Haim and Ariel Rechtshaid as credited as the recording's producers in the "Now I'm in It" video's YouTube description, with mixing by Manny Marroquin, mastering by Emily Lazar (assisted by Chris Allgood), and engineering by Rechtshaid, Batmanglij, John DeBold and Dalton Ricks. Anderson and his team filmed the video on location around Los Angeles earlier this month. — Scott Russell
TORRES: "Good Scare"
Like the material on Three Futures, "Good Scare" melds oceanic guitar, percussion and synth, offering a lush and layered complement to Mackenzie Scott's gravelly lows and tender falsetto. The new track takes up the stops and starts of a budding romance, when the prospect of love feels both terrifying and predestined. Her partner is desperately "eyeing all the exits" to the situation, while Scott believes whole-heartedly in their relationship, no matter the uncertain future. She nods to her Southern origins with a clever queering of the country canon: "You make me want to write the country song folks here in New York get a kick out of / I'd sing about knocking you up under Tennessee stars in the bed of my red Chevrolet pickup." Give us the song, Mackenzie! —Amanda Gersten
THE PASTE PODCAST
The Paste Podcast #30: Jacob Collier, Game of Thrones
This week, Jacob Collier dropped by the Paste Studio in New York to play us three songs and talk to Paste's Brad Wagner about his unusual musical path. The London-based multi-instrumentalist got his start garnering millions of views on YouTube with a series of amazing split-screen vocal covers of songs like Stevie Wonder's "Isn't She Lovely." Since he released his first album in 2016, he's been able to collaborate with an insane range of artists from Herbie Hancock to Ben Folds to Snarky Puppy. He's won two Grammy Awards for his arrangements. And he has a new album out this year, Djesse Vol 2.
Also, Paste TV editor Allison Keene joins us for a discussion of all the Game of Thrones news hitting this week, including the upcoming prequel series House of the Dragon.
Listen below, or better yet, download on iTunes, Google Play, Stitcher, Spotify or the new app from our podcast partner Himalaya, and subscribe!
BEST PERFORMANCES
On Tuesday, Eva Hendricks and the band (made up of Eva's brother and keyboardist Sam, guitarist Spencer Fox and bassist Dan Shure) lit up the Paste Studio with that incredible live spirit and three songs from their 2019 sophomore album Young Enough. Singles from the record included "Capacity" and "Chatroom," but for this session (the second for Paste in the band's history), the foursome opted for some deeper cuts: "Camera," "Hurt Me" and "The Truth." "Camera" is a song Hendricks wrote while on hold with her bank after her credit card was stolen and used to "buy a camera in California," Hendricks discloses after performing the song. And whether the thief would've used the camera to create a "masterpiece" or make "something sick and twisted," we'll never know, as Hendricks sings in this slightly paired-down version of the track. Also during the session, Hendricks mentions some of the band's influences while making Young Enough, which range from Lorde and Taylor Swift to Superorganism. Young Enough is the group's second LP, following 2017's glistening pop-punk feat Guppy. Charly Bliss also have a new EP, Supermoon, out now.
Country singer Jason Hawk Harris is hot on the heels of his debut album Love & the Dark, which, as we wrote in August, does a fine job of covering both those topics. On Halloween, Harris stopped by the Atlanta studio to play two songs from the record—including his excellent single "The Smoke and the Stars," a dusty love song in the vein of Jason Isbell's Southeastern. But before he could make like a ghost and fly out the door, Hawk treated us to a lovely cover of another "dark" song, and a fitting one at that for the day's spooky themes: "Killer," a beautiful—if incredibly morbid—song from singer/songwriter Phoebe Bridgers' debut LP Stranger in the Alps, which arrived in 2017. Harris' version is simple, but just as chilling as Bridgers'.
FEATURES
The 30 Best Cover Songs of the 2010s
There's an art to pulling off a good cover song. The rendition must succeed while resembling the original—to a reasonable degree—and also incorporating new elements that make it different. A competent artist gives the song new life while still respecting the original recording. A great band or artist forces us to hear the song in a new way. These artists refreshed and revived songs that didn't even need improvement—yet, it's like hearing these tunes for the very first time. Here are the best cover songs of the 2010s. —Paste Staff
The 10 Best Albums of October 2019
What's scarier than Halloween on a Thursday? The fact that we're barreling to 2019's bitter end faster than I can say Polachek. Thankfully this month delivered plenty of new albums to assist us in soaking up the final quarter of the year, including the triumphant pop record by the aforementioned Caroline, comeback records from longtime favorites like Nick Cave and The New Pornographers, the second showstopper of the year from indie rock's finest Big Thief and the masterpiece from one of our favorite rockers/singers/humans, Angel Olsen. See here for all our favorites from October 2019. —Paste Staff
The 15 Best Songs of October 2019
October delivered a chilli-pot-sized helping of irresistible new music, including the return of indie-folk mastermind Andy Shauf, the solo debut from Hop Along's Frances Quinlan and the much-anticipated revival of indie-rock force TORRES. We enjoyed songs by all of the aforementioned artists, plus a surprising hit from synth-pop project Black Marble, some deep cuts from Caroline Polachek's incredible new pop album and a new song from rocker Squirrel Flower. Wrap up the last month before the holidays with all these songs and more, which you can find here in our list of favorites from October. —Paste Staff
Liam Gallagher Is Still Magnetic
Liam Gallagher is still the larger-than-life character he's always been. "I stand with my parka on, my shades on and put my hands behind my back and clean my teeth," the former Oasis frontman says over the phone. "Constantly doing that to remind me where I came from."Oasis' rise from Manchester working class heroes to international rock stars is an underdog story that never loses its magic, but Liam Gallagher isn't plowing on so he can try to relive the glory days like some resentful has-been. Rock 'n' roll is all he knows. It's been 25 years since Oasis released their classic debut album Definitely Maybe, and the Gallagher brothers are still massive. They haven't met face-to-face since Oasis' notoriously violent backstage split in 2009, but audiences across the world still crave the pair's charismatic personalities and communal rock 'n' roll. Now solo, Liam just rounded out some American tour dates with The Who and made an appearance on The Tonight Show while Noel, who performs as Noel Gallagher's High Flying Birds, recently concluded a U.S. tour with Smashing Pumpkins, released two EPs of his own and guested on the wildly popular celebrity interview series Hot Ones. Liam, now 47, just released his second solo LP, Why Me? Why Not., his second consecutive U.K. number one album. He's also the subject of a new documentary, As It Was, which shines a light on the breakup of Oasis, his short stint with Beady Eye, the decision to go solo and his personal life. —Lizzie Manno