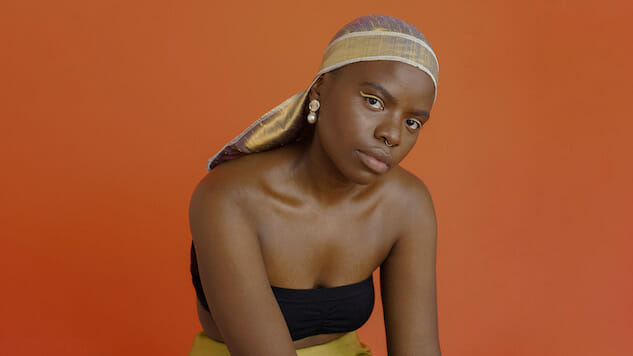 Hello dear music fans, Paste readers and casual passers-by alike! Fancy meeting you here within the margins of this fine column, where we continue to seek out the sonic good in this cold, indifferent world week after week. Oct. 14-18 was another goldmine and featured an array of dazzling new singles (like the new one from Wolf Parade), albums (like Vagabon's self-titled stunner, which you can read about below) and performances (we'll be talking about Mahalia's Paste drop-in for weeks to come). Looking for some eye-candy to go along with your ear candy? We've got that, too: You need only turn thine eyes to our features section, where this week we rounded up the best Elbow songs, interviewed San Fermin and pondered abandoning our families and lives to go make music videos with Harry Styles for a living. Ok, that's nearly everything—the rest is up to you. Happy listening (and reading)!
BEST ALBUMS
Vagabon: Vagabon
Halfway through Vagabon's 2017 debut Infinite Worlds, Lætitia Tamko stepped away from her guitar. The song, "Mal a Laise," was an exercise in atmosphere, with droning synth loops layered over reverb-heavy vocals murmured in both French and English. It stood at odds with the guitar-centric indie rock production that defined the rest of the record: It was a detour, but it almost felt like a homecoming. Maybe it was. Tamko's sophomore effort, the self-titled, self-produced Vagabon, is a more formless affair, a cosmic journey through synthetic sounds, lush orchestral suites and lyrical self-realization. The result is an ambitious album overflowing with generosity and empathy, warm in production and rich in theme, even if it largely lacks the punch that made Infinite Worlds so immediately memorable. But homes are made to shelter aspirations, dreams, fears, anxieties, hopes, doubts. Homes are sanctuaries, and that's what Tamko has created with Vagabon. —Harry Todd
Clipping.: There Existed an Addiction to Blood
Far from fiction, Clipping.'s latest album, There Existed an Addiction to Blood, turns the framework of horror on its head. Fear runs rampant across each track, but instead of channeling nightmares through imagination, the L.A. experimental hip-hop trio show us the terrifying nature of our own kind. There Existed an Addiction to Blood is the deranged culmination of everything Clipping. have been experimenting with—but not quite nailing down—over their previous two albums. Here, they've given their most focused project, all while exploring the darkest corners of humanity over envelope-pushing industrial production. With a carefully constructed chaos, Clipping. throw us into their torturous musical realm and boldly ask us to find the art in fear. —Hayden Goodridge
BEST TRACKS
Wolf Parade: "Against the Day"
Compared to Wolf Parade's catalog of music, "Against the Day" marks a shift in the band's focus to a synthetic, techno-driven approach. The track opens with a deep rhythmic pulse leading to a catchy synth melody that Dan Boeckner mimics in the verse. He reflects on where his life with a lover stands following an unspecified world-ending event. Boeckner shows that even in the apocalypse, their love can continue, singing, "All is gone now / Seconds fade but our hearts will still remain." —Hayden Goodridge
Matt Maltese: "Rom-Com Gone Wrong"
A couple weeks after the release of "Curl Up & Die," Maltese is announcing the details of his Bad Contestant follow-up, Krystal. Out on Nov. 8 via 7476, Krystal promises to be "ostensibly a breakup record," something obvious when listening to new single, "Rom-Com Gone Wrong," a throwback to '70s piano-based singer/songwriters. It's not a radical departure from anything on the Jonathan Rado-produced Bad Contestant—though notably it's self-produced and mixed in Maltese's bedroom studio in Elephant & Castle—but it's yet another smooth-as-hell entry in his growing back catalogue. —Steven Edelstone
Matt Berninger and Phoebe Bridgers: "Walking on a String"
Berninger and Bridgers' barroom duet is just one of many cameos packed into Between Two Ferns: The Movie, in which star Zach Galifianakis is forced to take his painfully awkward interview show on the road in order to save it from cancellation. A splash of that cringe comedy makes its way into the "Walking on a String" video, as well: About halfway through the song, Galifianakis happens to walk by the studio, realizing he wasn't invited to the recording. He sits in and listens to the remainder of the song, at one point appearing overwhelmed by Bridgers' voice. "I was doing a spider metaphor through this whole thing because of the ferns," Berninger explains to Galifianakis afterwards. —Scott Russell
THE PASTE PODCAST
The Paste Podcast #28: The Best TV Shows of the Decade + Shovels & Rope
Paste editor-in-chief Josh Jackson and TV editor Allison Keene discuss the best TV shows of the decade on the latest episode of The Paste Podcast. And musical guest Shovels & Rope dropped by the Paste Studio in New York to play us a song.
Listen below, or better yet, download on iTunes, Google Play, Stitcher, Spotify or the new app from our podcast partner Himalaya, and subscribe!
BEST PERFORMANCES
Mahalia
Versatile pop artist Mahalia is hot on the heels of the release of her debut album, Love and Compromise, which arrived last month. The singer stopped by the Paste Studio this week to play beautiful, stripped-down renditions of three songs: "Grateful," "Honeymoon" and "Sober."
Connecticut via Los Angeles band Milly stopped by Atlanta's Paste Studio to perform a session while they're on tour with labelmates and British shoegazers Swervedriver. Milly is the lo-fi slowcore project of Brendan Dyer, and they've released two singles via Dangerbird Records. Dyer and his backing band performed three tracks in our studio: "People Are Forever," "Birds Fly Free" and "Talking Secret." "Talking Secret" was released on Dangerbird earlier this year and features a slow drip of steamy, overdriven guitars. Dyer delivers lyrics of romantic confusion with a mellow vocal counterweight. Dyer also chats about his move from Bristol, Conn. to L.A., the making of the "Crazy Horse" video and long drives across the South. —Lizzie Manno
FEATURES
Even though Elbow are always dodging comparisons to that other big British piano pop-rock band, they're truly one of a kind. The Manchester group, founded in 1997, match gorgeous orchestral strings with distorted bluesy guitar riffs and Guy Garvey's poetic ruminations about love, loss and aging. But they stand alone in a sea of bands who might vaguely fall under the "adult contemporary rock" category. Much of their popularity can be traced back to Garvey himself: Dubbed "pop's everyman hero" and always one of the nicest guys around, he's magnetic, lovely, wise, romantic and bubbly—everything you'd want from the friend you meet at the pub for a few pints. As clever as Nick Cave, as heartfelt as the late Scott Hutchison and as able to write as many emotional crescendos as Sigur Rós, Garvey's in a league of his own. So whether you're a big fan or are looking for an introduction, here are Elbow's 10 best songs, ranked, in honor of their newest release, Giants of All Sizes, out now on Polydor. —Steven Edelstone
Dolly Parton Is an Actual Angel
Growing up in East Tennessee, it's nearly impossible to escape Dolly Parton's influence. She's everywhere—her music, her image, her hair. And there is, as sometimes happens with celebrities, a sense of ownership over her. Dolly grew up just 65 miles down the road from where I did, and while Tennessee is often associated with Nashville, where we grew up was most certainly not. Dolly isn't just country, she's mountain. She got out and made something of herself, but she never forgot her people. Where I grew up, there's no greater sin than forgetting where you came from. As a child, worshiping at the altar of Dolly was going to Dollywood, Dolly's theme park. Amazingly, my second-grade class won a trip there by virtue of reading the most books (of our school or the state? I don't remember). Going to Dollywood was the first time, even at that young age, I thought that Dolly Parton might be an angel. —Elizabeth Chiles Shelburne
San Fermin: The Cormorant and Turning 30
In 2018, after his band San Fermin had finished up the touring for its third album, Ellis Ludwig-Leone wanted to take some time off to write the fourth. He was proud of the first three albums, but he was approaching the boundary of 30 and he wanted to take stock of where he'd been and where he was going. To do that, he needed to get away from his home turf in Brooklyn's Prospect Heights neighborhood and its constant onslaught of texts to answer and events to attend. Iceland seemed a good getaway; he'd enjoyed his previous visits there and he accepted an invitation from an Icelandic friend to stay in Isafjordur on the island's northwest corner. "I like to get away when I'm generating material for the band," Ludwig-Leone says over the phone from his Brooklyn apartment. "I need to shake things up. When you get outside of yourself a bit, you look at things with a different perspective. You're not stuck in the daily rhythms of your normal life; you have 24 hours to devote to the project. The landscape always seeps into the writing." —Geoffrey Himes
Laura Snapes Discusses Working with Phoenix on New Oral History Book
Phoenix's album Wolfgang Amadeus Phoenix propelled them to international stardom—radio play, major festival slots, TV appearances, awards and mainstream hits. Since their ascent in 2009, Phoenix released two more albums. 2013's Bankrupt! and 2017's Ti Amo experimented with luxuriant synth-pop and Italian disco, respectively, and Phoenix dazzled audiences with more impressive stage setups, including a four-ton mirror that hovers above the band and creates optical illusions. To celebrate two decades as a band and 10 years since their breakthrough album, Phoenix published an oral history book titled Phoenix: Liberté, Égalité, Phoenix! (out now via Rizzoli New York) with interviews conducted by music journalist Laura Snapes and various archival images from the band's upbringing and career. We spoke with Snapes, the deputy music editor at The Guardian, about writing this book with the band and how Phoenix fit into today's musical landscape. —Lizzie Manno