The Week in Music: Paste's Favorite Songs, Albums, Performances and More
Let's review: The Wombats, Robert Randolph, Superchunk, The Radio Dept, more.
Photo: Phil Smithies
Music
Features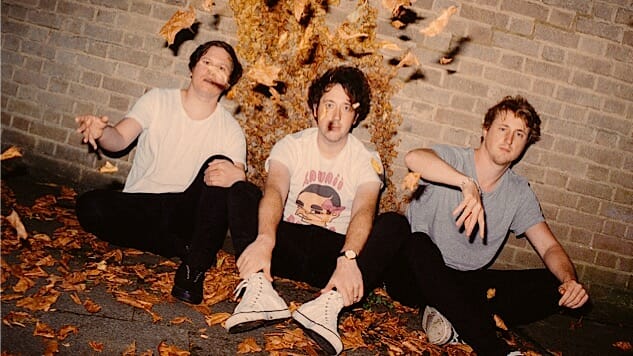 This week at Paste Music we looked clearly ahead to the rest of the new year and saw promising things. Tuesday was a stellar day for new tunes from bands old and new alike, and we collected the 20 albums we're most looking forward to in 2018. Post-punkers Shame and Nashville's Anderson East released impressive full-lengths, and in the studio we hosted pop icon Rick Springfield, Grammy-nominated pedal-steel master Robert Randolph and The Wombats (pictured top) all the way from the U.K. Catch up on all the new music and features you need to know from this week.
BEST ALBUMS
Shame: Songs of Praise
Citing influences like The Fall and Eddy Current Suppression Ring, Shame make familiar but not unawesome post-punk. Think tightly wound, jittery guitars, mile-a-minute hi-hat and an exquisite bleakness that stems from their municipal origin—the Gang of Four-flavored "Concrete," a song about an unhappy relationship that will have you beating on your steering wheel, embodies this sound perfectly and already gives me hope for a better 2018. What sets these lads apart is their beyond-their-years songwriting, riotous live shows (they were once fined for ripping a chandelier from the ceiling) and frontman Charlie Steen's arresting vocals. Songs of Praise stokes plenty of anticipation for whatever they choose to do next. —Madison Desler
Anderson East: Encore
The fans and tastemakers of Nashville have fixed their gaze upon Anderson East for the last little while due to his creative relationship with country superstar Chris Stapleton and his romantic relationship with Miranda Lambert. But it doesn't take long into either of East's major label albums—2015's Delilah and his new one Encore—to see that while his Southern roots run deep, he's more interested in bringing back the groove and sweat of the region's soul/R&B legacy than adding to the bro-country ranks. It's the middle section of Encore that soars. East and his band tear into Ted Hawkins's ruefully funny "Sorry You're Sick" with abandon and "Surrender" is the perfect sub-three-minute rager with teeth and edge. There's a sneakiness to these tunes that sit at the core of the album, a very modernist, radio-friendly take on a throwback sound that reveals East's (or his label's) intentions to turn him into a star. —Robert Ham
BEST SONGS
Nathaniel Rateliff & The Night Sweats: 'You Worry Me'
Nathaniel Rateliff & The Night Sweats will return with Tearing at the Seams this spring, setting their sophomore album for a March 9 release on Stax Records. Lead single is an inviting, upbeat anthem that opens with a simple and steady piano line, expanding to encompass a minimalist guitar riff, marching bass and Rateliff's warm vocals. "I'm gonna leave it all out there," he promises, his understated delivery doing nothing to dull the song's infectious energy. It's a real pat-on-the-back of a track, a fortifying reminder that, in the face of life's many obstacles, all we can do is "find a way to cross." —Scott Russell
Superchunk: 'Erasure'
The North Carolina veteran indie rockers released this new track from their forthcoming 11th studio album, What a Time To Be Alive, out on Feb. 16. It's their first album since 2013's I Hate Music. "Erasure," featuring Katie Crutchfield (Waxahatchee) and Stephin Merritt (The Magnetic Fields), is an upbeat slice of power-pop and follows in a similar vein of the album's title track, which also embraces a style of protest pop with uplifting melodies and pointed lyrics. —Lizzie Manno
Wei Zhongle: 'Mute'
Rob Jacobs and John McCowen thrive on restlessness. Their joint project Wei Zhongle has maintained a rotating cast of musicians through the five albums they've released under that name. The latest pleasant shock to the system from this Chicago-based outfit is the new album The Operators, out on Feb. 16 via Self Sabotage Records. The record is bouncy and bubbly yet cut through with hard angles and sharp points. Give a listen to this slithery beast of a song from the new LP and take care not to let it wrap around your cerebral cortex too tightly. —Robert Ham
The Radio Dept.: 'Your True Name'
Swedish indie-pop duo The Radio Dept. last massaged our ears with 2016's Running Out of Love, a political statement against encroaching apathy that embraced their musical strengths—satin keyboard textures and Johan Duncanson's pacifying voice. On Friday, the duo—Duncanson and Martin Larsson—returned with a new song, "Your True Name," the first single on their own label, Just So! The song flutters along with a hazy chug and insistent snare a la Yo La Tengo, with some electro accents peeking through here and there. It's the perfect tune for a winter thaw, warm and enveloping in tone if not entirely in content. —Matthew Oshinsky
PASTE STUDIO
The Wombats
Wombats lead singer Matthew Murphy told us "Lemon to a Knife Fight" was inspired by fighting with his wife and losing—probably not an ideal scenario, but the song is a winner. The supremely catchy tune is featured on the band's upcoming record, Beautiful People Will Ruin Your Life, out Feb. 9.
Robert Randolph
Robert Randolph's Got Soul will vie for Best Contemporary Blues Album at the Grammy Awards on Jan. 28. At Paste, Randolph performed the record's upbeat, spirited title track—a sing-along for sure.
Rick Springfield
Rick Springfield has kept plenty busy in the decades since his mega-hit "Jessie's Girl," and he's hit a real winning streak recently. The singer-songwriter (and actor and novelist) performed songs from his bluesy new record, The Snake King, including the foot-stomping "Jesus Was an Atheist."
FEATURES
The 20 Most Anticipated Albums of 2018
This week we were gifted with lots of exciting new music, and as we look forward to the rest of 2018, there's plenty more on the horizon. While some artists have scheduled releases we can mark on our calendars, some have chosen a more mysterious path, dropping vague hints via Twitter and Instagram, confusing both fans and critics alike. Regardless of how, where, and/or when these albums finally reach us, we can't wait to listen. Here are the 20 albums Paste is most looking forward to in 2018.
Listen to Jefferson Airplane's First Ever New York Performance
Jefferson Airplane performed two sets on Jan. 8, 1967, but unfortunately, all that remains of the original soundboard recording are four songs. The tape begins with a strong performance of "Somebody To Love," one of the songs that Grace Slick had brought into the band from her days with the Great Society. Rearranged in the studio, with the rumored help of Jerry Garcia, this song would soon provide a launching pad toward commercial success – and come, in many ways, to symbolize the upcoming "Summer of Love."
Tuesday Was the First Great Music Day of 2018
The year might have started a bit slow on the music front, with nothing but a "bomb cyclone" for much of the country to deal with in Week 1. But on Tuesday, great new tunes were dropped in abundant fashion, getting the year off the start it really needs. From veteran rockers to exciting young artists on the verge of stardom, some of our favorite bands made some very big announcements. Check out new music from Ride, The Breeders, Car Seat Headrest, Ezra Furman, Soccer Mommy and The Low Anthem.