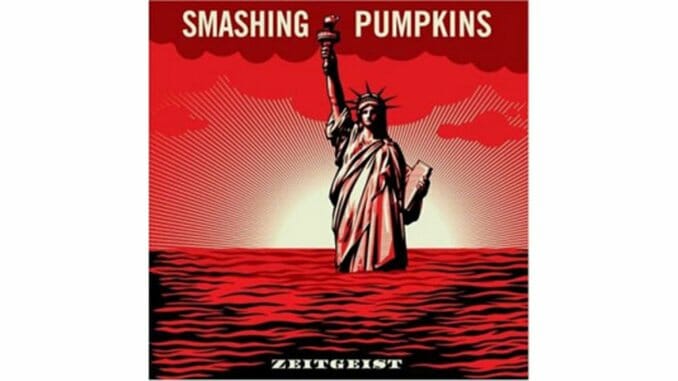 Dischord: One Album, Two Opinions
Smash Hit!
By David Marchese
Ignore the fact that without founding members James Iha and D'arcy Wretzky, Zeitgeist is a new Smashing Pumpkins record in name only. Ignore the fact that the album would've had to have been released over a decade ago for its title to feel remotely deserved. Ignore the fact that Billy Corgan's post-Pumpkins output has barely reached the level of inane. The only thing you should pay attention to on Zeitgeist is the music—and it's pretty darn good. Zeitgeist finds Corgan embracing his big-rock tendencies for the first time in years. Catchy, riff-driven tracks like "Bring the Light" and "Come On (Let's Go)" explode in Technicolor, full of strong choruses and dense with mega-ton guitar-synth bombast. And instead of the wearying cars-and-girls sentiments of the classic-rock it recalls, Zeitgeist offers perfectly inoffensive ruminations on politics and self-affirmation that fit nicely with the music's ecstatic onslaught. Zeitgeist may not be smart, tasteful or timely, but it is well-wrought stadium rock for people who like a little satori with their guitar solos. And as such, its stoned, immaculate grandiosity fills a void that's been empty since Siamese Dream.
Smash It!
By David Mead
I don't know about you, but it still scares the poop out of me. Two measures of Jimmy Chamberlain's yeomanic drumming collide with one hard yank of Billy Corgan's E string and the demons of Hell arise. Slashes of barbed guitar noise, them crazy jungle rhythms and the whiny voice of a little brother on meth envelop us. "Doomsday Clock…" Hell yeah! And then, with the flick of a paradiddle, time abruptly runs out on the Smashing Pumpkins' sixth album. Zeitgeist might be the most extroverted work of Corgan's career, the long-awaited call to arms for fans of Gish and Siamese Dream. There's even a song called "Come On (Let's Go)", which would be great news if its author didn't seem to get so damned bored with the concept about halfway through. It's as if the pot finally kicked in around "Starz" (track six), leaving Billy and Jimbo to giggle away with their panning nobs and multi-colored foot pedals. For once, Corgan's infamous narcissism seems to fail him, and we're left with the troubling image of a rock star in priest's robes wondering why he couldn't save us again.