The Shins Share Somber New Tune, "Dead Alive (Flipped)"
Images via Rich Fury/Getty, Columbia Records
Music
News
The Shins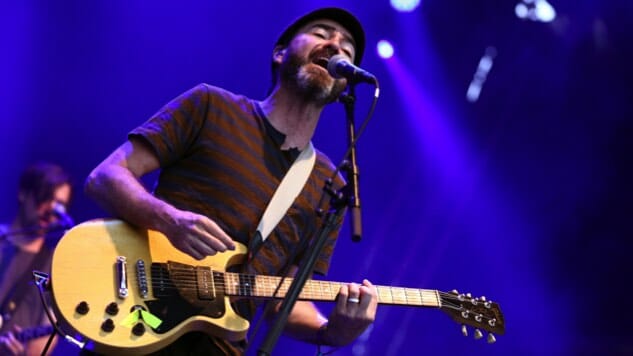 Indie-pop stalwarts The Shins have a new release slated for Jan. 19, and they've shared a new song from the album to soundtrack your Friday evening. The somber "Dead Alive (Flipped)," off their forthcoming full-length Heartworms rework, is a more subdued take on the jaunty track.
James Mercer said of the song:
The original version of "Dead Alive" was right in the wheel house with tracks we had done before. It has the same triplet galloping rhythm as a number of Shins songs. So to 'flip' it we broke it down into more romantic elements like that dark piano and Patti's violin, which I love. That's me in the beginning knocking my beer off the console while mic-ing her! Oops! Listen for Casey's sick fuzzed out solo.
The Worm's Heart will "flip" The Shins' latest in more ways than one—the album, a complete rework of the acclaimed Heartworms, will feature new versions of all 11 songs, with a reversed tracklist. Mercer had planned this bizarro album from when he first wrote, produced and recorded Heartworms, the idea being to showcase the versatility and strength of his songwriting.
Listen to both versions of "Dead Alive" below, and preorder The Worm's Heart here for immediate downloads of "Name For You (Flipped)," "Cherry Hearts (Flipped)" and "Dead Alive (Flipped)." You'll find the rework album's tracklist and cover art below, as well.
The Worm's Heart Tracklist:
01. The Fear (Flipped)
02. So Now What (Flipped)
03. Heartworms (Flipped)
04. Dead Alive (Flipped)
05. Half a Million (Flipped)
06. Rubber Ballz (Flipped)
07. Mildenhall (Flipped)
08. Fantasy Island (Flipped)
09. Cherry Hearts (Flipped)
10. Painting a Hole (Flipped)
11. Name For You (Flipped)
The Worm's Heart Album Art: