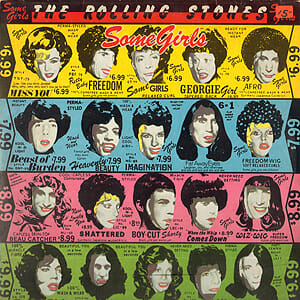 In 1978, with their reputation starting to dwindle among music critics, and punk rock threatening to eliminate any cultural significance they had left, The Rolling Stones released Some Girls. Overloaded with the sex-fueled swagger that they'd built their sound around from the beginning and showcasing new influences from dance music and even the punks that were gunning for them, the record was both a staggering return to form and an inspired leap forward for a band generally thought to be in their twilight years of creativity. It was their best effort since the undisputable Exile on Main St. and their last great album to date.
Just as Exile did after getting the full treatment in last year's fantastic reissue package, the remastered Some Girls sounds bigger and more badass than any record has the right to. Even the most neophyte of audiophiles won't be able to miss the new edge on Keith and Ronnie's guitars during the gnarly riffs of "Respectable" and "Lies," or the richness of Jagger's country-twang on "Far Away Eyes." Listening to the polished-up versions of songs like the cheeky "Some Girls" and Keith's musical middle finger to the establishment "Before They Make Me Run," feels like discovering them for the first time. They generate every bit as much excitement they did the first time around—maybe even more because it's possible, although unlikely, that you forgot just how great they were in the first place.
But even more fun than listening to the revved up version of album cuts is sifting through the 12 unreleased songs included. Typically outtakes, lost songs, unreleased tracks, or whatever you want to call them didn't make the cut for a reason. This certainly felt true for the solid, but mostly forgettable songs included in the Exile package. They are for the fanatics and archivists panning for little nuggets of gold in an already well-picked-though mine. The same can be said for the ones included here. Most didn't make the album because they just didn't have the spark that "Shattered" and "When The Whip Comes Down" did. That being said, what you have here is a ridiculously strong collection of songs that any other band would have killed to release.
The 12 unearthed tracks are The Stones at their most rootsy. "Claudine" and "Tallahassee Lassie" are pure rock 'n' roll in line with their heroes Chuck Berry and Little Richard, and the country-fried "Do You Think I Really Care" has the potential make a run for "Far Away Eyes." Lyrically Jagger is doing what he does best, riffing and ranting about sex, no good women and love gone cold, but he still manages an earnest and respectable take on Hank Williams' "You Win Again." While you get the feeling they probably could have done these songs in their sleep, it all just feels right. As a whole, they lack the diversity and staying power of those that did make the cut, but the fact that they are as good as they are make a pretty strong case for the "greatest rock 'n' roll band in the world" argument.
Even the most dedicated Stones fan can't have high expectations for any future material they might release, which is why these reissues are so coveted and satisfying. You get to remember what was so great about them in the first place, while hearing new material that promises not to disappoint. Hopefully Let It Bleed is next.