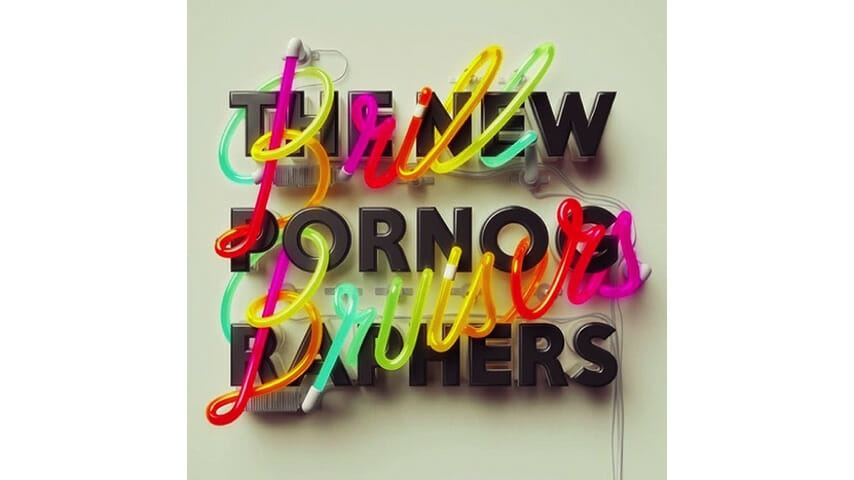 Anyone who has been following the work of the New Pornographers since their 2000 debut LP Mass Romantic has to know what to expect from the Canadian supergroup by this point.
Every one of their albums has been sequenced using the same precepts that Nick Hornby set up for mixtapes in the book High Fidelity: they start off with a corker of an opening track, rein it in on the next song and then move forward in incremental steps up or down in terms of energy to keep you (at least upon the first spin) guessing. What you listen closely for are the subtle shifts: the moments when Dan Bejar drops his toothsome power-pop gems into the mix, and how songwriter/leader AC Newman uses Neko Case's pliable and powerful voice. Otherwise, the ride is comfortable and familiar.
All of that is in full flower on Brill Bruisers: the crashing title track opens the album before ceding the path to the lighter, Case-centric "Champions of Red Wine," which sidles into the rough and steady caress of "Fantasy Fools." Eventually Bejar shows up in his typical spot at track four with the crackling "War On The East Coast," and on and on, back and forth until track 13, the Sweet-like stomp of "You Tell Me Where" fades into the distance.
What subsequent listens reveal is the startling evolution of Newman's songwriting. More than ever before, the 46-year-old is emphasizing his love of '70s pop and rock. In pre-release interviews, he's talked up the influence of ELO's work on the Xanadu soundtrack on this new album, something you can hear most fully on tracks like the shimmery "Backstairs" and the stately midtempo "Wide Eyes." Newman also redoubles the impact of glam rock on his work via the aforementioned "You Tell Me Where" and the album's brightest highlight, "Dancehall Domine," a track that finds the perfect Venn diagram midpoint between early Roxy Music (listen for that off-kilter Eno-esque modular synth solo) and the Bay City Rollers.
Bejar, on the other hand, peaks early with "West Coast," a rager that features the kind of lyrical twists only he could get away with ("Blondes, brunettes/paper jets/star power, star power/the king bends over to smell a flower"). "Born With A Sound," though, just sounds like a repeat of that track with a slightly more dramatic lilt thanks to the vocal sparring going on between he and Black Mountain member Amber Webber. Better is the throbbing "Spyder," which hearkens back to the MIDI-heavy sound of Destroyer's 2004 effort Your Blues.
Another aspect of New Pornographers' albums that I've come to rely on is that I can't seem to accept them as a whole entity like I know I should. I've had Brill Bruisers for a few weeks now and have only listened to it all the way through about a half-dozen times, whereas I've returned to a handful of songs at least three times that amount.
And just like the five before it, the songs that I choose to circle back on change from week to week. Some days, all I can listen to is "Dancehall Domine"; on other days, it's "Marching Orders" or "Backstairs." Yet, put together in order, I find my interest waning and my attention wandering. I don't know if that says more about me or the album, but it shouldn't dissuade you from taking in this album in little nibbles or one big bite. Either way, you'll end up feeling entirely satisfied.