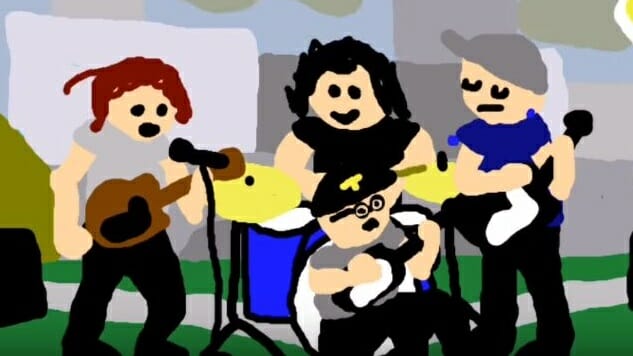 Pittsburgh's not hiding anything. You can see the whole damn town spread out beneath you when you take the Duquesne Incline up Mt. Washington. I'm not saying it doesn't have any depth, I'm saying it's just completely open about who and what it is. Yeah, they put french fries on their sandwiches, and they don't give a shit who knows about that. Their sports museum makes a big deal about being the original home of Tough Guy Contests. The Pirates were the cocaine champs during baseball's hardest partying era. Pittsburgh's perfectly confident with what it is, and fuck you if you have a problem with that.
There's beauty in that toughness, though. It's a town sliced up by rivers, veins of grey and blue shooting through the soil, with big yellow bridges rising in almost every direction. Yes, it has parks, and there are trees in them. When you stand on the cliffs that surround it it's almost like you're looking at a shoe box diorama of a classic American city, built on industry and only recently finding its new direction forward. Pittsburgh might try to project a hard shell like that asshole shack Philadelphia, but it's not endlessly desperate to prove its metropolitan bona fides, and deep down has a tender soul. And they also love the hell out of their pinball.
It's the perfect home for a band like the Gotobeds. Too noisy and aggressive for the dripping sop that passes as "indie" today, too idiosyncratic and tuneful for punk orthodoxy, and too damn smart for most anything else, they're a band with a certain appeal, much like Pittsburgh itself. Their new album, Debt Begins at 30, comes out on Sub Pop on May 31, and would've been a college radio smash back before colleges sold their stations to NPR. Like their two previous records, it could've existed at almost any time since the end of the '70s, indebted equally to Wire's Chairs Missing and the general attitude of the Fall without specifically sounding like either. The Gotobeds have nothing to hide, but again, that doesn't mean they don't have any depth to 'em.
Take the song "2:15." You can watch its video below, exclusively here at Paste. Over its two minutes the band cultivates a straight-forward power chord riff into a stuttering, syncopated trot with two guitars that crisscross between rhythmic latticework and melodic solos, before finishing where it all began. Meanwhile the video, painstakingly animated by the band's guitarist TFP, contrasts Eli Kasan's lyrics with surreal sight gags and non sequiturs, including a ghost dealing with body dysmorphia, a dog eating chips and salsa, and a bunch of grapes listening to Debt Begins at 30 while enjoying a smoke.
TFP had this to say about making "2:15": "I worked on this off and on for two years on a crappy freeware animation program that would crash if the clip was longer than a few seconds. The number of hours I put into this thing are countless and, honestly, I'd rather just get maced again. Enjoy!"
There's a lot of business to laud here, both visually and sonically, from some of the best businessmen in music today.
Check it out below, look for Debt Begins at 30 on LP, CD, digital and cassette through Sub Pop on May 31, and also get ready to see the Gotobeds somewhere near your town this summer—the tour dates are beneath the video. Also, listen to "2:15" and other songs on Spotify and Apple Music. And hey, pretty good beard at the end, there, band.
The Gotobeds Tour Dates:
May
25 – Pittsburgh, Pa. @ Babyland (album release show)
June
20 – Pittsburgh, Pa. @ Babyland %
21 – Chicago, Ill. @ Sleeping Village
23 – Columbus, Ill. @ Ace of Cups
July
16 – Philadelphia, Pa. @ Boot & Saddle
17 – Brooklyn, N.Y. @ Union Pool
18 – Washington, D.C. @ Comet Ping Pong
19 – Kingston, N.Y. @ Tubby's
August
01 – Bloomington, Ind. @ Bishop
02 – Nashville, Tenn. @ DRKMTTR
05 – Dallas, Texas @ Ruins
06 – Austin, Texas @ Vegas
07 – Houston, Texas @ Satellite
08 – New Orleans, La. @ Santos
09 – Atlanta, Ga. @ The Earl
10 – Cincinnati, Ohio @ NSYC
October
17 – Millvale, Pa. @ Mr. Smalls Theatre ^
(% with Lithics)
(^ with Mudhoney)