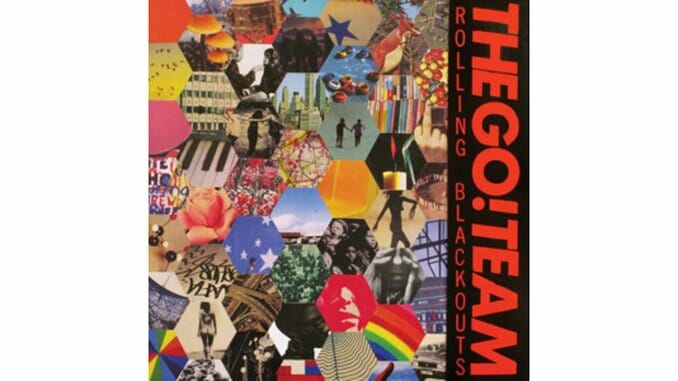 After a four year interim, The Go! Team signals their much-awaited return to the long player format with, appropriately, a hilarious block of tape hiss—storming out of the gate with their joyously cacophonous lead single "T.O.R.N.A.D.O." (If there has ever been a perfect marriage between track and track title, this would be it).
Much like "T.O.R.N.A.D.O.", Rolling Blackouts is a natural disaster in musical form—a messy, lo-fi garbage bag full of genres and cultures, overflowing with left-field sonic trickery: corny turntable scratching, shit garage drums, twinkling glockenspiels, and enough spunky cheerleader bravado from frontgirl/rapper Ninja to start a whole squad. No doubt about it—The Go! Team has a sound all their own, mixing Bond theme gusto, show tune grandeur, indie rock clutter, and '90s hip-hop swagger. They've established such a distinct, recognizable sound, even the guest players get caught up in the sweep—Deerhoof vocalist Satomi Matsuzaki lends her adorably childlike chirp to "Secretary Song," but she might as well be another random discarded instrument in this audible junkyard; it's both thrilling— perfect for a Friday night windows-down cruise through the big city—and slightly exhausting.
Indeed, the trouble lies not with ambition but in the production. As with the band's first two discs, the instruments are welded together sonically, like a dance floor chock-full of sweaty grinders, leaving little to no space for dynamics—each tone choked of impact in the flat, claustrophobic recordings. What is at first cute in its clusterfucking energy, riding waves of rainbow-tinted creativity, quickly turns grey and mushy. And when they do bother to strip back the layers a bit, it doesn't seem to help—the wandering solo piano instrumental "Lazy Poltergeist" sounds like it was recorded on a first take with a computer mic. But if you can fight your way through the shabby recordings, you'll find some good stuff; "Buy Nothing Day" is a glorious, New Pornographers-esque slice of power-pop with surprising chord changes and a Neko Case-ish chorus. "Voice Yr Choice," meanwhile, is hypnotic in its psychedelic genre-shifting.
Ultimately, Go! Team die-hards aren't listening for audiophile levels of perfection—they know what they're getting into. Each time they roll into town, they bring the same exact thing: a wild, disjointed, ugly, beautiful, demented, poorly recorded mess. And that's just the way they like it. Still, it's difficult not to wonder how good of a Team they'd be with one new member: a producer.