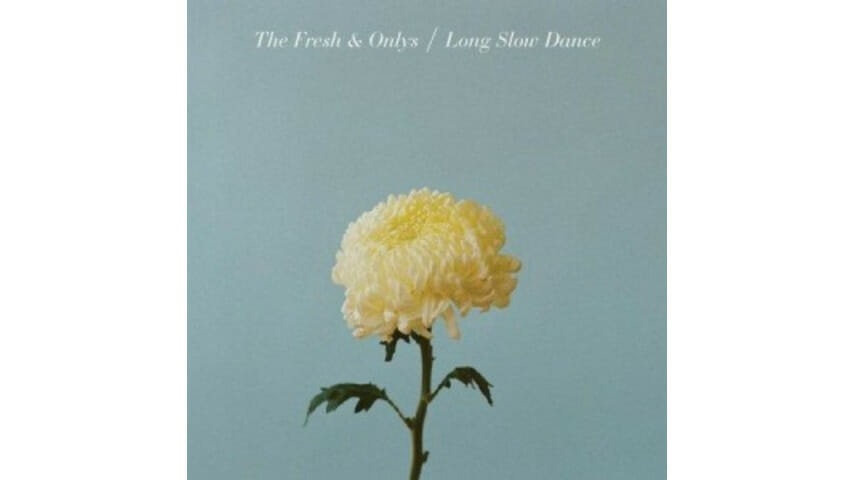 On their fourth album, San Francisco's The Fresh & Onlys file down the rough edges and turn in what are arguably the most melodic and ear-friendly jams of the band's short-but-prolific career.
Recorded on the same reel-to-reel machine as Warren Zevon's "Werewolves of London," Long Slow Dance fleshes out what was hinted at on the band's prior full-length, 2010's marvelous Play It Strange, which is its uncanny ability to meld '60s psychedelia and garage rock with more complex elements of '80s post-punk, creating firmly packed, shiny three-minute pop nuggets.
On opener "20 Days and 20 Nights," frontman Tim Cohen repeatedly sighs the line, "Something so heavy in my mind, think I want to try to get it out," setting the tone for the record's somber and confessional nature. Later, on the stomping "Foolish Person", he'll lament his being a fool most of his life and declare, "I don't want to be a stupid person." Cohen's honest, laconic delivery is bolstered and skillfully accented by guitarist Wymond Miles' thoughtful guitar lines and the taut rhythm section of Shayde Sartin (bass) and Kyle Gibson (drums).
The whole band brings their A-game on LSD (yeah, that's wasn't an accident), but Miles is superb. Whether he is doubling Cohen's vocals with his distorted guitar line during the verse of the Wipers-influenced "Yes or No" or playing reverberated Western licks on the cowboy-tinged "Executioner's Song," he proves himself to be a minority in the garage rock genre The Fresh & Onlys have, at least up until now, been unfairly lumped into—a guitar player who actually thinks about what he is doing.
There are those that may scoff at the noticeable lack of scruffiness that once semi-defined the band, and while that is an accurate observation—the record shimmers nearly start to finish—it is an unfair criticism. Sure, spacey ballad "Long Slow Dance" and the retro-pop of "Dream Girls" complete with xylophone, are so irresistibly enjoyable that it could lead some listeners to become suspicious. But that not need be the case. When you hear the eerie, Beach Boys-style backing vocals on the aforementioned title track and the swelling moans and rapidly ascending guitar riff that sounds like a wick burning out on "Presence of Mind," one of the record's finest tracks, it's hard not to think of The Fresh & Onlys as anything but the real deal. They are clearly a band that have done their rock 'n roll homework and have made such an unabashedly catchy record that is at the same time both totally accessible and subtly offbeat; the only thing to do is sit back and enjoy it.
And if you still long for their looser, gruffer days, listen to Miles' guitar solo implode into a droning wall of noise on the second half of "Foolish Person." You can almost hear the beach bum stoners and Bay Area punks joining forces.