The Curmudgeon: Music for an Empire in Decline
If 2017 felt like the year that a great empire went into decline, our best songwriters exposed the ugliness—and lit the way forward.
Photo: Getty Images
Music
Features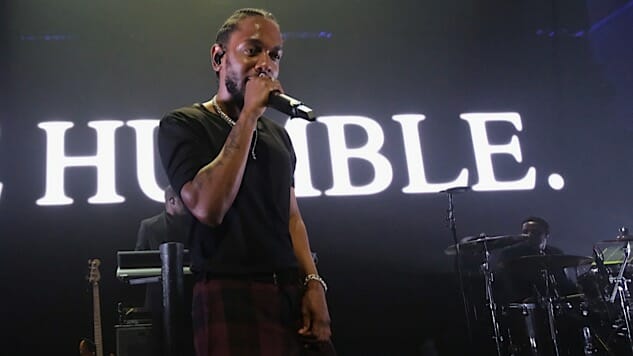 "Last year was a son of a bitch for nearly everyone we know," Jason Isbell sings on "Hope the High Road," from one of 2017's best albums, The Nashville Sound. If 2016 was a hard pill to swallow, 2017 was more bitter still. It was a year of Biblical plagues: Houston and Puerto Rico drowned in water, California going up in flames, all the president's men meeting Russian criminals in hotel rooms, Nazis carrying torches through the streets of Virginia, sexual predators at loose in board rooms and the Oval Office, unarmed black men killed in city after city.
It felt like the year that a great empire went into decline, and 2017's best songwriters reflected that sour mood in both their lyrics and music. It didn't matter if they were Americana artists such as Isbell and Margo Price, dance-rock artists such as St. Vincent and Arcade Fire, African-American banjo players such as Rhiannon Giddens and Valerie June, rappers such as Kendrick Lamar and Pharrell Williams, country crooners such as Lee Ann Womack and Willie Nelson or musical-short-story-writers such as Craig Finn and Randy Newman—the songs all described a world coming apart at the seams.
The best songs of 2017 also reflected the modern world's nonstop circuses: 24-hour news cycles, dance-pop anthems, reality-TV shows, professional football, opioid pills, Dow Jones milestones, megachurches, celebrity scandals—anything to distract the citizenry from the rot underneath. This juxtaposition of glittery diversions and the eroding lives of the 99% was captured in many of the year's best records, especially on the title track from St. Vincent's Masseduction album.
In a society where mass consumption becomes mass seduction, where the punk-rock romantic is passed out on the kitchen linoleum and the teenage Christian virgins leave sex stains on the basement rug, who can pay attention to the slow-motion plagues? St. Vincent's Annie Clark sings, "I can't turn off what turns me on." That paradox is reinforced by the collision of producer Jack Antonoff's perfect beats with Clark's unruly guitar.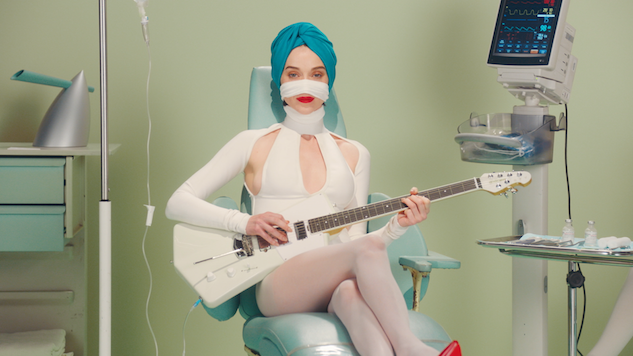 Annie Clark, aka St. Vincent, in the video for her 2017 song "Los Ageless."
Kendrick Lamar did something similar on his critics-polls-topping album, DAMN. On the track "LUST.," the rapper describes how easily he, like the rest of us, can be distracted by sex, drugs and money, only to be cheated of the promised high until we're all left "worried, all of us buried, and our feelings deep, none of us married to his proposal, make us feel cheap." The thick, sludgy funk of the track sounds like a hangover that lasts far longer than any single morning.
James Murphy shares that gift for making dance music irresistible even as he's depicting the American Dream, the title of LCD Soundsystem's 2017 album, as "the place where you can be boring, where you won't need to explain that you're sick in the head and you wish you were dead." The wish to be dead is a recurring theme of Arcade Fire's Everything Now, yet another example of a 2017 record that sounds like an invitation to a dance party but ends up resembling a wake for an empire laid out on a stretcher.
On his album Dark Matter, Randy Newman depicts the national discussion as "The Great Debate," where every thoughtful objection is drowned out by hand-clapping gospel songs—and no one writes catchier, happier gospel music than the professional skeptic Newman. He then reveals our nation in its funhouse mirror, where "Putin" is trying to make Russia great again by rousing his rural following of "chicken farmers and file clerks" with the help of bare-chested trail rides and singing girl groups. As always, Newman makes cheesy music sound delicious.
Our great artists remind us that if we can recognize what's going on, and if we're willing to fight for something more than our own creature comforts, then maybe we can turn this around.
On the title track from her 2017 album, The Lonely, the Lonesome & the Gone, Lee Ann Womack makes it clear that one can feel even more impoverished and desolate inside a Camry in a garden-apartment parking lot than one ever did in a wagon outside a cabin on the hill. Womack, perhaps the finest hillbilly singer in Nashville today, makes the teeth of that loneliness bite hard.
The year's most devastating album, however, was Craig Finn's We All Want the Same Things. Without his regular band, The Hold Steady, Finn's words can be better heard, so he makes them count for even more. And what they describe is a generation of fortysomething rock fans who counted on cheap drugs and a shelf of cool records to get them through life, only to find that the strategy petered out halfway through adulthood. We're living in "the ruins of an empire," Finn sings on "Be Honest," "and the people we once were." The old norms are gone, and it's every man for himself.
This empire's original sin, of course, is slavery, a subject that Rhiannon Giddens tackles not with sermons or speeches but with personal stories and string-band music that comes straight out of the old, rural South. That history no longer seems distant when a slave named "Julie" dialogues with her owner as the Union troops are approaching their plantation. The mistress assumes that her smiling Julie will remain faithful to the end, but the smile is gone and so is the coerced loyalty.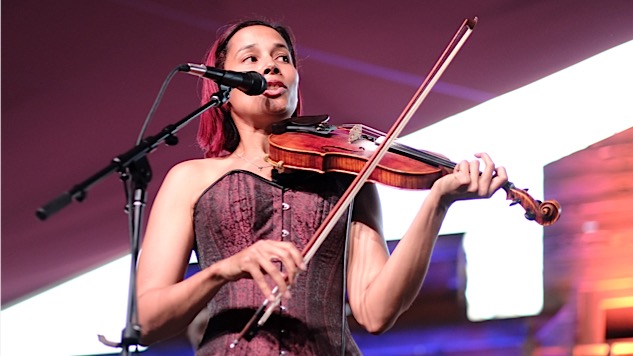 Rhiannon Giddens. (Getty)
The lingering shadow of that original sin also echoes in Isbell's "White Man Blues," where he sings, "I'm a white man looking in a black man's eyes, wishing I'd never been one of the guys who pretended not to hear another white man's joke. Oh, the times ain't forgotten." No, they're not, and now the debt comes due. "There's no such thing as someone else's war," he warns over an ominous, Neil Young-ish guitar riff. "Your creature comforts aren't the only things worth fighting for."
Like most of these artists, Isbell isn't willing to declare that the empire's decline is irreversible. If we can recognize what's going on, they imply, if we're willing to fight for something more than our own creature comforts, maybe we can turn this around. "I know you're tired and you ain't sleeping well," Isbell sings later on the album, "uninspired and likely mad as hell, but wherever you are I hope the high road leads you home again to a world you want to live in." Amen.
Here's a list of my 100 favorite albums of 2017, all genres, listed in order:
1. Craig Finn: We All Want the Same Things (Partisan)
2. Randy Newman: Dark Matter (Nonesuch)
3. Charles Lloyd: Quartet Passin' Thru (Blue Note)
4. Jason Isbell: The Nashville Sound (Southeastern/Thirty Tigers)
5. Steve Coleman's Natal Eclipse: Morphogenesis (Pi)
6. Rhiannon Giddens: Freedom Highway (Nonesuch)
7. St. Vincent: Masseducation (Loma Vista)
9. Rudresh Mahanthappa & the Indo-Pak Coalition: Agrima (Mahanthappa)
9. Kendrick Lamar: DAMN. (Top Dawg/Aftermath/Interscope)
10. San Fermin: Belong (Downtown/Interscope)
11. Lee Ann Womack: The Lonely, the Lonesome & the Gone (ATO)
12. Arcade Fire: Everything Now (Arcade Fire)
13. Sam Smith: The Thrill of It All (Capitol)
14. Sleater-Kinney: Live in Paris (Sub Pop)
15. Willie Nelson: God's Problem Child (Legacy)
16. Bill Frisell & Thomas Morgan: Small Town (ECM)
17. Shelby Lynne & Allison Moorer: Not Dark Yet (Thirty Tigers)
18. Margo Price: All American Made (Third Man)
19. LCD Soundsystem: American Dream (DFA/Columbia)
20. Dustbowl Revival: The Dustbowl Revival (Signature Sounds)
21. Christian Scott: Atunde Adjuah Ruler Rebel (Ropeadope)
22. Valerie June: The Order of Time (Concord)
23. Anat Cohen Tentet: Happy Song (Anzic)
24. Lucia Cadotsch: Speak Low (Enja)
25. A Tribe Called Quest: We Got It from Here … Thank You for Your Service (Epic)
26. Chris Stapleton: From a Room, Volumes 1 & 2 (Mercury)
27. Brooklyn Rider: Spontaneous Symbols (In a Circle)
28. SZA: Ctrl (RCA)
29. Dayna Stephens: Gratitude (Contagious)
30. J. Roddy Walston & the Business: Destroyers of the Soft Life (ATO)
31. SFJazz Collective: Music of Miles Davis & Original Compositions (SFJazz)
32. Dead Rock West: More Love (Omnivore)
33. Rodney Crowell Close Ties (New West)
34. Linda Oh: Walk Against Wind (Greenleaf)
35. John Moreland: Big Bad Luv (4AD)
36. Fabian Almazan & Rhizome: Alcanza (Biophilia)
37. Paul Kelly: Life Is Fine (Gawd Auggie/Cooking Vinyl)
38. Jon Langford: Four Lost Souls (Bloodshot)
39. Dave Douglas: Little Giant Still Life (Greenleaf)
40. Ha Ha Tonka: Heart-Shaped Mountain (Bloodshot)
41. Little Big Town: The Breaker (Capitol)
42. Alan Ferber: Big Band Jigsaw (Sunnyside)
43. Kronos Quartet: Folk Songs (Nonesuch)
44. Tedeschi-Trucks Band: Live from the Fox Oakland (Fantasy)
45. Sunny Sweeney: Trophy (Clasp/Thirty Tigers)
46. Kobo Town: Where the Galleons Sank (Stonetree/Factor)
47. Dan Auerbach: Waiting on a Song (Easy Eye/Nonesuch)
48. Alison Krauss: Windy City (Capitol)
49. Turnpike Troubadours: A Long Way To Your Heart (Bossier City/Thirty Tigers)
50. Amir Elsaffar: Rivers of Sound Not Two (New Amsterdam)
51. Fred Hersch: Open Book (Palmetto)
52. Tim Carroll: It's All Politics (Carroll)
53. Justin Townes Earle: Kids in the Street (New West)
54. Steve Earle: So You Wanna Be an Outlaw (Warner Bros.)
55. Laura Marling: Semper Femina (Marling/Kobalt)
56. Cuong Vu 4tet Ballet: The Music of Michael Gibbs (RareNoise)
57. Yo-Yo Ma/Christ Thile/Edgar Meyer: Bach Trios (Nonesuch)
58. Bobby Watson & the Curtis Lundy Trio: Made in America (Summer Sessions)
59. Don Bryant: Don't Give Up on Love (Fat Possum)
60. Lost Bayou Ramblers: Kalenda (Lost Bayou)
61. Jason Kao Hwang: Sing House (Euonymus)
62. Sharon Jones & the Dap-Kings: Soul of a Woman (Daptone)
63. Harry Styles: Harry Styles (Erskine)
64. Cyrus Chestnut: There's a Sweet, Sweet Spirit (HighNote)
65. Selwyn Birchwood: Pick Your Poison (Alligator)
66. Kasey Chambers: Dragonfly (Essence Group)
67. Matthew Shipp Trio: Piano Song (Thirsty Ear)
68. N.E.R.D.: No One Ever Really Dies (Columbia)
69. U2: Songs of Experience (Island/Interscope)
70. Angaleena Presley: Wrangled (Mining Light/Thirty Tigers)
71. Antonio Sanchez: Bad Hombre (CAM Jazz)
72. Ashley McBryde: Ashley McBryde (Warner Bros.)
73. Robert Cray & the Hi Rhythm: Robert Cray & the Hi Rhythm (Jay-Vee)
74. Scott Miller: Ladies Auxiliary (F.A.Y.)
75. The North Mississippi Allstars: Prayer for Peace (Songs of the South)
76. David Myles: Real Love (Little Tiny)
77. Marty Stuart and the Fabulous Superlatives: Way Out West (Superlatone)
78. Jane Ira Bloom: Wild Lines: Improvising Emily Dickinson (Outline)
79. Avishai Cohen: Cross My Palm with Silver (ECM)
80. Japandroids: Near to the Wild Heart of Fire (Anti-)
81. Joan Osborne: Songs of Bob Dylan (Womanly Hips/Thirty Tigers)
82. Vijay Iyer Sextet: Far from Over (ECM)
83. Oliver Lake featuring Flux Quartet: Right Up On (Passin' Thru)
84. Trombone Shorty: Parking Lot Symphony (Blue Note)
85. Filthy Friends: Invitation (Kill Rock Stars)
86. Benjamin Clementine: I Tell a Fly (Virgin)
87. Tinariwen: Elwan (Anti-)
88. Stephen Wade: Across the Amerikee (Smithsonian Folkways)
89. Shannon Barnett Quartet: Hype (Challenge)
90. Colter Wall: Colter Wall (Young Man's/Thirty Tigers)
91. Samantha Fish: Belle of the West (Ruf)
92. Chris Potter: The Dreamer is the Dream (ECM)
93. King Krule: The Ooz (True Panther)
94. Jay Som: Everybody Works (Polyvinyl)
95. Lindsey Buckingham/Christine McVie: Lindsey Buckingham/Christine McVie (Atlantic)
96. Beck: Colors (Fonograf/Capitol)
97. Tyler Childers: Purgatory Hickman Holler/Thirty Tigers
98. Dem Hills: Maybe Life Is Sweet (ZoBird)
99. Erin Enderlin: Whiskeytown Crier (Enderlin)
100. Dale Ann Bradley: Dale Ann Bradley (Pinecastle)