Watch The Band Perform With Joni Mitchell, Neil Young, and Bob Dylan on This Day in 1976
Taken from their legendary concert 'The Last Waltz'
Photo by Joe Sia/Wolfgangs
Music
Features
The Band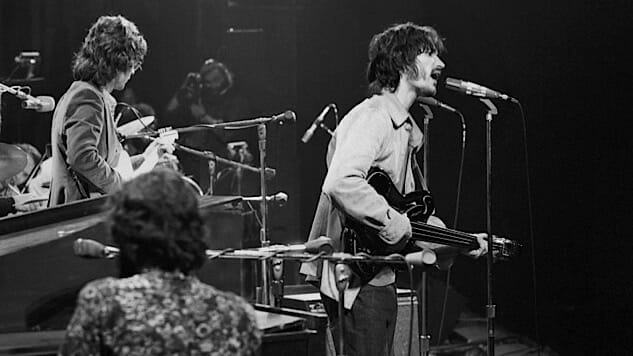 The Band's The Last Waltz is, without a doubt, one of greatest concert films and soundtracks of all time. The Canadian group's legendary concert took place on this day (Nov. 25) in 1976 at Winterland Ballroom in San Francisco. The Band wrapped up almost two decades of touring with this incredible finale event, which was captured by film director Martin Scorsese. The performance was billed as their farewell concert and featured a star-studded group of guest musicians that included Joni Mitchell, Neil Young, Bob Dylan, Eric Clapton, Neil Diamond, Ringo Starr, Muddy Waters, Dr. John, Paul Butterfield, Ronnie Wood and more.
Read: The 10 Best Songs By The Band
Before the show, the 5,000 capacity crowd enjoyed a turkey dinner, ballroom dancing and music from the Berkeley Promenade Orchestra. The show ended after 2 a.m. with their performance of the Holland-Dozier-Holland classic, "Don't Do It (Baby, Don't You Do It)," which would be the last song their classic lineup ever played live. You can watch some incredible raw video highlights from the show below with appearances from Joni Mitchell, Neil Young and Bob Dylan.
Watch The Band perform on this day in 1976 below via the Paste vault.