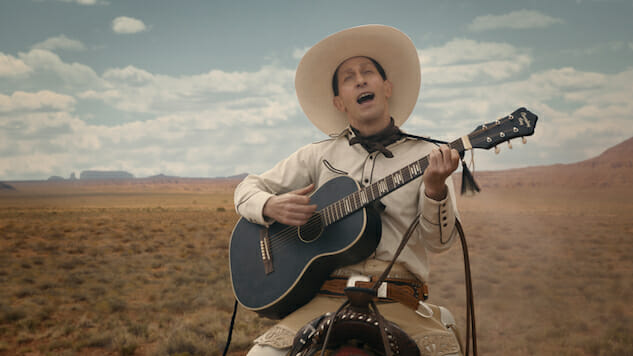 Netflix original The Ballad of Buster Scruggs hit the streaming site on Nov. 16, and now the quirky western movie's score is getting the vinyl treatment.
The Ballad of Buster Scruggs soundtrack arrives on vinyl Dec. 21 via Milan Records, and today (Dec. 13), we've got the exclusive first look at the special edition, plus a music video, here at Paste. The Ballad of Buster Scruggs, directed by the Coen Brothers (Joel and Ethan, of No Country for Old Men, The Big Lebowski, etc. fame), is a series of Western tales told in six vignettes and 133 minutes, starring Tim Blake Nelson, Clancy Brown, Liam Neeson, James Franco and Tom Waits. The stories take place during the post-Civil War era and follow a singing cowboy, an eccentric old prospector, and a number of other outlaws and frontier-dwellers as they navigate saloons and stand-offs alike.
The anthology film owes its score to Carter Burwell, a composer who recently snagged an Oscar nomination for his work on Three Billboards Outside Ebbing, Missouri. The vinyl soundtrack features original music from the movie, plus the track "When A Cowboy Trades His Spurs For Wings," written by Gillian Welch & David Rawlings and performed by Nelson and Willie Watson. The new video for another track, "The Gal Who Got Rattled," is out today, and you can watch it below.
In addition to Three Billboards and The Ballad of Buster Scruggs, Burwell has composed the music for Coen Brothers classics including Raising Arizona, Blood Simple and Fargo.
Again, you can watch the video for "The Gal Who Got Rattled" below. The soundtrack is out on Dec. 21, and you can preorder it here. Keep scrolling for The Ballad of Buster Scruggs trailer, album art and tracklist. The Ballad of Buster Scruggs is streaming on Netflix now.
The Ballad of Buster Scruggs Album Art: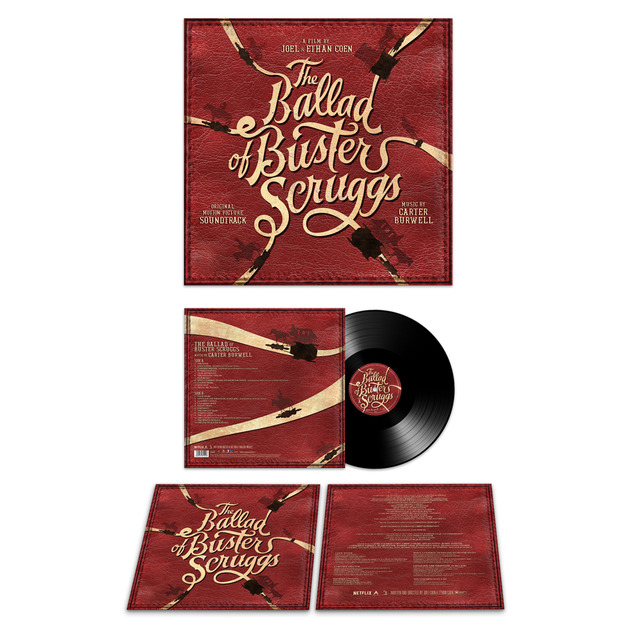 The Ballad of Buster Scruggs Tracklist:
01. The Book
02. Tim Blake Nelson – Cool Water
03. David Rawlings & Gillian Welch – Carefree Drifter
04. Randall Collins
05. Near Algodones
06. The Wingless Thrush
07. Our Revels
08. Willie Watson & Tim Blake Nelson – When A Cowboy Trades His Spurs for Wings
09. Canyon Awake
10. How Deep
11. Hello, Mr. Pocket!
12. Your Share
13. Tim Blake Nelson – Little Joe The Wrangler (Surly Joe)
14. Goodbye Canyon
15. Unmarked Grave
16. Wagon Train
17. Certainty
18. The Oregon Trail
19. Seeking Alice
20. The Gal Who Got Rattled
21. Brendan Gleeson – The Unfortunate Lad
22. The Mortal Remains
23. The End of Buster Scruggs