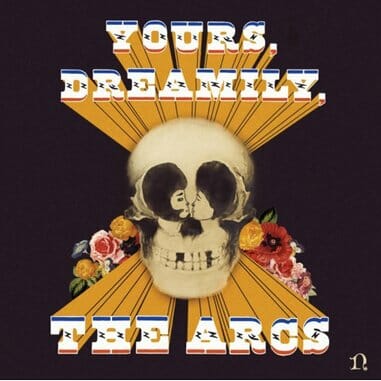 The definable purpose of side projects is oft debated. It would seem this sort of musical enterprise is, at least generally, an opportunity for an artist to branch out from his/her main band's aesthetic. Musicians write plenty of songs but drop them off records because they don't add to the level of cohesion necessary for a consistent release. If this is a definition we can all agree on, then Dan Auerbach's album with The Arcs falls outside the norm.
Yours, Dreamily is ostensibly a more soulful record from The Black Keys' frontman, who is usually noted for his blues-centric output. It's also supposedly an opportunity for him to dabble with more instruments than he's used to given The Black Keys is (or at least was) just a two-man show. This would all be well and good if the most recent records by The Black Keys hadn't gotten more soulful and pop-oriented and the band hadn't dabbled with additional instrumentation and personnel.
The main problem with The Arcs is the looming question of what sets them apart from The Black Keys beyond being greater in number. However, it's hard to critique Yours, Dreamily on those fronts alone because it would unfairly denigrate the talented instrumentalists Auerbach has surrounded himself with here. Just because they're tapping into a sonic territory their frontman already tried on with records like The Black Keys' El Camino and Turn Blue, it doesn't change the fact there's an equal level of competence here. For instance, coupling organs with Auerbach's voice has never sounded quite so perfect as it does here.
Auerbach is talented at deciding on a mood for his albums and keeping it up from start to finish at different degrees of intensity. For Yours, Dreamily, it shouldn't come as a surprise that mood is one best exemplified by your eyes getting heavy and drifting off to peruse your subconscious for stories to tell. But the dream Auerbach ends up having is like most dreams anyone has: you only remember a few particularly evocative moments and the rest is too easily forgotten.
The two best moments come back-to-back in the middle of the album. "Cold Companion" and "The Arc" are incredibly different in terms of execution, but share the boon of being songs more apt to wake you up than put you to sleep. The first boasts a bass line capable of sending off dopamine with each note, and the second moves forward with each drumbeat seeming like a coal added to the fire of a speeding train. They're the main points at which Auerbach and his band seem like they're keen on and confident with doing something new.
Yours, Dreamily is far from a bad record; it's just not as punchy as fans would hope it would be. It's another enjoyable entry into the catalog of a songwriter who has spent the last few years growing in mainstream popularity as he's drawn ire from fans who miss the bluesy days of The Big Come Up and Thickfreakness. The Arcs may not be the best side project, but throwing their record on before you nod off isn't the worst move you could make either.