Paste's Best of 2012 series continues through Dec. 31 and is made possible by our friends at Tretorn.
2012 was a great year for live music, whether it was legacy acts brushing off the cobwebs and heading back out on the road or new groups proving their mettle on the big stage. We polled Paste staffers and writers about their favorite acts who toured or performed festival spots this year, and today we present the 25 Best Live Acts of 2012.
25. Wilco
Touring The Whole Love has allowed Wilco to play a strong batch of buy-this-album alongside fan favorites. Nels Cline remains almost comic in his virtuosity—and certainly induces chuckles of amazement—but his bandmates keep with him, hamming up the arena-rock potential, embracing groove under a brilliant light show, or taking surprisingly mellow detours. Those breaks don't last (though we can hope for an end to "California Stars"), as the band's exceptional explosiveness wins out in a show that blends experiment and precision with bombast and recklessness.—Justin Cober-Lake
24. Prince
After reigning for decades as one of the most popular recording and live artists in pop history, Prince could be forgiven if he chose to rest on his laurels at this point in his career. But, anyone who's seen the Purple One live in the past few years knows that he's taking no prisoners and playing better than he ever has before. Supported by one of the best bands he's ever taken on the road—James Brown alumnus Maceo Parker on sax is only one of the incredible players who came out with him again last year—Prince has been crossing the world playing long sets of hit-heavy shows. Today's Prince concerts, for all their cutting edge technology and pyrotechnics, recall nothing so much as the early Motown and Stax revues from the mid-'60s for sheer enthusiasm and entertainment value. Catch him while you can.—Douglas Heselgrave
23. Wild Flag
In a year when women demanded to be heard both politically and musically, Wild Flag was the loudest live act this side of Pussy Riot. After releasing their self-titled debut last year, Wild Flag's 2012 tour served as a celebratory victory lap for the band. With every rebel yelp and raucous riff, nothing instills awe and inspiration quite like watching Brownstein, Weiss, Timony and Cole parlay a riot-grrl past into a fierce feminist future.—Jessica Gentile
22. Radiohead
Radiohead's 2012 featured yet another amazing light-show—this time on a series of TV screens that gave each song it's own color scheme and design. It featured a wide-range of songs from throughout the band's catalog. And most importantly, it featured dancing Thom Yorke. The usually enigmatic frontman seems to be enjoying himself onstage more than ever, and his un-self-conscious gyrations are a wonder to behold. Thom Yorke is the King of Limbs.—Josh Jackson
21. D'Angelo
What is it about the pursuit of the groove that leads all-time greats like Sly Stone and D'Angelo into seclusion? Luckily there's a light at the end of the wilderness, if D'Angelo's incredible comeback performance at the BET awards (after over a decade away from the stage) was any indication, from jittery synth vamps to tricky piano solos, to his own increasingly rare falsetto. The fact that this national treasure, dangerous microphone-stand wielder (on the Voodoo tour he reportedly snapped them in half) and keeper-of-the-funk preaches to his choir while Chris Brown gets to creep out the diverse Grammy audience is hopefully a relic we can chalk up to the dark days before healthcare reform.—Dan Weiss
20. David Byrne and St. Vincent
The combination of David Byrne and Annie Clark is exciting on the duo's release Love This Giant, but live, they're transcendent. Backed by a full brass band, not only do Byrne and Clark play off each other well, both masters with their guitars, but they each get their own chance to shine in the spotlight. From classic Talking Heads songs to the frenzied shredding of "Actor Out of Work", even if this tour is a one-time thing, it's rock's best answer to Watch the Throne, an event that is too fascinating and great to ignore.—Ross Bonaime
19. Black Lips
The Black Lips have always been notorious for their often controversial and always entertaining live shows. Though their most recent album, Arabia Mountain, was released last year, the Georgia natives didn't miss a beat with their 2012 touring schedule. In addition to their usual run of dates, the adventurous punk rockers traveled to the Middle East in September, making stops in places like Egypt, Iraq and Tunisia. And let's not forget their recent performance at Austin's Fun Fun Fun Fest, during which a seemingly deranged Val Kilmer disrupted their show and eventually locked lips with guitarist Cole Alexander. It appeared as if Kilmer was re-inhabiting his role as Jim Morrison from 1991's The Doors, but his on-stage cameo was actually part of a new Terrence Malick film. If Malick and company wanted mayhem, they chose the right band's performance to walk in on.—Ryan Bort
18. Of Monsters and Men
Whether they're on the cozy stage at our SXSW party in the mid-afternoon or playing in front of thousands in a packed theater on their headlining tour, Of Monsters and Men give the same level of intensity from start to finish. The six-piece Icelandic folksters (joined on stage by an accordionist/trumpet player) aren't afraid to push the limits of what they already mastered on an excellent album. Live, the drums give the band a more dance-like vibe, and everyone claps and chants along to the uber-catchy melodies Nanna Bryndís Hilmarsdóttir and Ragnar Þórhallsson sing so captivatingly. Fans of the album will have new respect for the group's music and will be easily blown away by the force the band hits you with every second of every song.—Adam Vitcavage
17. Neil Young and Crazy Horse
For anyone who has heard Neil and the Horse play live in support of Psychedelic Pill, the first thing that's immediately obvious is that they haven't made any concessions at all to aging. If anything, they sound more raw and distorted than ever as they explore extended versions of Crazy Horse classics such as "Powderfinger," "Fuckin' Up" and "Cortez the Killer." The few minutes of calm Young allows the audience during a brief acoustic set are quickly brushed aside to make way for full-throttle versions of new songs like "Walk Like A Giant" and "Ramada Inn." Don't pass up on a chance to see Crazy Horse on this tour. They're playing better than they ever have.—Douglas Heselgrave
16. The Lumineers
This quiet band released a gentle folk album about love and heartbreak to much acclaim. But in all honesty, the album can't hold a candle to what the band does during their live shows. They transform from a trio to a quintet for a full sound that begs you to sing along. The group's wholesomeness oozes through to their performances where you can see their genuine love for playing in front of people. The Lumineers want you to be a part of it, and they want you to sing louder than them, especially during their breakout hit "Ho Hey." It is an experience you definitely want to see in an intimate setting, and luckily their intimacy translates to the masses effortlessly.—Adam Vitcavage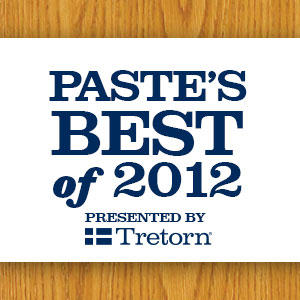 2012 was a great year for live music, whether it was legacy acts brushing off the cobwebs and heading back out on the road or new groups proving their mettle on the big stage. We polled Paste staffers and writers about their favorite acts who toured or performed festival spots this year, and today we present the 25 Best Live Acts of 2012.


15. M83
Setlist.fm offers 122 M83 show listings for 2012, a number bested by only a handful, most notably Skrillex. This relentless support of Hurry Up, We're Dreaming saw clubs turn to theaters, festival tents give way to main stages, and even found the band headlining events like FYF Fest and Treasure Island Music Festival. But, quantity is only part of the story. Anyone who caught M83 live witnessed a group seizing the moment with unerring musicianship, big-budget lighting, and a focal point in Anthony Gonzalez overcoming shyness to hold the spotlight in a proud display of passion and energy. Showmanship appeared both in the form of a creepy cloaked troll and in the full-band percussion frenzy that closes "Reunion." And, of course, there's the eventual sweaty dance orgy that is "Midnight City," a perfect moment of unity served nightly that only a pop song could provide. M83 has long been a great recording act, but in 2012, Anthony Gonzalez finally became a rock star.—Philip Cosores
14. Justin Townes Earle
In support of this year's Memphis soul-inspired Nothing's Gonna Change The Way You Feel About Me Now, Justin Townes Earle has been performing with a full backing band that wholly encapsulates the tone and emotion of that personal record. However, it's the solo acoustic, mid-set breakdowns that showcase Earle's jackhammer fingerpicking blues and raw, raspy vocals. It's this contrast within sets that makes Justin Townes Earle shows both submissively stunning and absolutely invigorating.—Hilary Saunders
13. The Walkmen
Live acts don't get much more solid than The Walkmen in 2012. Performing with a simple backdrop and white lights, the band let its raw talent speak for itself when showcasing its latest album, Heaven. Evenly drawing from all eras of the group's catalog, they remind us why we're still excited to see them deep into their career. And frontman Hamilton Leithauser's voice is notably as powerful as ever. —Tyler Kane
12. The Jesus and Mary Chain
Ray and Dave Davies. Noel and Liam Gallagher. Jim and William Reid. There's something about sibling rivalry among gifted songwriters that blows up a band and leaves the rest of us without hope for a reunion. But the Reid brothers of The Jesus and Mary Chain finally buried the hatchet this year, giving those of us who wore out our cassettes of Psychocandy but never caught them live a second chance to experience the wall of noise coming from the Reids' fuzzed-out guitars and almost-buried vocals, delivered with the same nonchalant swagger that defined cool back in 1985.—Josh Jackson
11. Father John Misty
At a Father John Misty show, Josh Tillman is equal parts musical brilliance and comedic genius. In between extending and riffing on great songs like "Hollywood Forever Cemetery Sings" and "Nancy From Now On," he jokes with the audience with his sly humor that is more than evident on Fear Fun. Tillman is an exuberant performer, making his songs sound fresh in the live show, making his audience laugh and rock, all while seeming to have a great time while doing it.—Ross Bonaime
10. Flaming Lips
We could talk about these fearless freaks' live show for days, but you'd probably get sick of hearing about that giant hamster ball after a while. Wayne Coyne and friends are one of two bands on this year's list who made our 2011 list as well, and in 2009, we named them one of the best live acts of the past decade. This year was no different, as the band performed Pink Floyd's classic Dark Side of the Moon from start to finish on tour and more than did it justice, following it up with a set of their own undeniable hits. We're not quite sure what these guys have cooking for 2013 yet, but at this rate, look for them to grace this list again next year.—Bonnie Stiernberg
9. The Who
Contemporaries like The Beach Boys and The Rolling Stones have fallen into the jukebox-of-hits pattern with their live shows, but The Who are to be commended for being bold enough to trot out their dense concept album Quadrophenia on tour this year. It's incredible to see the record performed in its entirety, but don't fret if you don't want to shell out the big bucks without hearing a few hits—the tour features an extended encore of favorites like "Won't Get Fooled Again," "Baba O'Riley" and "The Kids Are Alright." You'd never know frontman Roger Daltrey is pushing 70 from the way his voice still soars, and that scream of his will still make your hair stand on end.—Bonnie Stiernberg
8. The Men
It's not often that a band can be experienced in two completely different ways from month-to-month, but that's the case with Brooklyn's The Men, who we had the pleasure of catching several times this year. Their first set—a late-night slot at SXSW that highlighted their latest album, Open Your Heart—showed the guys polished and exceptional, scoffing at the on-stage smoke the venue surrounded them with. It was only months later when the fierce foursome, who seem to be churning out new tunes at an alarming rate, paid little attention to that same album at a recent Atlanta gig. Instead of leaning on the success of Open Your Heart, they tore through a handful of deafening, brand-new tracks to a sloshed, rowdy crowd. It's hard to say which version we like more.—Tyler Kane
7. Florence and the Machine
Frontwoman Florence Welch is a force to be reckoned with, at times ethereal and at others positively bombastic. On this tour in particular, she seemed to truly feed off of the crowd's energy, whether she was instructing everyone to hoist their neighbors up onto their shoulders or leading some frenzied, synchronized jumping during "Dog Days Are Over." Her costumes occasionally appear to draw some witchy inspiration from Stevie Nicks, and we have to admit—we're totally under her spell.—Bonnie Stiernberg
6. Titus Andronicus
Titus Andronicus might have come fresh from the studio in 2012 with Local Business, but if their appearances at SXSW and multiple U.S. tours are any indication, the band belongs on the road. With the first half of the year dedicated to rehashing the classic The Monitor and The Airing of Grievances, we caught some real gems as the band built up Local Business and previewed tracks like "My Eating Disorder" along the way. And the whole time, frontman Patrick Stickles' personality is in full effect with musings in and outside of melodies.—Tyler Kane
5. Vintage Trouble
Vintage Trouble might be the one of the most energetic touring bands of the year, taking stadium-sized riffs and smashing them into intimate clubs. Ty Taylor is the ultimate showman—spinning in circles, swinging the mic stand, falling to his knees, bouncing back up and sauntering out into the audience. Watching him perform is as much a part of the Vintage Trouble live experience as singing and dancing along to the music.—Hilary Saunders
4. Gary Clark Jr.
How long has it been since a singular blues-rock behemoth has regularly graced stages across America? Austin, Texas' Gary Clark Jr. filled the void in 2012 by lighting the summer festival circuit on fire with an arsenal of earth-shaking guitar riffs and an impassioned wail that sounds like it belongs to someone decades his senior. And if you had a chance to see him in an enclosed venue? Forget about it. It's a wonder the whiskey bottles of America's bars were able to stay on their shelves when pitted against the building-rattling vibrations emitted from Clark Jr.'s monster Epiphone licks. Hide the women and children, please.—Ryan Bort
3. Bruce Springsteen & The E Street Band
Imagine yourself 40 years into your job, still giving every ounce of energy you have every day you show up for work—even after you became the boss. Bruce Springsteen formed the E Street Band back in 1972 when he signed on with Columbia Records, and four decades later, they haven't slowed down. And though we've lost Danny Federici and Clarence Clemons, their presence is still felt on stage, especially seeing Clemons' nephew Jake Clemons taking over on sax.—Josh Jackson
2. Alabama Shakes
It can be difficult for a band to continuously put on compelling live shows with only one full album's worth of original songs. But the Alabama Shakes, who also made last year's list, have toured extensively on their outstanding debut album, Boys & Girls. Brittany Howard's blast-from-the-past voice shines over the band's clean Southern twangs and ripping riffs. Plus, they've been known to bust out a Led Zeppelin jam or two.—Hilary Saunders
1. Jack White
Jack White is equal parts showman and recording artist. From the White Stripes' red-and-white peppermint theme, to his various world record attempts, to Third Man Records' ostentatious everything, White has always placed a high premium on flair. So when it came time for him to tour in support of his solo debut, Blunderbuss, fans knew to expect more than just a stool and guitar on stage. Debuted to the masses during an unforgettable and highly exclusive Sixth Street performance during SXSW in March, White's 2012 live show typically consisted of two sets—one with an all-female backing band, The Peacocks, and one with an all-male backing band, The Buzzards. Between the two, White treated audiences to rousing performances not only of his newly minted solo material, but also of fan favorites from his days with The White Stripes, The Raconteurs and The Dead Weather.—Ryan Bort