Paste's Best of 2012 series continues through Dec. 31 and is made possible by our friends at Tretorn.
We've already told you our picks for the best new music of 2012, so today we're celebrating the releases that look backwards as we choose the year's best reissues, best-of compilations and box sets—although, of course, some new or previously unheard material managed to crack the list. Check out the Best Reissues and Box Sets of 2012, as voted upon by our panel of staff and writers, below.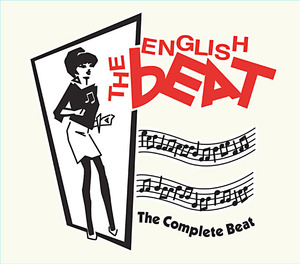 20. The English Beat: The Complete Beat
They remain a cult act in the U.S., famous primarily for "Mirror in the Bathroom," but during their short life—just three albums in five years—the Beat released one classic LP, one really good one and one fair. They played long, raucous, sweaty live shows, but toured mostly in Europe rather than the States. Shout! Factory has gathered those three studio albums, along with two discs of rarities and live cuts, into the exhaustive box set The Complete Beat, which is so good that even listeners who swear they don't like reggae will find much to love.—Stephen M. Deusner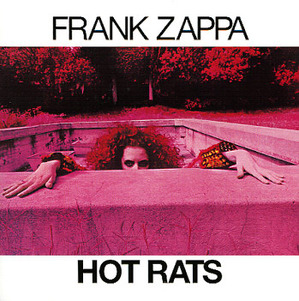 19. Frank Zappa Universal Reissues
Unless you're an extreme completist (or a deranged millionaire), it's unlikely you purchased all 60 of Frank Zappa's 2012 reissues. Sure, buying all 60 would take some pretty sweet coin, but it's just as likely that you'll hate as many Zappa albums as you'd love: This mustachioed musical madman remains the most unpredictable figure in pop history, blurring the lines between rock, jazz, prog, doo-wop, satire and stupidity. But every single entry in Zappa's schizophrenic catalog has its unique charms—from the commercial-jingle, psychedelic satire of 1968's We're Only in it For the Money to the spacey jazz-fusion of 1969's Hot Rats to the muscular, hallucinatory chaos of 1974's Apostrophe. Walk in to your local record store, grab one at random off the shelf, and brace yourself for the weirdness. It's musical Russian Roulette—remastered, of course.—Ryan Reed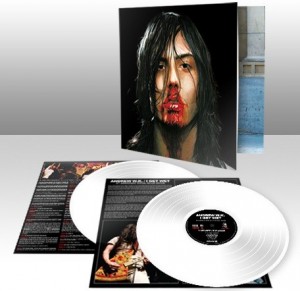 18. Andrew WK, I Get Wet
Andrew Wilkes-Krier's mythical rock-'n'-roll singularity gave our generation its Bat Out of Hell, and it blazes through much quicker. The song titles alone make reviews obsolete; there's rarely been a truer trilogy in rock than "Party Til You Puke," "Party Hard" and "It's Time to Party." Special bonus for finding the humanism in frat-party muscle rather than celebrating the brutality or whining about chicks. Pizza-shaped guitars are universal, after all.—Dan Weiss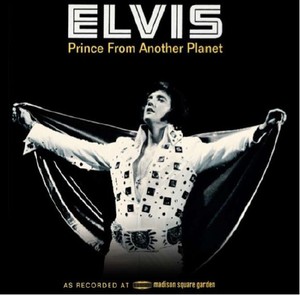 17. Elvis Presley, Prince from Another Planet (RCA Legacy)
Another year, another Elvis reissue. Just when you think the vaults are finally empty and every facet of the legendary singer has been thoroughly explored, out comes a new set of new and/or remastered recordings that somehow present a new side of the King. Prince from Another Planet documents his triumphant sellout shows at Madison Square Garden in 1972. Remarkably, it was the only time he played a show in the Big Apple. He runs through two high-energy sets, one in the afternoon and another in the evening, that mix old hits with new covers (including a gloriously over-the-top "You Don't Have to Say You Love Me"). Four years after his legendary Tigerman comeback, he remained a formidable performer and artist, one whose bold vocal style was only matched by his effusive, self-aware, playfully self-deflating sense of humor.—Stephen M. Deusner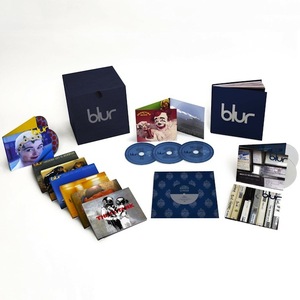 16. Blur, Blur 21
This has been a big year for Blur fans; as the group keeps hinting at breaking up, the legacy and popularity of Blur grows. To commemorate the 21 years since they released their first album, Leisure, Blur released the appropriately titled Blur 21 set, which combines CD, DVD and vinyl to give a retrospective look at the history of this notorious band. The set features unreleased material and rarities and repackages their last six albums into double albums. Blur may never release another album, but what a great way to (possibly) go out.—Ross Bonaime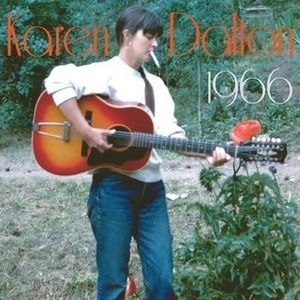 15. Karen Dalton, 1966
What distinguishes 1966 from other Dalton collections is the handful of songs by Tim Hardin, who released his debut album around the time she and Carl Baron were committing them to tape. Along with Fred Neil, he and Dalton had played together several times in New York, and her insights into his tunes are obvious. This version of his signature song, "Reason to Believe," thoroughly reimagines the phrasings and meanings of the lyrics, such that it sounds impossibly fresh even after innumerable covers. Even better is "While You're on Your Way," a lesser Hardin number that here sounds positively weightless, a fleeting moment of bittersweet nostalgia for an old lover. It wasn't that Dalton made every song her own, but that she saw them as communal experiences. Songs belonged to no one and everyone, and she sang them accordingly.—Stephen M. Deusner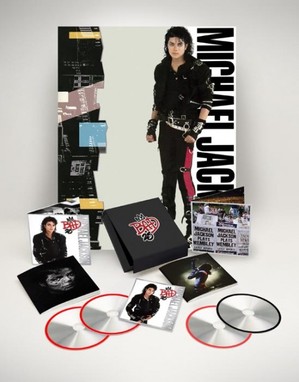 14. Michael Jackson, Bad 25 Deluxe Box Set
Since his tragic passing in 2009, it seems like labels, hangers-on and anyone with the slightest affiliation with Michael Jackson have all scrambled to release any and all previously unheard material and make one last dime off of the King of Pop—so it's easy to get cynical when yet another posthumous Jackson comp gets trotted out. However, Bad 25 is a must for diehard fans; the 3-CD, 1-DVD set tastefully marks a quarter-century of Bad with a remastered version of the album, a disc of demos (including "Song Groove, A/K/A Abortion Papers," which Jackson apparently deemed too controversial to include on the record) and remixes, a live album and a DVD recorded at Wembley Stadium in 1988. The live stuff—which includes a Jackson 5 medley and some Thriller favorites as well—is, perhaps unsurprisingly, what makes Bad 25 really worth picking up.—Bonnie Stiernberg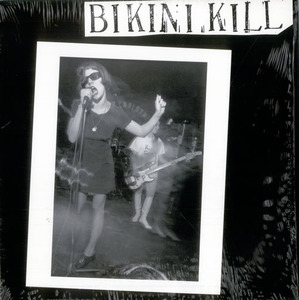 13. Bikini Kill, Bikini Kill EP Reissue
If I'm not talking about Kathleen Hanna, Tobi Vail, Billy Karren and Kathi Wilcox's widely-noted visceral and cultural accomplishments, their reportedly life-changing stage shows, Hanna's scrawling misogynist go-to words on her own body, pulling girls to the front of the crowd, their fearlessness, their reach, their success in becoming a buzz name on par with male friends Nirvana and Fugazi, it's because those are well-documented, epochal accomplishments for this seminal punk band who's deserved a 20th anniversary reissue for a long time now. They went on to write catchier choruses, more skillful riffs, and possibly more multilevel satirical pieces. But compared as a single outburst, all other bands come up short. If they quit after their first EP, Bikini Kill would be just as legendary today for ripping the medium open and saying everything someone needed to start saying. Instead they improved on it in every way except as pure legend. Perfect.—Dan Weiss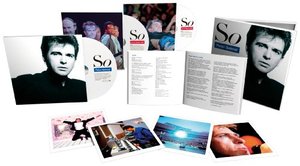 12. Peter Gabriel, So 25th Anniversary Reissue
Released in honor of So's 25th anniversary (though, math-wise, it's been 26 years), this glorious box set stands head and shoulders above your typical cash-grabbing classic-rock reissue. Peter Gabriel's 1986 masterpiece is one of the unsung sonic landmarks of the '80s—this is a weird, groundbreaking batch of songs, fusing pop smarts, global eclecticism and technically dazzling performances. Even still, the album's artistic merits have been overshadowed by its place in pop culture, namely the innovative "Sledgehammer" video and, well, John Cusack's boombox. The reissues (ranging from a standard remaster to a massive, kitchen-sink-included Immersion set) help set the record straight: Of particular note are the "DNA" tracks, which string together raw, intimate demos, demonstrating how a series of simple musical ideas evolved into complex anthems.—Ryan Reed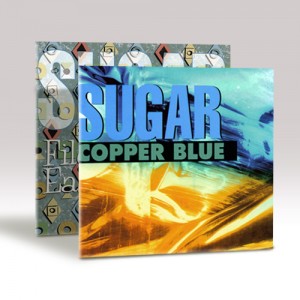 11. Sugar, Copper Blue/Beaster/File Under: Easy Listening
The Fugazi to Husker Du's Minor Threat was Bob Mould's shot at the big time, and not only that, an outlet for him to steal back Husker's melodic highlights from Grant Hart. Turns out the jangling vortexes of "Your Favorite Thing" and "If I Can't Change Your Mind" vying with rough-and-tumble "Tilted" and "Gift" could come from one dude after all. Thank the power-trio gods that he knew these riffs were too powerful to waste on solo material.—Dan Weiss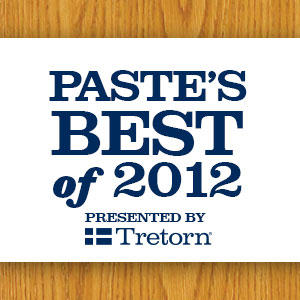 We've already told you our picks for the best new music of 2012, so today we're celebrating the releases that look backwards as we choose the year's best reissues, best-of compilations and box sets—although, of course, some new or previously unheard material managed to crack the list. Check out the Best Reissues and Box Sets of 2012, as voted upon by our panel of staff and writers, below.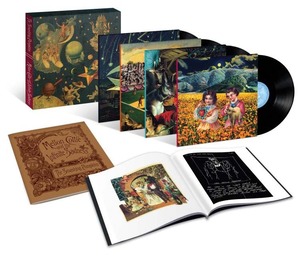 10. Smashing Pumpkins, Mellon Collie and the Infinite Sadness
No album begs for a super-deluxe, multiple-disc reissue like Smashing Pumpkins' behemoth, 28-track Mellon Collie and the Infinite Sadness. From the beautiful re-imagined astral artwork to the storybook liner notes, everything's a little more grand about the release that already aimed sky-high, capturing the Pumpkins at the height of their career. "This was the best time in the band by far," Billy Corgan says in the liner notes. "I think that's one of the great tragedies in our story, that when we finally did find the right balance internally we enjoyed our greater success. What's sad about that is we were never able to recapture that again." And in this band's time of mass-production of material (not to mention without diminishing quality), audiences reap the benefit with an almost alarming set of material: Three discs of bonus cuts and alternate takes follow the album along with an additional DVD. It's more than enough for the hardcore Pumpkin-head and plenty to stir up mid-'90s nostalgia for the rest of us.—Tyler Kane

9. Paul Simon, Graceland 25th Anniversary Reissue
The sheer pop beauty of Graceland may have exceeded any controversy that arose upon the album's creation 25 years ago. Fans younger than the album might not even be aware of the whole South African apartheid angle. Context, however, is still significant, as Graceland shaped the way we view cultural exchange and appropriation in the realm of popular music. Of course none of this would have mattered half as much if the songs weren't so magnificent. As a whole, the record seamlessly blends varied musical traditions and while far from being the first "world music" album, it did usher in a whole new era of global pop consciousness.—Jessica Gentile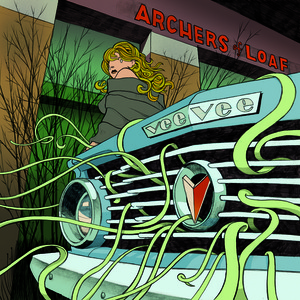 8. Archers of Loaf, Vee Vee/All the Nations' Airports/White Trash Heroes
Unpopular opinion alert: Archers of Loaf were the best indie-rock band of the '90s. Pavement's more than fine, but their canny distance from their subjects and relative lightness in their playing style narrows their visceral power. Meanwhile, Eric Bachmann and co. howled some of the best scrambled-angst songs of all time, and contrary to popular legend, not all of them are on last year's gloriously reissued debut Icky Mettle. Two of the greatest among these three completist-friendly packages are "White Trash Heroes," a skittering-electronica ballad that beat Kid A by two years, and "Chumming the Oceans," a bar-piano elegy for a diver eaten by sharks. And if you want Pavement after all, proceed to "Scenic Pastures," which bends "Gold Soundz" til it breaks.—Dan Weiss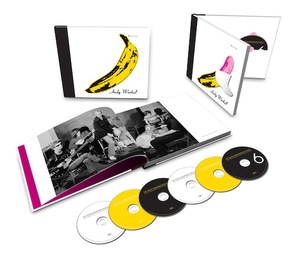 7. The Velvet Underground, The Velvet Underground + Nico
The limited edition, six-disc reissue of The Velvet Underground + Nico features a stereo remaster of the classic album, along with a mono remaster, recorded live practice sessions and a disc of alternate mixes of the songs. In other words, this set contains five hours of virtually the same songs in various levels of audio quality. Such an obsessive musical chronicle might be considered indulgent if it were of any other album, but given the indelible influence of the Velvets—from New York punk to Wes Anderson twee—such a set seems a necessity. Besides, the songs hold up no matter their setting, as they transcend Warhol's factory and enter a post-millennial future.—Jessica Gentile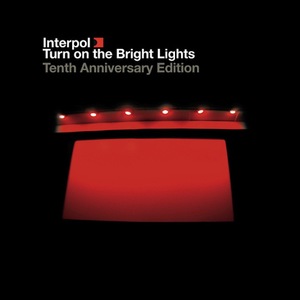 6. Interpol, Turn on the Bright Lights 10th Anniversary Edition
Interpol might have seemed oddly self-assured for a bunch of fresh-faced New Yorkers with the 2002 release of Turn on the Bright Lights, but it took years for Daniel Kessler and company to bring that music to any sort of audience. To celebrate the 10th anniversary of the band's incredible debut, Matador is gracing fans with a classy, hardbound edition of the album featuring rare images, tracks, performances and notes from the band. We see Interpol rarities like "Specialist," "Song Seven" and "Precipitate" pressed on wax, along with a DVD of the band's first show with longtime drummer Sam Fogarino. For diehards, it's an impressive document of the path leading up to their beloved debut, and for everyone else, it's still fun to look back on the pre-holster glory days of bassist Carlos D.—Tyler Kane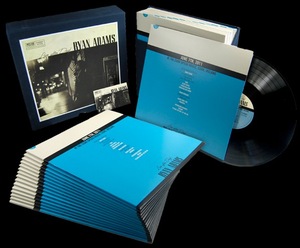 5. Ryan Adams, Live After Deaf
Ryan Adams released 15 LPs this year. That's right—15. Not even Bob Pollard can match that. No, it's not a return to the old days when Adams released approximately seven albums per year under various monikers. He appears to be past that. He did, however, realize that a box set could be the perfect vehicle for his over-the-top release tendencies. In June, Adams's own Pax-Am Records released Live After Deaf, a 15-LP collection of songs from his solo acoustic tour across the pond in the summer of 2011. Each record represents a condensed set list from a specific night in a specific city (London, Dublin, Lisbon, etc.). The box set was so anticipated that the original Friday release had to be pushed back to Monday after the servers crashed at Pax-Am and its digital partner Kung Fu Nation. Those willing to patiently click and shell out $130 (plus nearly $40 for shipping the 13-pound behemoth) were rewarded with more than 144 vinyl-only live tracks (plus 218 digital versions), all pristinely recorded and chock-full of songs from 2011's Ashes & Fire all the way back to Adams's Whiskeytown days. The singer used to berate people for requesting non-Cardinals tracks like fan favorite "Come Pick Me Up." Now those same fans can hear how it sounded in four different countries.—Joel Oliphint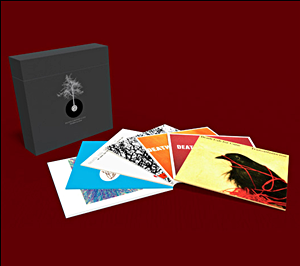 4. Death Cab for Cutie, The Barsuk Years
One of the most strikingly absent catalogs from the resurgence of vinyl records has to be indie darlings Death Cab for Cutie's. Their early work contains some of the most beloved albums in the early aughts, and looking back on classics like Transatlanticism and We Have the Facts and We're Voting Yes, it's easy to remember why. All of the albums are repressed on 180-gram vinyl, many for the first time (most notably You Can Play These Songs With Chords). It's all packaged in a sleek, numbered cloth-bound box, which is signed by the band individually. This is a must-have for any vinyl-loving Death Cab fan in your life.—Tyler Kane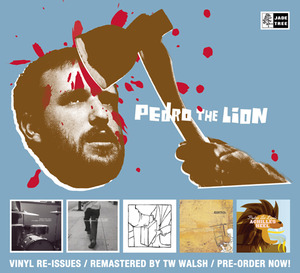 3. Pedro the Lion Complete Catalog
For years, it was hard to find It's Hard to Find a Friend—along with really any other album in the Pedro the Lion catalog—anywhere on vinyl. And for the first time, you can get your hands on Pedro the Lion's complete, remastered and repressed catalog for a reasonable price through the Undertow web store. Although the albums aren't being packaged as a whole anymore, you can still get them all at a reasonable price—around $14 bucks a pop. And nothing says "I care" on Christmas than gifting some of the most affecting indie records put out in the late '90s.—Tyler Kane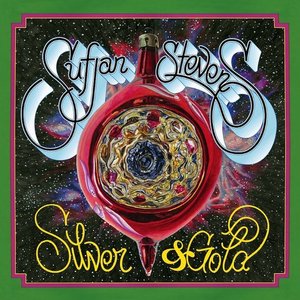 2. Sufjan Stevens, Silver & Gold
Silver & Gold is much more than just a collection of songs. Its lavish, 80-page booklet is filled with breathless essays (Sufjan's diatribe on the symbolism of Christmas trees, an apocalyptic and slightly chilling reflection on "Advent & The End Times" by Pastor Thomas Vito Aituo), and, of course, the collection comes with a foldable star ornament, poster, and creepy temporary tattoos (sample images: a skeleton wielding an axe with the caption "Here's Santa," a gangsta snowman armed with a chainsaw, pandas wearing tacky Christmas sweaters, and an odd-looking Jesus bearing the slogan "Blowin' Your Mind!"). The function of all this intentional tackiness is unclear: A goofy reflection of Christmas' pimped-out corporate absurdity? A surrealist collage for the sake of surrealist collage? Whatever it is, it's a typical Sufjan spectacle.—Ryan Reed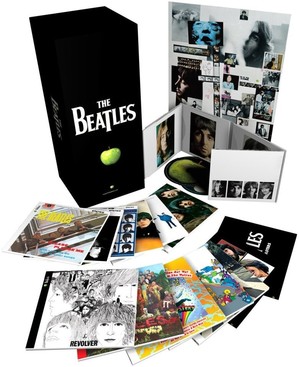 1. The Beatles Stereo Vinyl Box Set
If there's any band that deserves a gorgeous, all-encompassing vinyl box set showing their entire evolution, it's The Beatles. Filled with 14 albums and a hardback book that chronicles the band's history, this beautiful set is the greatest collection of The Beatles' work to be released so far. For the first time ever, this collection marks the debut of The Beatles' first four albums and their Past Masters double LP on stereo vinyl in the United States. An incredible set for one of most important bands of all time, The Beatles Stereo Vinyl Box Set is a release that does the Fab Four justice.—Ross Bonaime