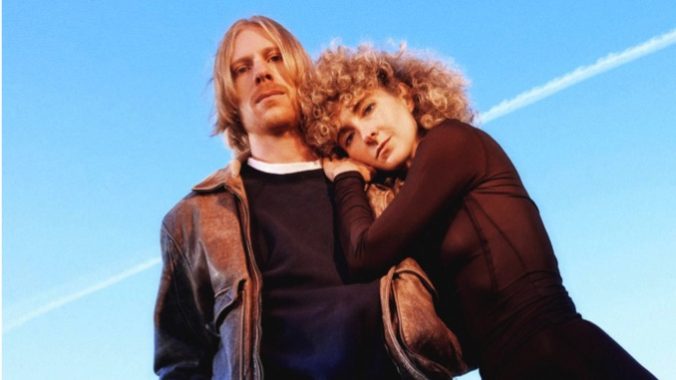 While a name like Tennis may be entirely random, it suits Alaina Moore and Patrick Riley's indie pop project to a T. The game of tennis is highly aestheticized, conjuring up images of pristine lawns, country clubs and pastel athleisure. Tennis has a similar commitment to the aesthetic: the bandmates and life partners each sport a unique, vintage-inspired fashion sense, with Moore often rocking tight, bouncing curls reminiscent of yesteryear's youth culture. Especially in the early days of Tennis, their sonic palette drew inspiration from prior eras of pop, recontextualizing the sounds of the '60s especially for 21st-century moods. As novel as their compositions are, they possess an instant familiarity that charms, and even as Tennis has expanded their performances deeper into contemporary rock and pop, their charm has remained as strong as ever.
On their sixth LP, Pollen, Tennis displays their knack for dance pop, showcasing synths and bass that recall visions of discotheques that look more modern than dated. While the duo does not completely depart from their retro roots or cliche signifiers of wealth, Pollen shows that the band is well aware of music's expansive territory and that they are excited to expand their sound yet again. Over the years, Tennis has risen to the occasion on jangle, dance pop, rock, blues and more, always offering their own twist on the classics. To celebrate the return of Tennis, we revisited their lustrous discography and itemized 10 favorite songs from their indie-pop canon.
10. "Seafarer" (2011)
From the first moment we met Tennis, their vintage charm was front and center. On "Seafarer," and throughout their debut record Cape Dory, the duo drew inspiration from '60s pop to deliver emotionally multidimensional snippets inspired by the yearlong stint the couple spent sailing the eastern seaboard. Cape Dory isn't painfully nautical, but the sunny backdrop of sailboats and beaches makes for a compelling visual palette against which Tennis display melancholy, anxiety and heartbreak. "Seafarer" is the most exceptional from Cape Dory, with Alaina Moore throwing herself at her seafaring lover with all seeming beautiful until cracks emerge. Before finding a home on Cape Dory, the track's demo version lived on Myspace in 2010, tantalizing fans of the new indie-pop upstarts and remaining a fan favorite.
9. "Deep in the Woods" (2011)
Entering sweetly with piano and tambourine, "Deep In The Woods" is a verbose pop adventure with swing. The rhythmic mix on the keys and vocals give Moore's words a percussive quality as they meander like a lost hiker about to discover something sinister. References to buried love, figures glowing in the distance or spectres charging heighten the track's enrapturing mystery. Initially released as a 7" with fan favorite "Origins," "Deep in the Woods" eventually became a bonus track on the duo's second LP, Young and Old.
8. "Late Night" (2020)
Like many of the most emotive musicians, Alaina Moore carries some misgivings from her days in organized religion. As she grew into her womanhood, Moore couldn't help but fixate on the way preachers wanted her to aspire to a Mary Magdalene-like role in the world. As multifaceted as the Mary Magdalene figure is, the preachers in Moore's life specifically cite her complete submission to serving Jesus. As preachers encouraged the men around her to take charge, why should she only aspire to submit? On "Late Night," featured on 2020's Swimmer, the arrangement is anything but submissive, with bold, enchanting swirls of music undergirding Moore's efforts to reframe her femininity.
7. "Never Work For Free" (2014)
"Never Work For Free," off 2014's Ritual in Repeat, is less a labor anthem and more of an exploration of Moore's approach to love and marriage. Perhaps expected of bands composed of married couples, several Tennis songs mull over marriage, and many musicians have tried and failed to represent their love without alienating listeners. "Never Work For Free," however, is outstanding. The upbeat, danceable pop style reminiscent of HAIM is immediately catchy, with consistent drums providing a brilliant foundation while synths, guitars, and syncopated vocals make the song the perfect earworm.
6. "In The Morning I'll Be Better" (2016)
In the early days of Tennis, Alaina Moore stayed in a modest vocal range (think the chorus of "Take Me Somewhere"), letting the words and the jangling instrumentals do most of the work. As successful as that formula proved, Moore has a brilliant range, and upon discovering that Patrick's close friend was terminally ill, Moore let her voice spread on a song that she hoped would help soothe the devastation. "In the Morning I'll Be Better" features the memorable chorus: "I'll write a hymn again (I'll write a hymn again)/I'll be your woman (woman)/Keep on believing in/Our own healing," featuring Moore providing angelic echoes to her own professions.
5. "Runner" (2019)
Rhythmically complex and sonically delicate, "Runner" is a particular standout that, from its initial release, felt like a turning point for the indie-pop duo. While the band had undoubtedly grown more experimental since their Cape Dory days, "Runner" elevated the band's songcraft with the peculiar vocal cadences and layers of dreamy pop that sounded as ethereal as Beach House but as stimulating as CHVRCHES. Moore's attraction to the divine comes from her Christian upbringing; she grew up homeschooled in an evangelical tradition, one with conservative proscriptions that made Moore feel trapped at times despite the support and inspiration often reverberating in communities of faith. She works through the conflicting senses she has of herself with those passed to her in the church, struggling to work through the tension but displaying the value in toeing those lines.
4. "Dimming Light" (2013)
On the band's 2013 EP Dimming Light, Tennis switched from working with Patrick Carney to Richard Swift, a fellow musician whose peculiarities fit the duo's often narrative-heavy tracks. On "Dimming Light," the band and Swift work in tandem to generate a track that begins with a lilting, beachy guitar riff into a stomper with a brilliantly layered chorus with an iridescent piano base. As Moore croons about the developing love she senses bubbling up but questions slightly, the delicately sandwiched layers of synths, keys and percussion make the track feel weighty and impactful despite its dreamy debut.
3. "Let's Make A Mistake Tonight" (2023)
On their brand new LP Pollen, Tennis plays heavily with pop, blending the vintage and contemporary with tools not yet deployed on previous records. On "Let's Make A Mistake Tonight," gentle disco is the ascendant sonic palette from which they draw inspiration, crafting a song that is, above all else, attractive. While the suggestive title suggests it's all about tonight, Moore's lyrics about driving away and charting a new course for herself and her counterpart suggest aspiration. The bass and drumbeat give the track a club feel that adds Magdalena Bay-like mystique that is a rarity on Tennis tracks. It suits them well.
2. "Origins" (2011)
Fresh off the buzz of Cape Dory, fans and critics alike wondered if Tennis would remain tethered to their origins in ambivalent sunshine pop. The story of a husband and wife band setting sail and drawing inspiration for an album was too aspirational to forget, even if it inspired envy or cringe to some. When Tennis returned with "Origins," a fuzz-heavy guitar pop track reckoning with the peculiarities of the Christian origin story, the duo revealed themselves to be a band who could meld gravitas and creativity. Moore's powerhouse vocals and Riley's memorable guitarwork combine into a work of indie brilliance.
1. "Need Your Love" (2020)
Entering with thumping drums and percussive keys, "Need Your Love" does not enter as smoothly as the typical Tennis track. The Swimmer standout track speaks from a place of anger, where emotional pressure runs high and demands explosive energy. The tempo fluctuates just like the ebb and flow of extreme emotion inspired by love and conflict, guiding the listener on a journey with genuine complexity and force. It's maddening, sensual, groovy and so much more. It shimmers with the same gloss that Tennis knows how to apply. At the time, Moore declared "Need Your Love" as "my favorite song that Patrick and I have written," and it's clear to see why: the whimsy, gravity, balance and lyrics are deeply fun yet genuinely relatable. It is the absolute best of Tennis.
---
Devon Chodzin is a critic and urban planner with bylines at Slumber Mag, Merry-Go-Round and Post-Trash. He is currently a student in Philadelphia. He lives on Twitter @bigugly
Watch Tennis perform "Origins" live at the Paste party in Austin during SXSW 2012: