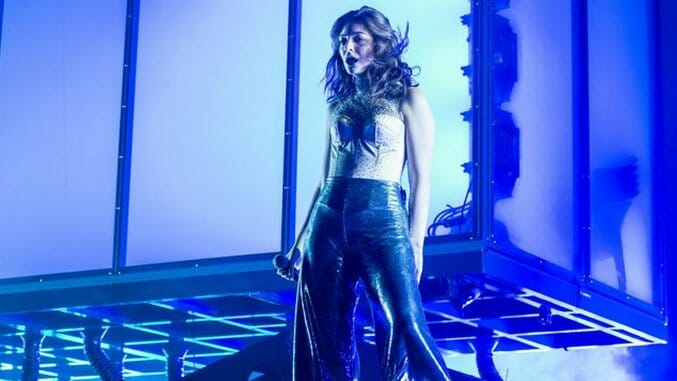 From one-time YouTubers Shawn Mendes and Justin Bieber, to superstar DJ Martin Garrix, to Disney Channel graduates Demi, Selena and Miley, the 21st century has spawned a whole host of stars who achieved global success before they were even legally allowed to toast it in America. But scoring a massive of-the-moment hit and producing an album that will stand the test of time are two very different things, and the latter has often proved to be an elusive task for many of these precocious youngsters.
However, some teens seemed to appear in the limelight as fully-formed artists, capable of recording a long player every bit as accomplished as that of the music industry veteran. In the same month that 18-year-old Declan McKenna received glowing reviews for his curiously-titled debut, What Do You Think About the Car?, here's a look at 10 contemporary records made by teenagers that prove age ain't nothing but a number.
10. Soak, Before How We Forgot to Dream
Described as a not-quite-as smart-ass version of Ellen Page's character in Juno, Northern Irish singer-songwriter Bridie Monds-Watson released her first EP at the tender age of 16. And despite a lengthy wait was still in her teens by the time she eventually made the leap to a full album. Winner of the 2015 Choice Music Prize, Before How We Forgot to Dream tackles quintessential teenage subject matter—lead single "Blud" is about eavesdropping on her squabbling parents while holed up in her bedroom and "Reckless Behaviour" is essentially the closest that the indie-folk scene has to a YOLO anthem—but always maintains a sense of restraint. Soak's delicate, yet expressive vocals and finger-picking acoustics are reminiscent of childhood hero Joni Mitchell and imbue these diary-like entries with a vulnerability and fragility which suggests she wholeheartedly means every word.
9. King Krule, 6 Feet Beneath the Moon
Unlikely BRIT School graduate King Krule possessed the kind of drunken slurring tones that made Shane MacGowan sound like a coherent teetotaller, dealt in stream-of-consciousness lyrics which referenced everything from Winston Churchill to Jean-Michel Basquiat, and pursued a mish-mash of bedsit indie-pop, post-dubstep, jazz and scuzzy punk. The man born Archy Marshall appeared to scream "acquired taste," and yet, Frank Ocean, Tyler, the Creator and Beyoncé were just a handful of the major acts who fell over themselves to champion his work back in 2013. Released on his 19th birthday, 6 Feet Beneath the Moon might not have been the game-changer his star-studded champions suggested—a fairly self-indulgent multimedia effort released under his own name two years later immediately halted any momentum. However, you're unlikely to find a more intriguing, or idiosyncratic, coming-of-age album.
8. Khalid, American Teen
In stark contrast to King Krule's one-man band approach, Khalid's debut was constructed with the help of over a dozen different producers. !llMind (Drake), The Arcade (Iggy Azalea) and Joel Little (Lorde) were just some of the backroom staff who teamed up with the 19-year-old on the alternative R&B-fueled pop of American Teen. And yet, this potential too-many-cooks scenario still managed to produce a cohesive, distinctly laid-back record that perfectly epitomized the essence of being a teenager in 2017. In fact, Khalid specifically addresses the matter on its title track saying, "My youth is the foundation of me living life as an American teen." But like on the majority of the record, he does so in a listless, distracted manner that suggests he was scrolling through umpteen social media networks at the same time. The fact its breakthrough hit, "Location," first caught attention on Kylie Jenner's Snapchat only cements its millennial-defining appeal.
7. Rihanna, Good Girl Gone Bad
Rihanna had burst out of the blocks so quick that she was still only 19 when her juggernaut of a third album dropped in 2007. Her unremarkable debut had suggested a career trajectory similar to fellow singular-named teens Cassie, Lumidee, etc., and although follow-up Music of the Sun produced a three-week chart-topper, her status as a pop star still didn't feel particularly secure. All that changed from the moment those hissing hi-hats of "Umbrella" first hit the airwaves. Its parent album, Good Girl Gone Bad, was packed with similarly addictive fare, from the Jacko-sampling Eurodance of "Don't Stop the Music" to the classy R&B balladry of "Take a Bow." In fact, every track sounded like a potential smash—in the end it produced seven Top 20 hits including three No. 1 hits. Rihanna's since gone on to achieve better things musically, but Good Girl Gone Bad remains her biggest blockbuster.
6. Laura Marling, Alas, I Cannot Swim
Laura Marling once claimed she had no idea what she was doing until six months after she signed her deal with Virgin. But this apparent ignorance still resulted in a debut album full of folk-pop bliss. Produced by Noah and the Whale frontman and then-boyfriend Charlie Fink, Alas, I Cannot Swim was sonically a simple affair with finger-picking acoustics, sparse percussion and melancholic strings. But this rootsy, timeless approach proved to be the perfect foil for then 17-year-old Marling's quietly affecting tones and poetic observations on adolescent romance. Coincidentally Alas was released just a week after another much bigger-selling lovelorn teenage debut, Adele's 19. But with lines as cynical as "Lover please do not fall to your knees / it's not like I believe in everlasting love" and tracks based on the poetry of Philip Larkin ("Tap at My Window"), Marling's introductory effort was far more beguiling.
5. Earl Sweatshirt, Doris
The youngest member of hip-hop collective Odd Future, Earl Sweatshirt's promising career looked to have stalled when his mother shipped him off to a Samoan school for troubled boys aged 16. Instead, this forced hiatus only left fans of his lyrical prowess and self-described "buttery" diction clamoring for more. In fact, by the time he dropped his debut album in 2013 he'd become a bona fide cult hero. But the introspective, self-effacing Doris proved that the man born Thebe Neruda Kgositsile had no intention of getting any bigger. Indeed, good luck finding anything remotely radio-friendly amongst its complex slew of sludgy hip-hop beats, twisted samples and downbeat stream-of-consciousness rhymes. He even handed over a fair share of its 44-minute running time to various guest stars including fellow teenage prodigies Vince Staples and Casey Veggies. The result is a powerfully uncompromising insight into the pressures of new-found fame from a genuine hip-hop enigma.
4. Amy Winehouse, Frank
It's easy to forget given her heartbreakingly tragic descent, but before the erratic live performances, self-destructive private life and increasingly unmanageable beehive hairdos, Amy Winehouse was once a relatively well-behaved, down-to-earth youngster who needed nothing more than her majestic soulful tones to attract attention. Winehouse was just 19 when she entered the studio for her 2003 debut album, Frank. But her commanding presence and relatable, refreshingly honest tales of relationship woes, not to mention a loose, organic sound suggested she'd spent decades honing her craft in smoky jazz clubs. That a record so personal, so raw, so subtle came from an artist signed by pop Svengali Simon Fuller only makes it even more startling.
3. Dizzee Rascal, Boy in da Corner
Dizzee Rascal is now widely regarded as the elder statesman of the revitalized grime scene—albeit one who briefly sold out to the EDM movement for the sake of a cheap hit. But back in 2003, he was a fresh-faced 18-year-old whose energetic rhymes, chaotic but thrilling production and tales of teenage life on an East London council estate single-handedly thrust the rough and ready sound into the limelight. Eschewing the commercial pop hooks that would later produce four U.K. chart-toppers, Boy in da Corner instead dealt in an abrasive blend of speaker-blasting bass thuds, cold, clinical synths and harsh 8-bit beats, while Dizzee's hard-hitting, unintelligible delivery often left anyone unfamiliar with the streets of Bow scratching their heads. But it was this inner-city rawness that made the record so compelling. The Mercury Prize panel that year duly agreed.
2. Lorde, Pure Heroine
Not since Kate Bush has there been a teenage artist so poised, so self-assured and so ahead of the curve as Lorde. The New Zealander was aged just 16 when she first unleashed "Royals" onto the world, the utterly addictive anti-capitalist anthem which spent nine weeks at the top of the U.S. Hot 100, won two Grammys and sold an astonishing 10 million copies worldwide. Inevitably, it overshadowed the rest of its 2013 parent album, Pure Heroine. But Joel Little's restrained production—a simple but effective blend of crisp, digital beats and deep bass rumbles—and Lorde's wise-beyond-her-years critiques of teenagedom and modern culture, captivated throughout. You only have to listen to the likes of squad leader Taylor Swift's "Blank Space" or Julia Michaels' "Issues" to hear how much Lorde's refreshing less-is-more approach changed the pop landscape for the better.
1. Arctic Monkeys, Whatever They Say I Am, That's What I'm Not
Perhaps the quintessential teenage band of the aughts, Arctic Monkeys were one of the first acts to harness the short-lived power of MySpace. Indeed, by the time that their tour-de-force debut single "I Bet That You Look Good on the Dancefloor" hit the shelves in late 2005, they had already amassed the kind of devoted following that hadn't really been seen since Beatlemania. Only guitarist Jamie Cook had reached his 20s during the recording of their clunky-titled first LP, Whatever They Say I Am, That's What I'm Not (frontman Alex Turner turned 20 just two weeks before it surpassed Elastica's eponymous LP as the U.K.'s fastest-selling debut ever). And few other guitar bands have managed to encapsulate the sheer mundanity that comes with being a teenager in such a pithy, articulate and distinctly unromantic manner.