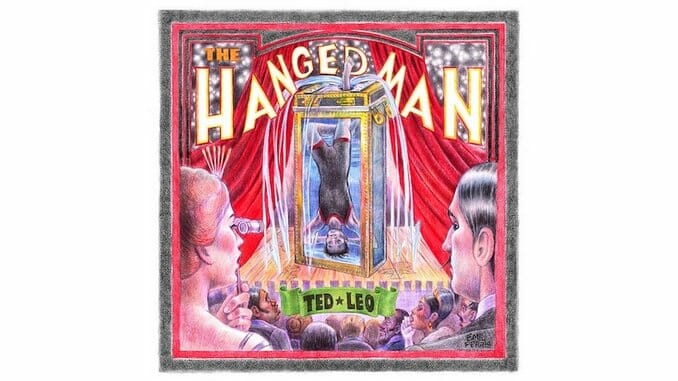 It's not as if Ted Leo has been holed up in a padded bunker somewhere, shielded from the wiles of our strange American consciousness. There are new pills to swallow, and new realities to digest, and Leo's aptitude at painting vitriolic images through appropriately razor-sharp rock 'n' roll prisms has been the ultimate panacea in times of crisis. His breakthrough LP Hearts of Oak came out just as George W. Bush plunged the U.S. into Afghanistan to begin a war that hasn't ended yet. Leo's gift of smart introspection, potent lyricism, and ability to jam both into spastic, three-minute rock songs is perhaps one of the nicer, more satisfying things that could be forged, though likely unwittingly, as a critical byproduct of the Fake News hysterics of our current, gourdlike commander in chief.
In short, we've needed a Ted Leo record for a long time. After seven years, a collaborative foray into both comedy and song with duo The Both (featuring Aimee Mann), and a crowdfunding project to realize the whole thing after Leo's decision to self-release and self-record, The Hanged Man is here.
It is not the record you may have been expecting. It is an altogether less bombastic imprint than the fiery output of his 2003-2010 run, where every song and album seemed on the verge of inciting a rock 'n' roll riot, and Leo was leading a pack of '70s punk/reggae revivalists into the new revolution.
The album begins with the nearly painfully empty "Moon Out of Phase." In all its raw, strange beauty, a skuzzy wall of guitar is accompanied only by Leo's voice, as he sings "Wednesday, wake up/Thinking about make-up/Barely make it into clothes/The creeping and the menace grows/Into a world of foes." It sounds as if some kind of evil demon has kidnapped Leo and is holding him and his expansive chops ransom.
It's an odd way to ring in Leo's new solo record, but a weirdly fitting intro for his cosmic disposition regarding the socio-political upheaval around him. The typically peppy, crisp guitar clangs of his Pharmacists-era output is harder to find on The Hanged Man, though the specters of its sonic shadow seem to linger within the songs themselves somehow. He is assisted on drums frequently throughout the album by the steady Pharmacists percussionist Chris Wilson, which could explain some of that.
Take the satisfying sermon "The Future (Is Learning to Wait Around for Things You Didn't Know you Wanted to Wait For)." The song's warm production quality strips some of the punchiness of the song, but Leo rescues that minor grievance with the charm of slashing guitar riffs, and a harmonic chorus. The fact that the song is also a charming dissertation on the right-now generation, and the psychosis of instant gratification, unmasks a maturing songwriter. As both participant in the excesses of modern technology, as well as conscientious skeptic to its negative properties, Leo unfolds a topical fuck-you, replete with image-rich lyrics: "Come on, give a kiss to the spinning rainbow disk/A sneaking singularity with meditative hiss/The promise of the apps versus time elapsed/All returns diminish us and we ain't growing back."
The pop-rocker "Can't Go Back" glows with fluttery female backing vocals from Jean Grae, and an aesthetic eerily reminiscent of the second half of the Sgt. Pepper's classic "A Day in the Life," what with the bouncy rhythmic pep in the song's catchy progression.
"William Weld in the 21st Century" is a song that for all its understated elegance is still a damaging folk-like ballad, persecuting the former Massachusetts governor and Libertarian vice presidential candidate. Leo veers further astray of the raucous tones he's typically employed on the key-and-vocals track "The Nazarene," which finds Leo allowing his falsetto to do the heavy lifting in another initially sparse tune, instrumentally.
"Run to the City" is a fun Rockpile rocker replete with splintered guitar leads, a more subdued, thudding bass attack, and a sing-along worthy chorus with a chronological arc of the appeal of big city life. There's even a saxophone solo just prior to the song's bridge, lending yet another worldly accoutrement to Leo's maturing palette. The skronky sax outro leads dutifully to the traditional-sounding "Gray Havens," which finds Leo damning the specters of war with, "These men sent us down to the clay/Those men, those men sent us away/Fly by night or cloudier day/Drones don't fly when heaven is gray."
The song begins over a simple guitar, which trips a little before a cavalcade of strings descends to guide Leo's now-angelic voice into a new fissure of melodic interplay. As the song continues to bloom in unexpected ways, an electro drum beat and a snaking guitar line drops, linking the disparate pieces together toward a repetitious psych-rock finale, to create a truly singular kind of post-modern rock composition. It's easily one of the most interesting songs Leo has written and released, and one of the standouts on The Hanged Man.
Later tracks like "Make Me Feel Loved" and "Lonsdale Avenue" exist in the realm of the Paisley Underground set, with jangly acoustic guitars intertwining over shy tunes of loveless minutiae, the latter of which features backups from Mann.
The album's bookend finale "Let's Stay on the Moon" meanders glumly with warm organs and a huskier vocal from Leo, and help from the "Lunar Choir" on the song's epic ending of "Let's stay on the moon and watch the earth go down." It's another smart manifesto on the perils of our doomed world, as the song tenderly condemns humanity, while contributing something beautiful to it at the same time. Such is the beauty of Leo's art, and his musical balancing act on this new collection. The Hanged Man, despite some of its thinness and unevenness, is still a great record.