Tanukichan's GIZMO Is an Inviting Carousel of Textures
Hannah van Loon's second solo album uncovers new sounds and leans on satisfying contrasts
Music
Reviews
Tanukichan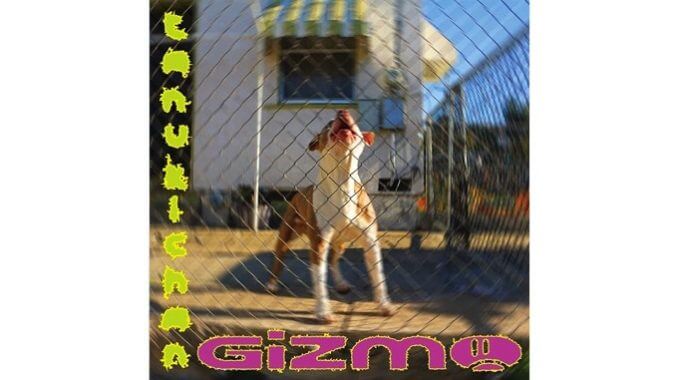 Tanukichan, the solo project of Bay Area musician Hannah van Loon, has been releasing striking dream pop for the last few years. Marked by van Loon's distinct, disarmingly gauzy vocals and distorted guitar plucks, Tanukichan's music feels singular in the broader dream-pop sphere. Her voice exudes the calming hum of ambient music, her guitar textures pull from gritty post-hardcore or grunge just as often as shoegaze and her floaty pop melodies contain hints of psychedelia and avant-pop, growing more tender each time you listen.
While other dream pop gets its power from furious plumes of noise, her music is more economical, hinging on the gripping interplay of well-balanced textures. Her hushed, gossamer vocals intermingle with off-kilter guitars that alternate between chunky thumps and contorting squeals, resulting in a sound that feels both spacey and concise. Tanukichan's music gives the impression that van Loon is less tethered to sonic reference points and more interested in finding weightier contrasts to her hypnotizingly weightless voice and poignant melodies.
Her love of melodies and lack of interest in genre pastiche are likely tied to her classical music background, as she grew up playing piano and violin in her formative years before switching to guitar. She also dabbled in bluegrass and jazz and later joined the Oakland indie-pop band Trails and Ways. Shortly after departing that group, she met Toro Y Moi's Chaz Bear at one of her shows, and he offered to produce her music. This collaboration resulted in her 2016 debut EP as Tanukichan, Radiolove, a scrappy effort with an already clear command of pop melodies. Her first full-length Sundays—also produced by Chaz Bear—arrived two years later, and it showcased a more confident sound, playing up the soft sheen of her voice and the tactile nature of her guitars. Sundays was full of warm contradictions—guitars that sound at once smeared and incisive, lyrics that feel both apathetic and enlivening—but its melodies were the star, instantaneous yet ever-evolving.
Tanukichan's second album, GIZMO, is a continuation of her partnership with Bear and more sonically adventurous than its predecessor. The synths, guitars and rhythms create a wider range of moods and sounds, from the trip-hop-meets-nu-metal of "Don't Give Up" and the bare-bones rock of "A Bad Dream" to the string-laden closer "Mr. Rain" and her touching yet noisy duet with Enumclaw's Aramis Johnson, "Thin Air."
"Lazy Love," the lead track on Sundays, kicked off that album with roughly 20 seconds of rumbling guitar feedback, and GIZMO also opens with a loud bang. "Escape" announces itself with faint guitar gurgles that soon turn raucous and animated, groovy drum pounds, though its sonic bombast is not indicative of the entire album, as van Loon largely picks her moments to crank things up. However, that noise and those danceable rhythms carry over to the next track "Don't Give Up," the more satisfying of the two as it leaves more room for van Loon's voice and its moody keyboard line and bulky bassline are personalities unto themselves. The ear-splitting vigor and dance-informed drums of these lead-off tracks mark exciting new territory for Tanukichan, even if they're used sparingly on this album.
"Make Believe" and "Take Care" are vocal highlights, with the former demonstrating how much wispy beauty van Loon can wring out from a chorus of yeah's and the latter dishing out charmingly giddy indie-pop melodies, wonderfully elevated by a ebullient, circling guitar line. But perhaps van Loon's voice is most intoxicating when juxtaposed with the voice of Aramis Johnson on "Thin Air." Van Loon's delicate, calming utterances muster emotion from their deliberate nature—her ethereal voice sounds natural yet considered and cultivated—while Johnson gets his power from a more aloof, unadorned and off-the-cuff approach, which sounds rough yet vulnerable and occasionally explodes into a scream. It's a perfect pairing, not only for their gratifying contrasts, but also their similarities, as both vocalists share an inherently wistful and drifting sound. The track is also a standout due to its simple yet emotive guitar wails, heightening the tension and emotional stakes.
Tanukichan skillfully utilizes contrasts, and the interplay between guitars and synths is one of GIZMO's biggest strengths. On "Nothing to Lose," dizzying guitar distortion meets the warm, subtle tenderness of keys, while on "Like You" punchy, thick guitars are paired with frequency-shifting shrieks and otherworldly twinkles.
The album ends with "Mr. Rain," a return to van Loon's classical roots, as it features dramatic string flutters—as well as her brother, Samsun van Loon, on cello, according to Stereogum—and calls back to the rowdy noise that opened the album. Clocking in at four-and-a-half minutes, it's the longest Tanukichan track to date, packed with acoustic guitar strums and the dense, heady reverberations of an electric guitar, as van Loon's voice is increasingly cornered by bustling string crescendos and instrumental layers begin to bleed into one another. The album's sonic climax is also home to one of its most sobering bits of wisdom, as van Loon reveals that she hasn't recovered from the loss of someone, and the grief she describes is both "ruining her mind" and providing "peace of mind." She affirms that grief is not an eventual acceptance, but a lifelong challenge to deal with the weight of ever-present memories.
Lyrically, GIZMO feels somewhat less abstract than Sundays, though van Loon still keeps her cards close to her chest. GIZMO examines how time can both heal wounds and deepen them, making time feel like a physical, erratic force—an invisible guiding hand that colors emotions and memories. Van Loon's observations are particularly illuminating when she illustrates how time can get tangled with her perception of others—on "A Bad Dream," the mere mention of an estranged loved one's name summons an illusion that any work she's done on herself has been reversed, while on "Take Care" van Loon sees her own future through someone else's face. "Like You" is also a powerful statement, as it reassures oneself that certain experiences and realities will always be coated with gloom, and that's okay—like the inextricable link between sadness and nighttime or the persistent urge to explain things away with the phrase "that's just life."
GIZMO is an adept sequel, full of intriguing dynamics, pillowy pop songwriting and thoughtful meditations. Van Loon is a skilled wielder of distortion and contrasts, and GIZMO's wider toolbelt of textures adds to the transportive nature of her music. If GIZMO leaves something to be desired, it's that certain exhilarating sounds she uncovers, like bold, spacey synths and dance-y percussion, don't last for more than a few tracks, or that its melodies feel somewhat less memorable than those of Sundays—nothing quite reaches the highs of "Like the Sun" or "Bitter Medicine"—though time could disprove this in retrospect. After all, as van Loon can attest, time works in mysterious and unpredictable ways.
---
Lizzie Manno is a music writer, Coldplay apologist, bread lover and Spongebob memer. She's a former Paste editor, with bylines at Stereogum, Billboard, Flood Magazine, The Recording Academy and Cleveland Scene. Follow her on Twitter @LizzieManno