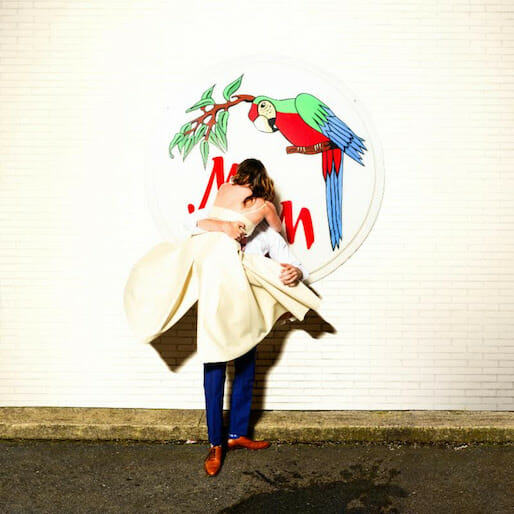 In 2014, Sylvan Esso, the indie electropop duo of singer Amelia Meath and producer Nick Sanborn, appeared seemingly out of nowhere, fully formed and armed with a loaded magazine of dreamy, juicy and impossibly good hooks. The North Carolina-bred group fused folk and electronic sounds in an expert balance, making their self-titled debut a danceable, slightly magical Millennial summer staple.
Three years later, the band is back for round two, with a denser sound and with a very different goal than Sylvan Esso's blissfully direct objective of "making people dance." The press release for What Now calls the album a representation of "the inevitable low that comes after every high." Indeed, on this new record Meath and Sanborn dispense with many of the freeing and expansive sounds of their debut, opting, with varying degrees of success, to play instead with feelings of tightness, darkness and enclosure.
The album opens with the crackling, fuzzy radio sounds of "Sound," with Meath's voice peeking through and growing in strength as the grainy pops and scratches synch up into a familiarly Sylvan Esso-esque rhythm. It's an oddly unwelcoming and yet effective choice for an opening track, setting the slightly sharp tone to the album. Every one of What Now's 10 tracks traffic in elements of melancholy, from the equal parts romantic and unsettling lament of "Die Young" that "I was gonna die young/now I gotta wait for you," to the hypnotic and somehow heartbreaking "never stop, never stop, never stop starting" chorus of "Just Dancing" to the quiet, tense resignation of "Slack Jaw," the only song on the album that doesn't feel filled to the brim with sound.
And then, of course, there's the brilliantly, gleefully brutal music industry slam of standout single "Radio," which features a deliciously radio unfriendly toss off: "Don't you look good sucking American dick?" "Radio" has been a hit for Sylvan Esso so far, with Meath exhibiting her keen ability to capture and call out the the frustrating elements of modern society and Sanborn showcasing his talent for matching those observations with propulsive, danceable beats.
The only song on What Now more successful than "Radio" is "The Glow," an absolutely sensational, vibrant take on remembering the good times of yore. Sylvan Esso succeeds wildly when they are able to deliver music that is precise, that feels like a surge of intoxicating, adventurous intimacy due in equal parts to its specificity and its universality. They achieve exactly that balance on "The Glow," referencing friends by name in the verses and charging into a rush of bouncing, almost aerobic electropop perfection with the chorus.
Unlike the immediate sugar high of pretty much every track from Sylvan Esso, most of the melodies on What Now take a little while to unspool. Tracks that fare less well than the standouts are the frenetic "Kick Jump Twist," which plays with some of the album's most futuristic electronic tones but never quite comes together, and the somewhat incomplete-sounding "Song," which has a melody that's almost wonderful, and an emotional swell that's almost really resonant.
It's not terribly often that the title for an artist's second full-length sums up the challenges inherent in the phrase "sophomore album" as succinctly as Sylvan Esso's What Now. The clarity of vision, and how effectively the band adhered to and delivered on that vision, made Sylvan Esso a revelation for many of us. That the band doesn't quite achieve those soaring heights a second time is not only understandable and fair, but also possibly necessary. Our current cultural (and environmental) atmosphere have led us to an impending summer that feels claustrophobic rather than welcoming, overexposed rather than bright.
The fuller, darker, and more chaotic sound of What Now is appropriate. While listening to Sylvan Esso now makes me feel wistfully hopeful, if the follow-up was nothing but an extension pack to that album, it would likely feel naive or disingenuous. It grapples with and effectively communicates what happens after the party, what it feels like to come down. That feeling though, which many of us know too well, is one of dissatisfaction and listlessness, and What Now being able to deliver a similar sensation occasionally allows the darkness to feel numbing or limiting.