Superorganism Cover MGMT, Post Malone in Fun "Congratulations" Mashup
Images courtesy of Triple J/YouTube, Ingrid Pop
Music
News
Superorganism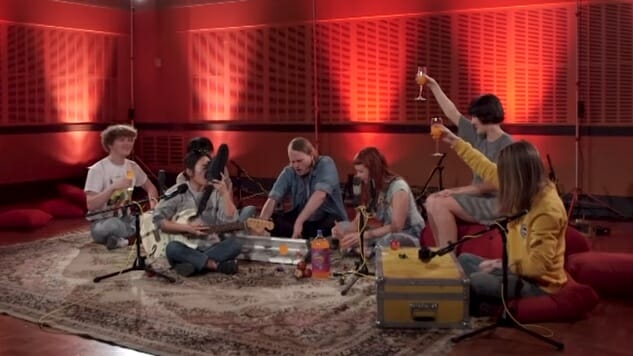 It seems like you could give anything to Superorganism and they could use it in a song—today, that object happened to be an instrument case. There was also orange soda. And poppers. All these elements were wrapped into Superorganism's performance at Triple J Friday morning where they played a mashup of Post Malone and MGMT's songs "Congratulations" for Like A Version. They also performed their track "Something For Your M.I.N.D." off their self-titled album, which was released earlier this year.
Superorganism brought apples for their performance of "Something For Your M.I.N.D." at both Triple J and the Paste Studio—as percussion you might guess, but no, they were there to bite. With no drum in sight, the instrument case was, however, used for the beat during "Congratulations," along with floor and cushion banging. Mixed in with the celebratory poppers and glass clinking was lead vocalist Orono Noguchi's deadpan and School of Rock's words of opposition: "Here's a useful lesson for you: give up. Just quit. Because in this life, you can't win," Dewey Finn's then-hopeless voice rings out during the intro. His rant about The Man picks up again toward the end of the cover, moments before the band concludes by cheering and drinking their orange soda—Noguchi even uses a black sneaker for a "shoey" (read: she drinks out of a [hopefully clean] shoe).
Superorganism previously covered Pavement's "Cut Your Hair" for SiriusXMU, which you can listen to here.
Listen to Superorganism's cover of "Congratulations" below and find their performance of "Something For Your M.I.N.D." at the Paste Studio beneath that.