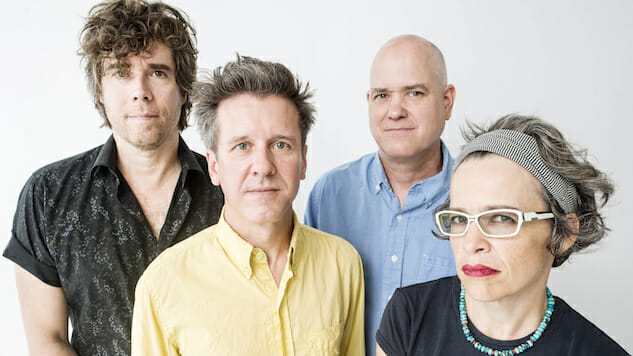 Daily Dose is your daily source for the song you absolutely, positively need to hear every day. Curated by the Paste Music Team.
"You brushed your teeth and found your calling at the bottom of a swamp," is the opening of Superchunk's new song "What a Time to Be Alive." Meme culture embodied in pop punk, evoking what it felt like to have Donald Trump swear in as president.
Superchunkreleased a song for charity in October, but beyond that, they've stayed clear of the radar, save for their plans to release new album What a Time to Be Alive on Feb. 16 via Merge. The name of the new album, as well as the title track released today, came from the post-apocalyptic embers of last year's election cycle, spurring band members Mac McCaughan, Laura Ballance, Jim Wilbur and Jon Wurster to close the gaps between albums (they recorded What a Time to Be Alive almost entirely between November 2016 and February 2017).
"It would be strange to be in a band, at least our band, and make a record that completely ignored the surrounding circumstances that we live in and that our kids are going to grow up in," Superchunk say in a statement.
What a Time to Be Alive, recorded and mixed by Beau Sorenson, features guest backing vocalists way more than the Superchunk of the past: Sabrina Ellis (A Giant Dog, Sweet Spirit), Katie Crutchfield (Waxahatchee), Stephin Merritt (The Magnetic Fields), Skylar Gudasz and David Bazan (Pedro the Lion) all make appearances. "Part of that was wanting a feeling of community," says McCaughan. "I think that's important to not be completely bummed out about everything all the time."
The lyric video features flowers slowly growing out of a skull over the course of the song, next to words that depict gory metaphors of depths and death, shadows that "lurk" "just below the surface," "breathing through a straw," "clinging to the myth that you were cheated / the myth that you were robbed." Blaring guitar solos and shout-along choruses abound, and it's quintessential Superchunk.
You can watch the lyric video for "What a Time to Be Alive" and check out Superchunk's 2018 tour dates below. The album is available for preorder here.
Superchunk Tour Dates:
February:
15 – Baltimore, Md. @ Ottobar *
17 – Richmond, Va. @ The Broadberry *
21 – San Diego, Calif. @ The Casbah *
22 – Los Angeles, Calif. @ The Moroccan Lounge *
23 – Los Angeles, Calif. @ The Teragram Ballroom *
24 – San Francisco, Calif. @ Great American Music Hall @ Noise Pop Festival *
26 – Portland, Ore. @ Mississippi Studios *
27 – Seattle, Wash. @ Neumos *
28 – Vancouver, British Columbia @ Rickshaw Theatre *
April:
03 – Washington, D.C. @ Black Cat ^
04 – Philadelphia, Pa. @ Union Transfer ^
06 – Cambridge, Mass. @ The Sinclair ^
07 – New York, N.Y. @ Bowery Ballroom ^
08 – New York, N.Y. @ Bowery Ballroom ^
26 – Atlanta, Ga. @ Terminal West
27 – Carrboro, N.C. @ Cat's Cradle
28 – Asheville, N.C. @ The Grey Eagle
(* w/ Bat Fangs)
(^ w/ Swearin')