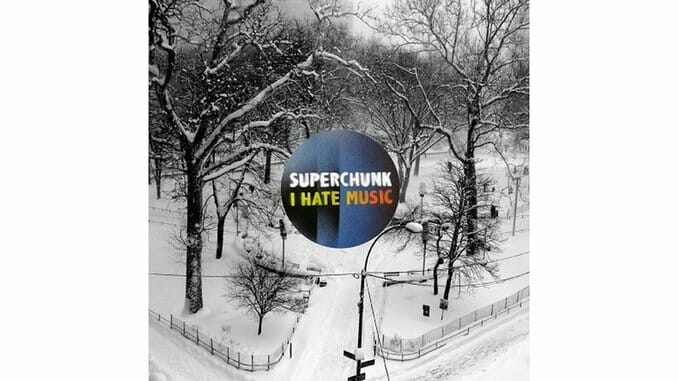 I Hate Music—the 10th album from Chapel Hill's Superchunk—isn't as cynical as it sounds. After all, music has been awfully kind to this band for almost 25 years. And in turn, they've been supremely important to indie rock (whichever definition of the term you choose), both musically and—for bassist Laura Ballance and guitarist-vocalist Mac McCaughan—as the proprietors of the venerable Merge Records. With the exception of the band's nine-year hiatus in the early aughts, not much has changed with Superchunk. Their jagged power pop has been refreshingly consistent, but never lax. And I Hate Music—the band's second post-hiatus release since 2010's Majesty Shredding—is no different.
The underlying theme has less to do with the band's relationship with music than it does with life as they settle into middle age (although music is no doubt part of that). The excellent "Me & You & Jackie Mittoo" ends up being the album's centerpiece. "I hate music, what is it worth? / Can't bring anyone back to this earth," McCaughan sings, acknowledging that the importance of music wanes as we get older, raise families and deal with mortality. That line speaks volumes about Superchunk in 2013—a band whose first official single, "Slack Motherfucker," was released the year Bush Sr. took office.
And while there are plenty of wry observations from someone who's been around the block once or twice, they're still delivered with the piss and vinegar of someone half McCaughan's age. "Staying Home" is an absolute rager, clocking in at around a minute, threatening to test drummer Jon Wurster's endurance. While nothing else nothing comes close to the rush of "Staying Home," these songs are full of life. Even mid-tempo numbers like "Trees of Barcelona" and "Out of the Sun" remain big and anthemic and offer a few dynamic twists.
In fact, enough can't be said about the rhythm section, whose muscle is bulked up through the record's taut production. Even with things sounding a little shinier, and the members a little more sage, Superchunk has not lost a step. If anything, the songs are a little weightier. There's no telling how long they'll stick around. If you're reading this, there's a good chance you like Superchunk, and music, and I Hate Music is a terrific reminder why we love them both so much.