Ranking Every Superchunk Album
The indie-rock legends helped define '90s independent culture, went dormant, then returned stronger than ever in the 21st century.
Music
Lists
Superchunk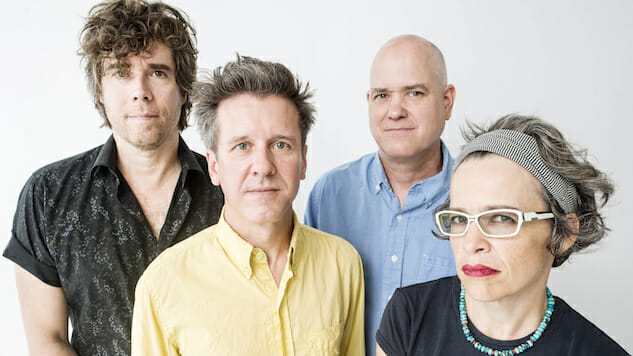 We've reached a point in time where bands don't really go away anymore, and when they do you can be certain they'll return at some point. That's not necessarily a bad thing. Take Superchunk: The indie-rock legends (and flagship band of Merge Records), who formed in 1989 and helped define '90s independent culture, returned in 2010 after a mostly idle decade, and have gone on to put out three of their very best albums in their third decade of existence. Just last week they released What a Time to Be Alive, their 11th official album, and a furious but clear-eyed slab of anti-Trump, anti-GOP, anti-bullshit truth-telling. It's the kind of record we need right now, but have gotten too few of. In their long time together guitarist/singer Mac McCaughan, guitarist Jim Wilbur, drummer Jon Wurster and bassist emeritus Laura Ballance (who plays on the records but no longer tours with the band) have produced a formidable body of work renowned not just for its high quality but for its consistency of vision and execution. Superchunk is one of the very few so-called "legacy" acts in any genre still producing new work as vital and powerful as their classics. In fact, they might be even more crucial today than ever before.
With What a Time to Be Alive still fresh in everybody's headphones, it's an ideal time to rank every album the band's ever put out. While relistening to all of them over the last few weeks, what most struck me is how even their weakest albums are still better than the vast majority of punk or indie-rock records released in the past 30 years. This discography can't really be argued with.
Before we start, let's quickly talk about compilations. Superchunk have long churned out non-album singles, b-sides, EPs and comp tracks, and thus have three different compilations of non-album material: 1991's Tossing Seeds (Singles 89-91) (which features their two great Sebadoh covers), 1995's Incidental Music (1991-95), and 2003's Cup of Sand. (With the rate they've been putting out new songs this decade, they'll probably be due for another collection like this in a year or two.) These weren't written or conceived of as albums, so you won't find them here. They're all great, and Incidental Music, in particular, is absolutely crucial for any Superchunk fan. (Seriously, "Baxter," "Home at Dawn," "Shallow End" and "Ribbon" are some of their absolute best songs; the acoustic version of "Throwing Things" is mandatory listening; and their cover of the Magnetic Fields' "100,000 Fireflies" is almost legendary among 'Chunk fans, for a very good reason.) Between those three comps, and the uncompiled scattered tracks of the past decade, there's basically six extra LPs of original Superchunk music out there for you to explore. You might be tempted to start with the official albums, and you can't go wrong with any of the top eight or so on this list, but don't overlook those compilations.
Okay, enough jabber. Let's do it.
11. Superchunk (1990)
This first album is the sound of a band that doesn't quite know who they are yet. Barely a half-hour long, it has the speed and riffs you associate with early Superchunk, but the songcraft isn't quite there. It does feature their first legitimate anthem, "Slack Motherfucker," which is still one of the band's most popular songs, but it's pretty easy to overlook this debut in favor of the pop greatness that followed.
---
10. Here's to Shutting Up (2001)
For almost a decade this was basically Superchunk's last album. That's what everybody assumed, anyway. It sounds like one, too—like a band that had grown tired of what it was and tried to stretch itself out, to mixed results. There are some good songs here—"Art Class (Song for Yayoi Kusama)" especially deserves to be on any Superchunk greatest hits comp, despite the clunky lyric about shaking ass—but between the slower tempos and the expanded instrumentation (including organs, pedal steel and strings), it sounds less like Superchunk than McCaughan's long-running side project, Portastatic. If their first album was the sound of Superchunk figuring themselves out, this was the sound of Superchunk trying to forget who they were. Some of it works, some of it doesn't.
---
9. Indoor Living (1997)
I want to reiterate that these are pretty much all good records. Some are just better than others (and sometimes much better). Indoor Living is a perfectly acceptable Superchunk album. It's full of catchy, energetic songs that thread the needle between pop and punk, but without really sounding too much like the similarly named lifeless genre that was omnipresent in the late '90s. "Watery Hands" is probably the best known song here—it was the single, it had a fun video with David Cross and Janeane Garofalo, and it's got a killer chorus and the kind of evocative relationship lyrics that are vague enough to feel universal. Album closer "Martinis on the Roof" is the standout, though, and one of the first flashes of the slightly deeper band that would reemerge in 2010 after almost a decade-long absence. It combines McCaughan's gift for melody and the tight rhythm section of Ballance and Wurster with lyrics that are unusually weary for the band's first decade.
---
8. Come Pick Me Up (1999)
From here on out, every record on this list isn't just good, but genuinely great. Come Pick Me Up is the most atypical Superchunk album, in part because of the production from legendary experimental musician Jim O'Rourke, whose work with Gastr del Sol in the '90s helped create the vague, catchall term "post-rock," and who later become a full-fledged member of Sonic Youth during the first half of their final decade. Whether it's O'Rourke's influence or the band intentionally trying to push itself, Come Pick Me Up introduces a variety of new elements to the mix, including whatever effects makes Wurster's drums sound like they're being played underwater by a robot on opening track "So Convinced." Some of these songs have strings on them! Others have horns, including bleats and blurts from modern jazz masters Ken Vandermark and Jeb Bishop. These flourishes would feel like gimmicks if the songs weren't as reliably sharp and compulsively listenable as they are. "Hello Hawk" and "1000 Pounds" would be classic 'Chunk songs even without the strings, and when the horns double-down on the central melody line near the end of "Pink Clouds," they reinforce what's already been established as one of the band's most melodically rich numbers. Unlike Here's to Shutting Up, where the band feels a bit unsure in how they push themselves, Come Pick Me Up is a fruitful exercise in expanding their horizons.
---
7. Here's Where the Strings Come In (1995)
Again: this is no slight to one of the band's most beloved albums. "Hyper Enough" and "Detroit Has a Skyline" is about as strong a two-song combo as any album has ever seen, but after those clear standouts, Strings settles down into a fairly by-the-book Superchunk record. It's the end of the classic string of albums that began their career, before their less steady, increasingly exhausted-sounding work of the late '90s, but the signs of that exhaustion were already creeping in on the margins, with longer-than-usual songs that regularly approach or even pass the four-minute mark. Those two songs are still amazing, though, and some of the others on here—especially "Iron On" and "Animated Airplanes Over Germany"—foreshadow what's basically been Superchunk's signature sound over the past two decades: something as catchy as their earlier albums, but with slower tempos, brighter guitar tones, slicker production, and a consistent embrace of the more openly emotional and introspective lyrical approach they first pursued on 1994's Foolish.
---
6. Foolish (1994)
This classic breakup record—the result of the end of McCaughan and Ballance's romantic relationship—is where a lot of critics started to take Superchunk seriously and as more than just a band to pogo to. Opening the album with the heartfelt and unusually slow "Like a Fool" is basically a mission statement: This isn't going to be the fist-pumping good times found on earlier Superchunk records. The highlight is "Driveway to Driveway," one of McCaughan's finest songs, where he sings about drunkenly embarrassing himself about somebody he thought he had loved. It was a great evolution for the band at the time, but it's no longer their most emotionally powerful record, and it was never their best collection of songs. Still, it's one of the band's best, and one of the best rock records of the '90s.
---
5. I Hate Music (2013)
Speaking of emotion, here's a record about death and aging that tends to hit older Superchunk fans right where it hurts. The single, "Me & You & Jackie Mittoo," is a two-minute hook machine that celebrates the timeless memories that music can forge between friends, before revealing itself to be an angry response to a friend's early death. What good is music, if it can't bring your loved ones back? The rest of the record is similarly steeped in loss and the dark side of nostalgia, all underpinned by sterling pop songwriting.
---
4. On the Mouth (1993)
Here's where it starts getting really hard to rank these things. Jon Wurster's first record with Superchunk is a popular favorite among fans, and it should be: It's a non-stop blast of blissfully agitated noise pop that never gets too angry and never forgets to be tuneful. "Precision Auto" is an unstoppable piledriver of a song, "Package Thief" is a textbook case in turning mundane real-life annoyances into an immediately addictive pop song, and the moody intro to "The Question Is How Fast" proves Superchunk had more to them than just a bunch of upbeat punk riffs. From top to bottom On the Mouth was the band's most consistent album all the way up to 2010's Majesty Shredding. For a spell in the early '90s Superchunk were one of many bands hyped as potential "next Nirvanas" by the music press, and On the Mouth is where that sounds most possible. Despite the catchy din of songs like "For Tension" and "A New Low," though, Superchunk were always just a little too mild-mannered and relatable to reach such rock-star success (or excess). Angst was at a premium during the heady alternative days of 1993, and even at their angriest that kind of teen angst was never one of Superchunk's strong suits. (And yes, that's a good thing.)
---
3. No Pocky for Kitty (1991)
Their second album isn't as jam-packed with shoulda-been hits as On the Mouth is, but it does include four or five of the 10 best songs the band has ever recorded, and that more than justifies ranking it higher. When I think of Superchunk I think of "Skip Steps 1 & 3," "Cast Iron," "Seed Toss," and especially "Throwing Things"—songs that blend the energy and noise of punk with the catchiness of Flying Nun bands, with lyrics that are just obtuse enough to imbue with whatever kind of meaning will make them most relatable for you. And, yes, with an everyday Southern politeness that isn't as forced or as passive-aggressive as so-called Southern hospitality. And it's not like any of the lesser-known songs on here are actually bad. "Tie a Rope to the Back of the Bus," which has a swing to it that sets it apart in the 'Chunk canon, would easily be a highlight on any of the band's '90s albums, and "Punch Me Harder" is one of their best straight-forward punk songs. They were a tighter band when Wurster joined before On the Mouth, and stronger songwriters overall, but No Pocky captures Superchunk at the ideal cross-section of youthful ebullience and clearheaded experience.
---
2. What a Time to Be Alive (2018)
Yep, their newest album is one of their very best. An explicit response to the political divisions that increasingly plague our country (and that gave rise to the embarrassing fool currently in the White House), What a Time to Be Alive is a blistering fusillade that targets the hate, ignorance and conspiracy-mongering that essentially defines modern-day conservatism. It's the closest Superchunk have ever been to a full-on punk band, with copious callbacks to '80s-style punk activism (including a song named after the seminal hardcore legends Reagan Youth), and an anger never before heard on a Superchunk album. Even as their songs get shorter, faster and angrier, though, they don't lose sight of their pop craftsmanship—every song on here is instantly hummable and memorable. It's a set of hooks dead set on blasting through your eardrums and shaking the underground rock world out of the political complacency that it's been mired in for most of the past few decades. It also feels really good to blast it with the windows down. They did a good job with this one.
---
1. Majesty Shredding (2010)
I don't know if returns get more triumphant than this one. The band had released an EP, a few singles and some archival material in the '00s, and played a few scattered shows most years that decade, so it's not like Superchunk completely disappeared after Here's to Shutting Up. It was still shocking when their first album in nine years wound up being, from start to finish, the single best collection of songs they'd ever released. Sure, having almost a solid decade of songs stored up might make that trick seem pretty easy, but there was no reason to think they'd still drop what basically amounts to a greatest-hits comp pulled from albums that never actually existed. From "Learning to Surf" to "Crossed Wires" to "Digging for Something," Majesty Shredding is a unrelenting barrage of endlessly catchy, high energy pop songs with just the right amount of noise and crunch. And hey, guess what: it's also Superchunk's best overall album.
---
Garrett Martin edits
Paste
's comedy and games sections. He's on Twitter @grmartin.