Daytrotter Session - Oct 29, 2012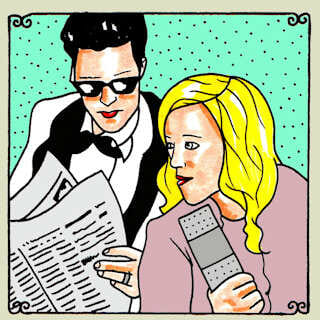 Welcome to Daytrotter
I've Got You Covered
See It For Yourself
Skip The Line
Two Day High
Snow Angel
Sometimes I wonder if loyalty isn't the best thing that two people can share. Someone reminded me this morning that the best thing that two people can ever do together is create a life and there's a lot to that thought. It seems about right and for those who do either accidentally or consciously plan to make a life, they would agree wholeheartedly, but there are plenty of people who have no intentions or desires to ever make a life. It's enough for them to have one another, but just having one another and maybe going on great vacations, taste-testing every ale and IPA or wine known to man and having no responsibilities to anyone but a dog that they'll kennel when they need to isn't all there is.
They can be in love, sure, but that feeling ebbs and wanes and fades and resurges with a bit of arbitrariness that cannot be prescribed to anything too sturdy. It can completely evaporate too, something no one in the middle of love would ever want to acknowledge, just like the gambler doesn't want to do anything to disrupt a hot streak and a loose slot. When you talk about loyalty however, something that's stickier than anything, that's the gold standard. It comes into play begrudgingly, when every other fiber of you wants to turn and run the other way. There's that thread of emotion that can never be severed where, despite all that might be stamped permanently onto the pages of a relationship's history, there's no getting around a strange bond and a sense of needing to be there for them.
Sugar and the Hi Lows songs are greatly about love, absolutely, it's dedicated love, but the thickest sensation here is a loyalty that will never go anywhere, even when everything's become embroiled and messy. Even when there's contempt and nothing feels good any more, this loyalty and a sense of duty to the other is everlasting.
Trent Dabbs and Amy Stroup create characters that have each others backs, that care for and love one another, but they all feel as if it's going far beyond love. It's that look that you find only in rare eyes – that twinkle – where you are confident that two people have reached something that exceeds love. These warm, bluesy songs will make anyone who's in an empty relationship that's lacking too many things – even if it still feels like something that's okay – understand that they could have something so much better, so much more.
W3 Total Cache is currently running in Pro version Development mode.