Sufjan Stevens and Lowell Brams Aporia
The longtime collaborators deftly flirt with the early electronic sounds of Wendy Carlos and Suzanne Ciani and the '90s Beats of Boards of Canada and Autechre
Music
Reviews
Sufjan Stevens and Lowell Brams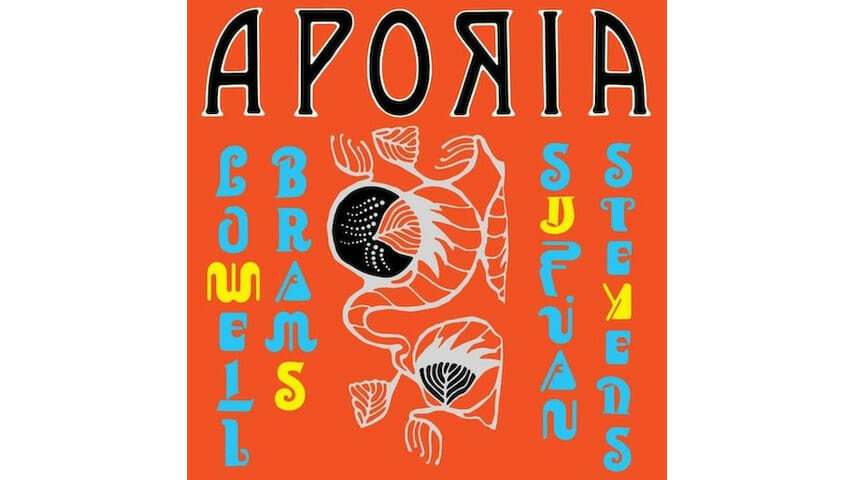 Despite Sufjan Stevens' often mercurial personality, there are two things we can be sure of: One, he does whatever he wants and is completely unafraid to be transparent about it. Two, he's beyond talented at all of it. Whether it's admitting his marketing for Michigan and Illinois was purely a scheme or following up his impish electronic album Age of Adz with his most folk-oriented work to date, Stevens doesn't play by the rules and his artistry often is subject to whatever his obsession at the time may be.
It's pretty obvious, then, that his preoccupations led to Aporia. Stevens has dabbled in new age and IDM sounds before, most notably on his 2001 album Enjoy Your Rabbit, but it's still odd to see him put out a full-length alongside his stepfather this late in his career that sounds so obsessively attached to the works of Wendy Carlos, Suzanne Ciani and Boards of Canada. Maybe that's another oddity we can draw from Stevens' career—at his core, he's a fanboy, and that manifests as songs about disgraced Olympic hopefuls and curated playlists of the artists he's paying homage to.
And what a faithful homage it is! Aporia, by no means, is going to be considered an essential Sufjan album. However, for electronic obsessives and longtime followers, the record will feel like absolute candy. Right off the bat, Stevens and Lowell deliver heavenly, drum-heavy tracks "Ousia" and "What It Takes," which are the only songs on the album that sound like they could have found their way on Age of Adz. "What It Takes" warbles with an angelic synthesized chorus and plays out alongside sighing strings, leading into several minutes of scattershot aural landscapes.
Aporia is certainly inconsistent, but it makes for a truly exciting listen each time, with much effort put into forming recognizable motifs and expressive moods. A lot of these sounds are noticeably "Sufjan"—from the forested flutes on "Climb That Mountain" to the heartsick horns on "Backhanded Cloud," it's all very much him. That's what's wonderful about the record: Even when it drifts into a cosmic vacuum, Stevens and Lowell have left their mark on every synth and arpeggiated sound that were already exhaustively explored back in the '80s.
Despite the fact that much of the album's runtime is spent in the deep recesses of spacetime, when Aporia hits, it hits. "Afterworld Alliance" toys with bassy techno and dark ambience, not unlike the works of producers Andy Stott and Tim Hecker. Single "The Runaround" is the only track to use Stevens' voice, and they make the absolute most of it, utilizing lush woodwinds and tinny analog synth along with a vaguely hip-hop beat to produce an anxious banger that could have come right off of Boards of Canada's Music Has The Right To Children. The latter half of the album strays from the new age influences and becomes more of a love letter to Warp Records in the '90s, where dreamy, sci-fi beats on tracks like "Captain Praxis" and "Eudaimonia" propulsively work the dancefloor à la Autechre.
Aporia is not for everyone: It isn't exactly what fans flock to Sufjan Stevens for. As a heavily referential side project, though, it's impressive and speaks to Stevens' ability to flit between nearly any genre and pull off something stunning and immediately enjoyable. There's a certain mania bottled within the album—in part, probably, from the jammy nature of Stevens and Lowell's recording process, according to Sufjan himself—that gives it a certain messy charm, an imperfection that makes Aporia an absolute gem of an experimental record. It's also heartwarming to see Stevens and Lowell continue to collaborate on genuinely fun material. Many of the album's successes are thanks to Lowell's experienced hand (noticeably shy about his own talent in comparison to his stepson's) as he's been recording electronic music since Sufjan was 11 years old.
Many may skip over this one or listen through for the novelty once or twice, but Aporia managed to deepen my already sea-deep adoration for Stevens' work. Pushed ahead a few days due to the increasingly worrisome COVID-19 outbreak, the duo released a statement promising to donate 50% of the album's proceeds to coronavirus relief. "This record is hardly the most important thing in your world right now—but we also believe that music is sacred and has the ability to bring beauty, wisdom, truth and light to our lives in difficult times," they write. "We hope this music can bring you meaning, hope and encouragement today." It provided exactly that for me, and solidified itself as one I'll come back to for just that.