Sudan Archives: The Best of What's Next
The L.A. transplant blends DIY electronica, violin and sultry singing on her debut EP.
Photo by Robb Klassen
Music
Features
Sudan Archives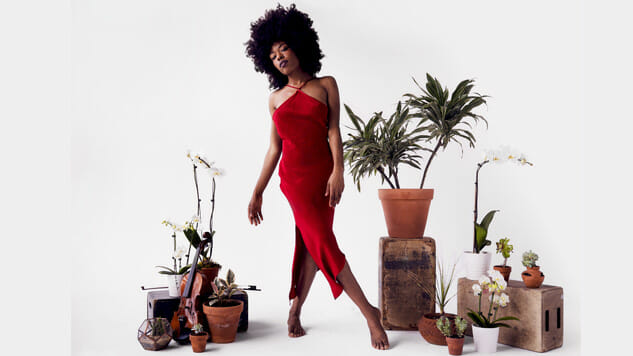 Sudan Archives isn't the name of a person. Not exactly. She's a musician, but she isn't from the war-torn East African country of Sudan. Her music is inspired by, but doesn't actually include, archival field recordings. And yet, Sudan Archives is the perfect name for 23-year-old Brittney Denise Parks. The singer, songwriter, producer and violinist released her self-titled debut EP this past July—a six-song offering that blends DIY electronica, anti-classical fiddling and breathy singing.
But just like how Sudan Archives found an unlikely home on Stones Throw Records, the beloved hip-hop label known for releasing albums by Madvillain and J Dilla, Parks has found that seemingly mismatched sounds, styles and ideas often work out in unexpectedly brilliant ways.
Growing up in the suburbs of Cincinnati, Parks never quite fit in. She was raised in a musical household, but wasn't drawn to the organized religion her family embraced. She started playing violin in the fourth grade, but her family moved so regularly that she never stayed in one school or orchestra long enough to find continuity in her training.
"When I listen to the traditional African string-player music, it just kind of blanks out everything I have in my head, and whatever comes out of me, it's just easier for me to start writing and stuff."
Even her birth name didn't feel right. Calling from outside Los Angeles, her adopted home of four years, Parks says, "I just told [my mom] that I didn't really like Brittney, so she just decided to nickname me. Even though I wasn't really making the kind of music I'm making now back then, I was very interested in my roots and what it means to be African-American. I was always buying African drums and thumb pianos and trying to find the little African shops that have the jewelry and the skirts and the prints. So she would just call me her hippie child, so she thought Sudan would be a nice name because it just sounds really pretty to her and it's an African country."
As she continued to discover herself—finding a name that fit, a look that reflected her spirit and a sound that she could create and then mutate—Parks began to rebel. "I grew up in a strict household," she explains, "just rebelling against curfew, rebelling against having to go to church three times a week, rebelling against the certain type of music my stepdad was just urging me to make with my twin sister, because he was a former founder, label producer guy of LaFace Records."
In fact, that rebellion got her kicked out of her house at 19 years old.
"My stepdad was like, 'If you're gonna rebel, you gotta leave,' and I was like, 'Alright. I'm going to L.A.,'" she recalls. With the help of an Instagram friend and the couple hundred dollars she'd saved from working at McDonald's and Forever 21, Parks bought a one-way ticket to California. "That was my first plane ride."
Taking control of her education, Parks dove into music history, ethnomusicology and music technology, the latter of which is her area of focus at Pasadena City College. Discovering works by UCLA professor/author Jacqueline Cogdell DjeDje, electronic pioneer/author Francis Bebe, and the most esoteric and exotic multimedia that YouTube has to offer, Parks taught herself the origins of her instrument, West African styles of violin playing and tribal beats.
Remarkably, each of these seemingly fractured elements filters into a unified sound on Sudan Archives. Through her ethnomusicology studies, Parks learned that the pentatonic scale on lead single "Come Meh Way" can be traced back to Asian and African modes. The woody percussion in "Oatmeal," which actually comes from her hitting the body of the violin to keep the beat, is an homage to West African djembe drums. And although Parks' vocals may sound as wispy as the California desert wind, her approach to songwriting—in terms of order of the melodies, beats and fiddling— is quite calculated.
"I'm usually listening to traditional-style African folk music," she explains, describing the beginning of her process. "When I listen to the traditional African string-player music, it just kind of blanks out everything I have in my head, and whatever comes out of me, it's just easier for me to start writing and stuff."
From there, she continues, "I usually start with a violin…and then basically build a drum beat out of the violin. Then I add electronic drums on top of that because it creates a really nice texture. Then after that, I'll arrange the song, maybe even add synths, like piano synths. On top of that, I'll just press record and sing. Then I might even leave it like that or I'll take what I said, and rewrite it out, arrange a little bit, and then add more vocals, and then I have the song."
Within Sudan Archives and Parks' own journey to get there, narratives of determined individuality entwine with the threads of human cultural lineage. It's a brief yet thrilling journey illustrating where we've been and where we can go next.