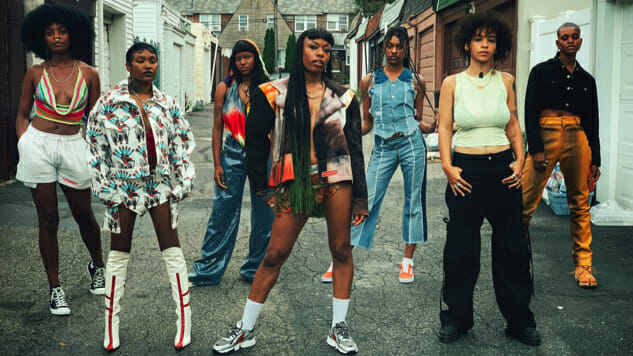 Daily Dose is your daily source for the song you absolutely, positively need to hear every day. Curated by the Paste Music Team.
Cincinnati-born, Los Angeles-based violinist, singer-songwriter and producer Sudan Archives has shared the video for her stellar recent single "Confessions," in which she also debuts an excerpt of a new song titled "Black Vivaldi Sonata." Both songs appear on the artist's forthcoming debut full-length Athena, out Nov. 1 on Stones Throw Records.
"'Confessions,' a female flip on classic rap music videos—resilient women surviving in a world that seems to be falling apart & ends with its alter ego Black Vivaldi, an ode to duality," explains Sudan Archives, aka Brittney Parks. "It's about being the seduced and the seductress, it's about God & the Devil, Yin & Yang, & about the possibility that we might have it all wrong about the two." ("Also, free the fucking nipple!" she adds on Instagram in reference to the video's minute-long, NSFW Black Vivaldi sequence.)
The duality Sudan Archives refers to is well-represented in "Confessions" itself: Parks' violin is downtempo to the point of being mournful in the song's opening moments, but as soon as the song's thumping beat kicks in, her playing transforms, staccato and upbeat. "I fell down / and started / back up then seal the feeling / I'm too unique to kneel," Parks sings, confessing to her troubles and her triumphs in the same breath—"Confessions" is nothing if not a triumph, with Sudan Archives weaving together strings and synths to serve as her platform from which to demand, "Watch me frolic through the fields, bitch."
"We wanted to showcase female excellence in a unique and dynamic way. The world these women live in is aesthetically bleak but they bring beauty to it through their positive vibe and energy," says director Nathan R. Smith (DRAM, Joey Bada$$, 2 Chainz) of the "Confessions" video. "I like to think of the women in the video as the angels that Sudan references in the pre-chorus. As the world around them is not very pretty and begins to fall apart towards the end, they maintain their confidence and are completely unfazed."
"Confessions," first released on Aug. 28, is the first single from Athena, which follows Sudan Archives' Stones Throw debut, her self-titled 2017 EP, and her 2018 EP Sink. For her debut full-length, Sudan Archives collaborated with producers Washed Out, Paul White (Danny Brown, Charli XCX) and Rodaidh McDonald (The xx, Sampha, Adele), resulting in a more wide-ranging release; she likens her EPs to "a haiku of what the album is."
Watch the "Confessions" video below, and find Sudan Archives' upcoming slate of headlining U.S. and Europe tour dates further down.
Sudan Archives Tour Dates:
November
05 – Los Angeles, Calif. @ Moroccan Lounge
07 – New York, N.Y. @ Public Records
09 – Utrecht, Netherlands @ Le Guess Who? Festival
10 – Brussels, Belgium @ AB Club
12 – Berlin, Germany @ Säalchen
13 – Cologne, Germany @ CBE
14 – Munich, Germany @ Rote Sonne
15 – Geneva, Switzerland @ Festival Les Créatives
16 – Paris, France @ Le Badaboum
19 – London, U.K. @ Corsica Studios – SOLD OUT
20 – Stockholm, Sweden @ Kraken
21 – Gothenburg, Sweden @ Oceanen